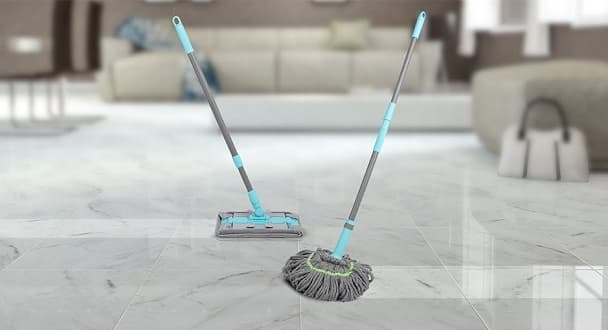 Mopping is one of the easiest and most sorted out ways to clean the floor. Regardless of the floor type you have, you can easily find a perfect cleaning mop that not only retains the shine of the flooring, but also help you clean them in a faster and more reliable way. So, if you have recently purchased a new home, or are after maintaining the shine and beauty of the flooring, you should once consider buying a cleaning mop for your home.
Though you can opt for any cleaning mop for your home, it is important to choose the right category of cleaning mops for your home. Yes, you heard it right, the cleaning mops can be further divided into two categories, wet mop, and dry cleaning mops.
As the name suggests, the wet mops are meant to be used with water or other cleaning solution and are used often for deep cleaning. Whereas, the dry cleaning mops or often termed dust mops are those that can be used without any cleaning solutions. Unlike the wet mops, the dry mops are more frequently used by the homeowners and are great for regular dusting. Along with these obvious differences between the dry and wet mops, there are a few more differences that you should know as a buyer. So, have a look at these and then decide which one of them is going to be the right choice for you.
Dry Mop Vs Wet Mop: A Brief Comparison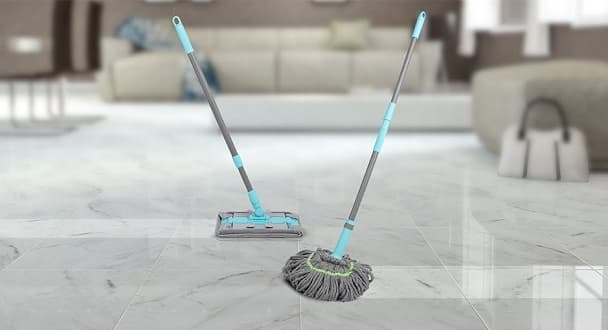 Choice of designs
Though the cleaning mops are available in a wide range of designs and brands. However, the dry cleaning mops have more flatter head that makes them easy to clean under the furniture. Also, they are relatively lighter than wet cleaning mops.
So, we can say that, if you are considering wet mops for your home, then you are going to have more choices in design. While on the other hand, the dry cleaning mops somewhat have similar designs and sizes.
Usability
Talking about usability, dry cleaning mops are much easier to use. And as you can use them daily, they have better handling too. So, if you are after handling and want to invest money in a mop that can be used by any member of your family without any major issue, the dry mops are going to be the perfect choice for you to go with.
Maintenance
Maintenance is another important thing to consider while purchasing a new cleaning mop. And comparatively, the dry mops are easier to maintain and clean. Also, you can opt for the mops with replaceable heads for better life expectancy and value. So, choose the dry mops if you are looking for a mop that can serve you for years without any major issues regarding maintenance and performance.
Price
The next and biggest thing that differs the dry and wet mops from each other is the price. Though the wet mops have a wider range of designs and brands, they are relatively expensive than the dry mops. So, if you have the budget in mind and aren't too keen to go with expensive mops, dry cleaning mops are going to be a better choice for you.
Conclusion
So, this was a brief comparison of the categories of cleaning mops. Now, it is up to you which type of cleaning mop is suitable for you and which one you should look to buy for your home. There is a wide range of products from different brands and in different price range. So, choose accordingly and get the best possible cleaning of your place.
Related Topics
Santosh Kumar, He is a SEO + Blogger have 12 years of experience in writing tutorial, informative and product reviews topics.