The Bhojpuri film industry is literally taking the country by storm, with actors and actresses from the industry becoming popular day by day. Many of the Bhojpuri actresses are recognized for their amazing acting skills, in addition to their beauty and charm. One of the best things about Bhojpuri actresses is that they are not only beautiful women that portray naïve characters but they are also known for their amazing dancing skills. While they portray characters of simple girl next door, they are also capable of putting the house of fire with their killer dance moves.
Listed below are the top 15 most beautiful and hottest Bhojpuri actresses:
15. Sambhavna Seth
Sambhavna Seth is the ultimate item bomb of the Bhojpuri industry, whose claim to fame is her performance in "Bigg Boss", where she charmed the audience with her outspoken nature and bold figure. After the show, there was no looking back for her and she became one of the most popular actresses in Bhojpuri cinema, besides getting offers for item numbers from Bollywood too.
14. Surbhi Sharma
Next among the most beautiful Bhojpuri actresses is the UP born actress Surbhi Sharma, who was once the top actress of the industry, but her career is on the lower side now. This award winning actress is still highly acclaimed for her stunning beauty.
13. Shradha Sharma
Shradha Sharma is one of the most popular and glamorous actresses in Bhojpuri industry today. Her popularity can be estimated from the fact that she was invited to be a part of "Bigg Boss". She is also acclaimed for her immense talent, dedication and hard working attitude.
12. Pakhi Hegde
One of the most beautiful and successful actresses in Bhojpuri cinema today is the Marathi actress Pakhi Hegde, who has also been seen in some TV serials. She got her big break in Bhojpuri industry when she was cast for a film called "Ganga Devi", which also featured Bollywood super star Amitabh Bachchan.
11. Gunjan Pant
Featuring next on the list of top 10 most beautiful actresses in Bhojpuri industry is the young diva, Gunjan Pant. Gunjan is a versatile actress with a charming personality and attractive figure. Some of her hit movies "Ghagra Choli", "Patike Andar" and "Kutub Minaar Hi lela".
10. Monalisa (Antara Biswas)
Antara Biswas, popular by the screen name of Monalisa comes next on this list, with her stupendous performances in "Blackmail" and "Tauba Tauba". Besides her stunning beauty and sexy figure, this young actress is known for giving bold scenes and is also considered the item queen of Bhojpuri film industry.
9. Rinku Ghosh
Another Bhojpuri actress widely acclaimed for her extraordinary beauty is RinkuGhosh, who made small beginning with a TV serial called "Durgesh Nandini", but rapidly rose to the pinnacle of the Bhojpuri cinema, thanks to her talent and grace. Besides giving award winning performances in numerous Bhojpuri films, Rinku has also appeared in Hindi film "Himmatwala" for an item song.
8. Rani Chatterjee
Featuring next on the list of most beautiful Bhojpuri actresses is the sexy siren, Rani Chatterjee, who is not only a talented actress but also the hottest item dancer of the industry. She has made it to the top in a very short time, with blockbuster films like "Naagin" and "Rani no 786".
7. Anjana Singh
Anjana Singh is regarded as one of the most beautiful and talented actresses in Bhojpuri cinema today, who has delivered a large number of hit movies in her illustrious acting career, with super hits like "Dildaar Saawariya" and "Gola Barood" to her credit. Born in 1990, this young diva is acclaimed for her attractive figure and good looks, topped up with a humble and co-operative nature.
6. Madhu Sharma
Madhu Sharma deserves a mention for her incredible contribution to Bhojpuri cinema. Born to a Marwari family in Rajasthan, Madhu always dreamt of making it big in the glamor world. She started her career as a model and after featuring in a few remix albums, she got her first break in a movie. This beautiful Bhojpuri actress has worked with the top actors in the industry and done several films in Bhojpuri. Some of her works are 'Ek Dujje ke liye', 'Chapra ke prem kahani' and 'dulhe raja'.
5. Seema Singh
Seema Singh is a popular Bhojpuri film actress and she has also worked in several item numbers. She is one of the highest paid celebrities in the country and the media has also cited her as one of the most popular personalities. Her attractive looks and gorgeous smile has made her win many hearts and establish a solid career in Bhojpuri films. She has received several awards for her commendable work in Bhojpuri cinema. She has been awarded the best item girl title in 2008 and 2016. Some of her works are Shiv Rakshak, Real Indian Mother, Jaan Tere Liye, Daroga Chale Sasural and so on.
4. Sweety Chhabra
Sweety Chhabra is one of the most sexy and sensuous actress in Bhojpuri films. She is known for her amazing expressions that add life to every scene and she is also highly regarded for her amazing dancing skills. She has receded several awards for their incredible work and recently she was rewarded by the Govt of India for her amazing contribution in Bhojouri films. Sweety Chhabra has worked with some of the top actors in the Bhojpuri film industry, Some of her popular works are 'Hogi pyaar ki jeet', 'Chhora ganga kinare wala', 'Aurat Khilona nahi' and 'Ranbhumi' to name a few.
3. Akshara Singh
Akshara Singh is a popular Bhojpuri movie actress and she has also done a lot of item numbers. He beautiful eyes and face full of expressions have won the hearts of audiences across the country. She debuted in the film industry with the top actor Ravi Kishen and this incredible break gave her career an amazing start. The actress has learned singing and dancing skills since a young age and she has also been a part of theatrical performances. She has also worked in Indian television soaps and serials which has made her a popular name in Indian households. Akshara has worked in some of the top movies in Bhojpuri along with the best actors in the industry. Some of her works are Khabhi Khushi Kabhi Ggum, Dilwala, Jaanam, Gunday, Chalo Baag Chale, Pawan Raja and so on.
2. Rashmi Desai
Rashmi Desai has the cute girl next door looks which slays our hearts and makes her one of the best Bhojpuri actresses in the industry. She is also an popular Indian television actress known for her highly acclaimed role as Tapasya Thakur in Uttran. Even before she made her presence felt in the TV, she had acted in numerous B Grade Bhojpuri movies with some of the top actors in the industry.
She has been a part of movies like Gauna Hammar, Pyar Jab Kehu Se Hoi Jala, Balma Bada Naadan, Sathi Sanghati, Bambai Ki Laila Chapra Ka Chaila, and Tohse Pyar Ba. These movies have played an important role in getting her fame in Bhojpuri film industry.
1. Amrapali Dubey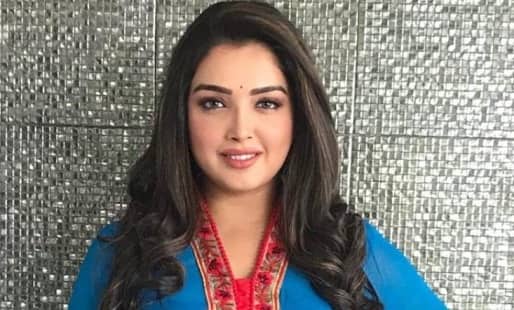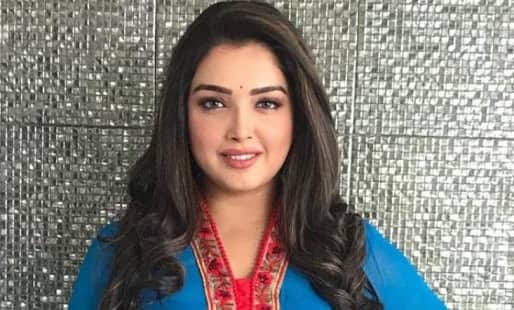 Amrapali Dubey is one of the most popular Bhojpuri actresses known for their role in numerous movies. She has acted opposite Niruhua in several movies. Her gorgeous looks and beautiful smile make her win hearts of audience. Today, she is one of the top rated Bhojpuri film actresses. Some of her works are Nirhua Hindustani, Patna se Pakistan and so on.
That's all from our end in the list of top 15 most beautiful Bhojpuri actresses.