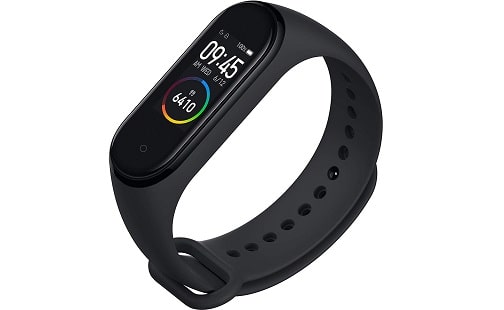 Nowadays in India, it is very common to notice people that are very much conscious about maintaining good health. It is not only good health but also you would have seen people giving importance to fitness activities. This is mainly to avoid various health issues due to bad fat or calories rich in your body, which you need to reduce. The only healthy way is to do exercise, yoga, and other physical activities.
So, how do you track your fitness activities to make further improvements in your body? Yes, there is an electronic gadget named fitness band, which will provide you notifications of your physical activities. As fitness bands becoming much popular in the Indian market, the product has created a demand due to which many brands are introducing the fitness bands ranging from Rs 500 to Rs 30,000. You can see tremendous growth in this market with a lot of variations in the features of the fitness band.
A fitness tracker is the only way to track your health activities, and you don't have to spend much on it to buy the product. This device will provide you with various things like heartbeat rate, calories burnt, quality of sleep, and step count, etc. With smart technology, you are able to connect your smartphones with a fitness band and get the notifications of your mobile activities for messages, calls, etc. So, how do you choose the right fitness band in India to monitor your fitness activities? The only factor is using the accuracy and user-friendly features of the fitness band.
As the Indian market is flooded with so many models of fitness bands, you can choose the right device by looking into this article. This article includes the top ten fitness bands under 3000 Indian rupees in 2022. So, you don't have to worry about doing a big search over the internet about the fitness bands, just reading this article will give you enough information about how to choose the right fitness band for you.
Best Selling Fitness Band Below 3000 INR
1. Mi Smart Band 4- India's No.1 Fitness Band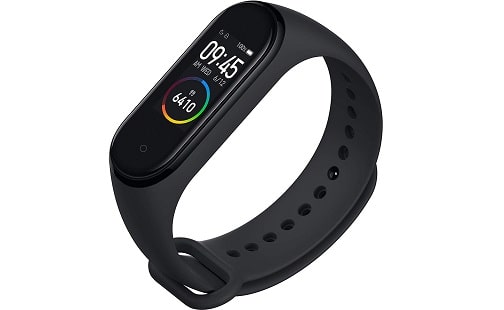 The first product on our list is Mi Smart Band 4- India's No.1 Fitness Band. This fitness band from the Mi band features 39.9% larger in its display than Mi band 3. The display is AMOLED color full touch display, which has a brightness adjustment option to change it according to your convenience. The Mi band comes with a music control option in which you can change the song and also adjust the volume without requiring to touch your phone, as you can connect your smartphone with this fitness band.
While swimming, you can use this fitness band, as it is waterproof. The fitness band detects your swimming style and provides you a clear idea about swimming activities. Another advantage of using this band is that you will get a clear idea of heart rate monitoring. It will give an alert when your heart rate reaches a high point. If you want to buy the best fitness band, then go with this excellent model.
Things we liked:
The fitness band features a good battery life that lasts up to 20 days by providing an uninterrupted performance
You can change the display of fitness band according to your mood by picking from your gallery
Since you can connect your fitness band with a smartphone, you can get notifications for text messages, calls or even reject calls, and even get social media chats' notifications
It provides an accurate light and deep sleep monitoring
The fitness band comes with 30+ features, so acts as your perfect companion
Things we didn't like:
Sometimes the band shows some reading like heartbeat rate even after removing from your wrist
---
2. HolyHigh 115U Smart Fitness Band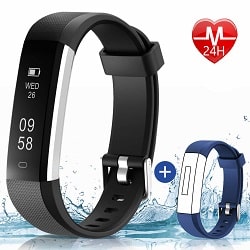 The next product is from the HolyHigh, which is a HolyHigh 115U Smart Fitness Band. Here the fitness band uses the most advanced sensor that can give you the heart rate automatically whenever you walk, run, bicycle, or other physical activities. Coming to sleep tracking activity, you will get the light/deep sleep tracking record of your last night. To track your fitness activities such as steps, running, cycling, and calories burned, etc. This fitness band works both as a step counter and a calorie counter.
When you connect your fitness band with smartphones, you will get a reminder for various things such as calls, SMS, Whatsapp messages, etc. In addition to these features, you will get phone calls, IM chats, and messenger notifications, etc. in your fitness band. You can get all these features when you connect your smartphone using VeryFitPro App.
Things we liked:
The fitness band comes with a good battery life that comes for 7 days continuously after doing a single full charge of the band, which will take 1 to 2 hours
The fitness band can be used as a USB dongle. To use as a dongle, you need to remove the sides straps and fix it in your laptop
The fitness band is compatible with certain models of mobile phones and laptops such as iOS 7.1, Android 4.4, and several J and A series of Samsung, Huawei P8, etc
It is an IP67 rated waterproof fitness band
It comes as a real-time heart rate and sleep tracker
Things we didn't like:
Though most of the customers are happy with the product, a few users are not happy with the charging of the device. The fitness band does not get properly charged and stopped working after a few hours of work.
---
3. Muzili Smart Fitness Band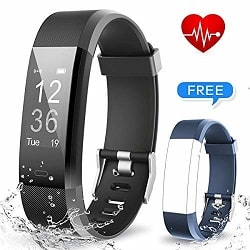 This Muzili smart fitness band is best for its features such as heart rate monitoring, sleep monitoring, and activity tracking, etc. The first feature is heart rate monitoring, in which you will get the heart rate alert for different sports activities you do, such as running, hiking, bicycling, etc. The fitness band provides the heart rate for around 14 sports activities. The sleep monitoring is another crucial feature, as you can track whether your sleep is light or deep sleep. It also has a humanized silent vibration alarm, which will give a wakeup alert without disturbing others from sleep.
Coming to the everyday activity tracking, you can track all those everyday fitness activities or workouts such as steps, distance covered by you, calories burned, etc. which will help you to improve your fitness activities or balance it according to your records.
You can also get the notifications of your mobile phones when you connect it through the VeryFitPro app on mobile to the fitness band via Bluetooth. You will get vibrations or notifications for calls, SMS, and other messenger chats, on fitness band.
Things we liked:
The fitness band automatically lightens when you turn the band towards your face
It comes with a waterproof feature of an IP67 rating and hence, you can use while swimming
It comes with a long battery life
It is slim and lightweight fitness watch
You can charge through USB and does not require cable to charge it
It features up to 10 alarm clocks and also provides a remote camera control
The charging time is just 2 hours to get a fully charged band
The working time is 7 to 10 days
Things we didn't like:
There are no cons so far complained by customers
---
4. HolyHigh Smart Watch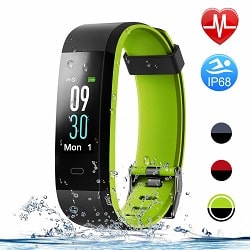 One more product from the HolyHigh brand, which comes with the best water-resistant feature, is the HolyHigh Smart Watch. Here the smartwatch holds an IP68 rating for its water-resistant feature that allows using this band while swimming. But avoid using it to hot water exposure. Since it comes with a colorful LED screen that offers an excellent HD quality for images, you can add a modern look to your outfit.
Since the tracker uses an advanced sensor to track the various activities such as heart rate, sleep rate, and all-day activities, you can get accurate results of all these activities. The tracker provides you an accurate rate of the heartbeat when you carry out sports activities, and almost you can get 14 sports activities tracking records. Analyzing sleep is another feature which offers a sleep quality such as light or deep sleep. The band awakes you as well in the morning to do your workouts.
Things we liked:
The fitness band features an 8+ days battery life with a great compatibility feature
It comes with an in-built USB charger that makes the charging task easier and no need for cable
It supports iOS 7.1 and Android 4.4 devices to connect and interface
It supports 14 sports activities to track and provide you the result
It features a screen brightness control to adjust the screen
Take selfies without touching the phones, as it offers a camera remote control
It provides a silent vibration alarm to wake you up
Easy to check the calls and messages
Things we didn't like:
The fitness band provides an inaccurate result for steps tracking
---
5. Muzili Smart Fitness Band IPX7 Waterproof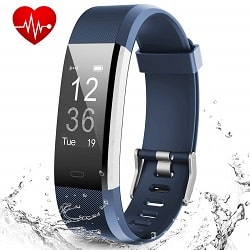 One more product from the Muzili brand, but there is a difference in the price of both products. This is available at a reasonable price but still providing you all features such as heart rate monitoring, sleep tracking, and all-day activities monitoring. When you carry out different sports activities such as running, hiking, basketball-playing, football playing, etc. in all such activities, you can track your heart rate accurately. Almost 14 sports activities are being tracked to provide the heart rate accurately by your fitness tracker.
When you sleep, you can get the record of the quantity of your sleep, which is light or deep sleep using the fitness tracker. In addition to these sleep rate monitoring, you can wake up with the vibration alert produced by your fitness watch. Here you will get a silent vibration alert, which is helpful in not disturbing others. All-day activities tracking is another feature that provides you the steps; distance covered record accurately to you. To connect your fitness tracker with smartphones, use the VeryFitPro app, and connect it via Bluetooth.
Things we liked:
The fitness band features 24-hour continuous heart rate tracking
It also provides automatic monitoring of sleep quality
It supports almost 14 sports modes
It provides notifications for calls, SMS, Facebook, Whatsapp, and other IM chats.
It provides remote camera control and comes with a great battery life
The fitness band looks slim and elegant to wear with your modern outfits
Things we didn't like:
Know Some Fitness Band Frequently Asked Questions
Should I start using a fitness band?
Ans. In reality, using a fitness band is more of a personal choice. If you are not using a fitness band to track your fitness goals, that does not mean you will not achieve your goals. Fitness can happen even without wearing a fitness band. On the other hand, some people truly depend upon fitness bands once they start using it. In both cases, fitness depends on physical activity and diet. A techie will see the fitness band as a source of motivation. If you are obsessed with gadgets, then a fitness band will motivate you in the longer run.
What is the work of a fitness band?
Ans. A fitness band is a gadget that works on the relationship between sensors, software, and accelerometers to measure the fitness data. Basically, the measurements that are taken by the fitness band include the stairs climbed, the number of steps in a day, calories burned, and sleeping patterns. After the data has been collected by the band, it is then uploaded into software that compares the same data with the user's historical statistics. The major goal of a fitness band is to increase the awareness of body, health, and mind.
Are fitness-bands waterproof?
Ans. The answer is yes. These days most of the fitness bands are waterproof. You will find numerous options for waterproof fitness bands available in the market. However, there is a subtle difference between water-resistant and waterproof. Therefore, you will have to be very careful while purchasing a fitness band. Otherwise, you may end up damaging your fitness band.
Do the fitness bands have GPS?
Ans. Fortunately, advancements in technologies have led to the invention of GPS fitness bands. You will find so many different brands that sell fitness bands with GPS features.
What is the battery life of a fitness band?
Ans. Different fitness bands have different battery life. The battery life of the band depends upon the number of whistles and bell features on it. The more features a band has, the shorter will be the battery life. However, if you purchase a fitness band from a reputed brand, you may get good battery life.
Where should I buy a fitness band?
Ans. The fitness bands are available in the supermarkets, sports outlets as well as in the online stores. You can purchase a fitness band from the place where you are most comfortable. It doesn't matter where you buy it from, always prefer reputed brands. We would like to suggest you read the reviews and ratings before buying any product. Also, be aware of why you are buying a fitness band. This will help you select the gadget of your choice, and you will be able to pick out the best fitness band.
What is the relation between fitness bands and cancer?
Ans. The answer to this question is still not clear. You will find numerous claims on the internet that mobile phones can cause cancer. And people associate fitness bands with mobile phones. But the truth is something else, both of them are entirely different. This type of comparison is unfair, unlike mobile phones, the fitness bands are not held close to our heads. Also, there is no proper evidence or research that shows any links between cancer and fitness bands.
Final Words:
So, these were the top ten fitness bands that are popular in the Indian market under 3000 INR range. If you want to buy the fitness band to maintain a good track of your fitness activities, you can consider buying any of the given products on the above list. We have recommended these ten products after doing research on their features and customer satisfaction on these products. All products are good with their features like battery life, strap material, waterproof, heart rate tracker, BP tracker, and other activities tracker. Additionally, to connect with your smartphones or iPhones, all our above products have such an option in them. So don't have to worry about features for selecting these useful products.
To check the prices of all these features, just make a click on the Amazon links that we have given for all. To give complete details of these products, we have furnished both the pros and cons of these products without any bias.
Related Tutorial Topics
Here is the list of fitness bands that comes on different prices:
Ridhima Sharma is a Senior Pharmacist at Kukreja Hospital, New Delhi. Ridhima completed her Diploma in Pharmacy (D. Pharm) from UP University. She regularly writes article on health information, fitness and beauty related products at IndiasStuffs.com