With all these around, spending time exercising, indulging in healthy eating habits, taking a walk regularly, running to burn calories are a few things that can be done to keep ourselves fit. As it's a busy life, following these routines can be a difficult task. However, it can be done in bits and pieces whenever we find some time. As if it becomes difficult to track them, this is where fitness bands help us. These bands or watches track our activities like walking, running, sleeping, workouts, and also reminds us to achieve the goals that we have set. These devices also provide biometric readings like heart rate, blood pressure, ECG, and many more. These readings help us manage our health and monitoring any issues.
Best Selling Fitness Band Under 5000 INR
We have various kinds of fitness bands available in the market. In this article, we will be discussing 8 best fitness bands that are available below 5000 rs amount in India. We have carefully chosen these devices to help you achieve your goals.
1. Fitbit Inspire Fitness Tracker – Black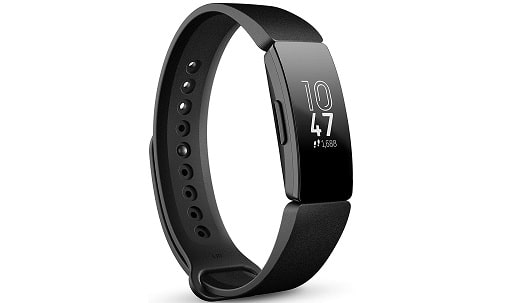 Check Latest Price
Fitbit is a popular brand in the fitness band world. They are known to be stylish, sturdy, and long-lasting bands. Fitbit Inspire model is also stylish and the black colour gives an elegant look for it. It is filled with features that we are sure you will be amazed about. The most basics of the features include the tracking of steps taken; distance covered, hourly activity details, calories burnt, and also the number of minutes you were active.
Is it difficult for you to wake up in the morning all by yourself? Fitbit would come to the rescue. You can set up an alarm in the band, and at the right time, it would wake you up by buzzing on your wrist. It is also designed to track your sleep to ensure you get the right amount of sleep with all the workouts you are performing. You can connect the band with your smartphone and hence you can view various notifications on the band's screen. You need not take out the phone from your pocket or purse to view who just called you. Other notifications also include text messages, calendar events, and smartphone app notifications. The band has a very good strap installed with multiple holes, which enables the strap to fit multiple hand sizes.
This also tracks all the workouts you perform like walking, swimming, bike rides, and also any kind of exercise that you do. It also stores the detailed motion data minute by minute for 7 days period and day by day data for 30 days. It is also waterproof, which means you can also use it during swimming and is water-resistant up to 50 meters of depth. The band is also devised to sync with Bluetooth 4.0 version and has a range up to 6 meters from the mobile device. It is compatible with IOS, Android, and Windows-based devices.
Things we liked
The stylish band makes compatible with any type of attire
5-day battery life when charged completely
Water-resistant makes it easy to track swimming
Compatible with most of the mobile devices
Tracks sleep ensuring you get enough sleep
Things we didn't like
Poor customer service
Customers received damaged or defective product
Incorrect readings by some devices
---
2. AmazfitBip Lite Smart Watch (Black)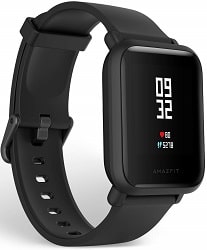 Amazfit brings to the users the smartwatch within the price range of a fitness band. The device is named Bip Lite Smartwatch. It is a very light weighted smartwatch and weighs just 32 grams. Isn't that amazing? Such a small device capable of performing so many tasks and keeping track of all your activities. The battery life is a whopping 45 days once completely charged. The black colour gives a royal look to the smartwatch. It is so light-weight that you will even forget that you are wearing one.
The watch comes with 1.28 inches of a reflective colour touch screen. The screen is always on and displays the time like on any watch. The screen is designed in such a way that the screen is visible indoors and also under sunlight. You can set it up to provide a glance view of time, date, steps, and other customizable information. Other features that make the watch durable are the 2.5D corning Gorilla glass and the anti-fingerprint coating. The glass is well protected from scratches and also the shocks.
The smartwatch is compatible with the IOS and Android devices, making it easy to sync with them. You can use MI-Fit app on the smartphone to sync the data to the phone. The watch helps you track all your daily activities like walking, running, workouts, and also your sleep. The watch is designed to give you sedentary reminders when you are sitting at the same place for a long time. You can view various notifications on the smartwatch screen like calls, text messages, WhatsApp, Gmail, and many such apps. The watch is also ATM certified, which means it is 30 meters depth water-resistant.
Things we liked
45 days battery life makes it a must-have device
Anti-glare screen enables you to read even under the bright sunlight
Corning Gorilla glass makes it a durable device
Push notification enables you to view the notification on the screen
Colour screen makes it even more attractive
ATM certified – 30 meters depth water resistant
Things we didn't like
Touch is laggy and can be annoying while using it
Not fit for people who look for a precision reading of the activities
Not a complete smartwatch as per few customer's comments
---
3. MevoFit Fitness band – Multiple features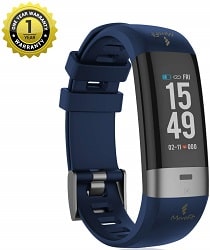 Mevofit Fitness Band is been endorsed by Mandira Bedi and you are aware of how fit she is. The band is filled with various health-related features that will help you keep a tab on all the variations. Let us look at the basic features first then come to those soon. The screen of the band is a colour display adding in more colours to the features. The time is displayed on the welcome screen, and it is displayed bold so that it is easily visible. Just below the screen is a touchpoint sensor of the band that displays the next feature every time you touch it.
The fitness band displays various notifications on the screen, enabling you to manage the calls, text messages just by looking at the screen. The band is sturdy and can always be used on your wrist no matter you are working, running, taking a bath, and in the rain. The band is water-resistant up to 30 meters. The band also features gesture control, which means you can control many activities just by the hand movements. You can download the mobile app to sync the data from the band to the phone. The mobile app also has community connectivity to ensure you are well encouraged to achieve your targets and helps you celebrate once achieved.
Now we will get on to the features that make the device a unique one. Other than tracking the activities, it also can track and measure your heart rate. The device is capable of taking readings of ECG, Blood Pressure, and PPG. This is designed to read through your heart rate, and blood pressure and keep track of them, making sure you are intimated if these readings are way beyond their normal levels. The device is compatible to be synced with all popular smartphones like Samsung, Xiaomi MI, Apple, Lenovo, and many more.
What we liked
Health-related features like Heart rate, ECG and Blood Pressure readings can be very helpful and life-saving features
Compatible with various popular smartphones
Tracks sleep to ensure you get proper sleep
The device is accompanied with a 1-year warranty by the manufacturer
What we didn't like
Customers complained of incorrect heart rate and ECG readings
The faulty device received by customers
---
4. GoQii Run GPS Fitness Tracker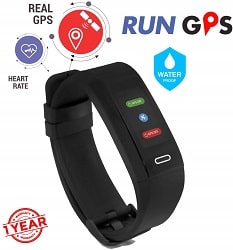 A pure fitness band from GoQii has the features that you may not have seen with any of the fitness bands we have discussed. It comes with a 3-month personal coaching subscription for free once you buy the device. The brand is endorsed by Akshay Kumar, who himself is a fitness freak. It is a GPS enabled device that ensures all the activities that are tracked are accurate and on a real-time basis. The band also has a heart rate monitor that accurately calculates the heart rate, unlike some devices which are known to read inaccurately. The device tracks all the activities accurately like, walking, running, exercising, and sleeping. It has 6 different screens for this purpose. You can navigate through the screens with a simple touch of the sensor on the device.
The device is installed with a battery that has a life of 7 days with normal usage. But if you have the GPS switched on, then expect the battery to die out in 8 hours. There is no separate charger provided with the device. The band is waterproof, which means you can use the device in the rain and also while taking a bath. Water spillage on the device would not cause any harm to it. The screen of the device has colour display, ensuring you can make out the difference with a glance. The USB charger is present on the device and you just need to plug it into any USB plug to charge it. Ever heard of tax benefits when you buy a fitness band? Well, it is there with GoQii. The purchase of the GoQii family care plan can be used for tax exemption under section 80D. With the device, you do get a 3-month free subscription anyways. The band is accompanied by a 1-year warranty. The device is also compatible with Android and IOS devices.
What we liked
GPS enabled band makes sure the activities are tracked accurately
A 1-year warranty for the device
Can track sleep along with other activities
Monitors heart rate with accurate readings
3-month subscription for a GoQii personal coach and doctor also with the purchase
What we didn't like
Lag or slowness is seen in the device
GPS takes time to switch on
Needs everyday sync
---
5. Huawei Band 2 Pro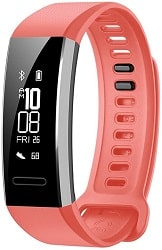 Huawei Band comes ina stylish red colour strap that will be an attractive one to any viewer. The strap and the band are ergonomically designed to fit in with comfort. That means you will never know the presence of the band unless you look at it. Not just looks, but it is also filled with features that are very useful and worth the buy. The band has in-built GPS, which will ensure all the activities are tracked accurately. The device has a built-in heart rate monitor that keeps track of it, ensuring the levels do not deviate from the normal readings.
The band acts as a coach which gives out all the readings the coach gives and drives you to achieve more. It tracks and monitors daily activities like running, jogging, walking, exercising, and also your sleeping. It counts steps you have achieved for the day and mentions the calories you have burnt to keep yourself fit. You can set goals for yourself and the device encourages you to achieve your goal. The device also comes with 5 ATM certification which means you can also wear the watch while swimming. That means you can track swimming activity also. It collects sleep data from your sleeping patterns and helps you get the right amount of sleep for the workout that you do daily.
The device is also designed to provide you any notification from the smartwatch that you have synced it to. You can set the alarm on the band, and it will buzz on your wrist, reminding of the alarm that you have set. These alarms can be set to wake you up or also remind you of any event. Other notifications that are supported are the incoming calls, text messages, Whatsapp notifications, and also other social media app notifications. The device connects to an android or an IOS smartphone via Bluetooth connectivity. The screen of the band displays information like battery life pending, time, and steps taken for the day. The display is not a colour one but is bright enough to see under any lighting conditions.
What we liked
Stylish Band and strap enabling you to display your stylishness
Heart rate monitor enables you to keep a tab on your health
Most of the notifications can be viewed on the band when synced to the smartphone
The band has a sleep monitoring feature which is a very useful feature
What we didn't Like
The product is not very durable as per customer comments
Activity Tracker Frequently Asked Questions
Do using fitness band cause any health issues?
A fitness band does not interact directly with your body, it just sticks to your skin and calculates the readings. If this question was based on the claims that mobile phones might be the reason for cancer, then, let me bring to your notice. The relation between mobile phone and cancer is still an unproven claim, and on the other hand, a fitness band does not emit or receive any sort of radiation or signals like a mobile phone.
What makes a fitness band the best?
There are more than a thousand different fitness trackers available on the market today, each of them could come from the same brand or from a different brand. However, the best fitness band is the one with maximum accuracy, style, diverse options, and reasonable price.
Do all fitness band need a smartphone to function?
Yes and no, the answer to this question depends on the fitness band that you purchase. Some of the fitness bands come designed to be connected to smartphones and some are designed without a Bluetooth feature. Therefore, it is very important that you know, if you need a fitness reading on your smartphone, then, purchase a smartphone-compatible fitness band.
Is there a real difference between a quantum layered band and molded band?
If you mean features, then quantum layered bands and molded bands are no different. However, when it comes to physical style and features, both of the bands have distinct features. While a molded band comes made of a single material and the entire band has two parts, a display console and band, on the other hand, the quantum layered band is made of assembled parts made of different materials.
Is it important that I purchase a branded fitness band?
Accuracy, quality, and style of a product are the most important things that a fitness band should have. If you need these features in your fitness band, then it is very important that you go for a reputed brand as they maintain consistency in quality, accuracy, and style.So, do not go for generic products and cheap products.
Is fitness band shockproof? Will it function if it falls down?
Shockproof feature of a fitness band is not something that comes incorporated in every fitness bands, some bands are made of cheap material that it breaks the first time it falls down. Remember, the accelerometer and other important parts in the band could malfunction if not protected. Generic and cheap brands do not have such protection, therefore, reputed brand and the specific shockproof feature should be on the product specifications.
How does fitness band keep track of sleep? Is it real?
The method each type of fitness band uses to track the sleep hours depends entirely on the type of fitness band itself. Some of the bands use the accelerometer on the phones to keep track of the sleep, on the other hand, most of the bands uses actigraphy. As per studies, the sleep trackers based on these two systems, work. However, it is not very accurate.
Conclusion
The fitness band has proved to be a handy device for our day to day activities. With a wide range of available features, it can be a lifesaver device. In a few devices, we have seen the bands monitoring health-related readings. These readings, although indicative, can give a good insight into how we can improve our health and if we need to consult a doctor. We have seen the top 8 bands that are available in the market, and we hope that we could help you with your buying decisions. These are the best ones we could find in the market, and all of them range within 5000 rupees. Happy buying!
Related Tutorial Topics
Here is the list of fitness bands that comes on different prices:
Ridhima Sharma is a Senior Pharmacist at Kukreja Hospital, New Delhi. Ridhima completed her Diploma in Pharmacy (D. Pharm) from UP University. She regularly writes article on health information, fitness and beauty related products at IndiasStuffs.com