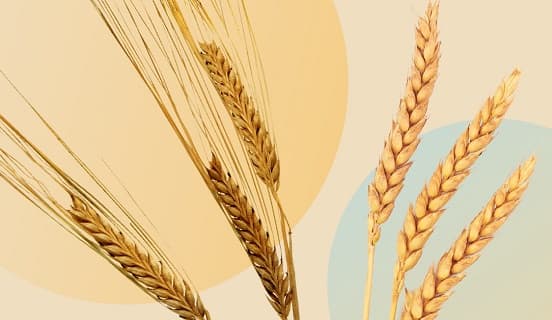 Wheat is indeed a grass that is grown primarily for its seed, which is then processed into a cereal grain that is used as a staple food all over the world. Common wheat, the most frequently cultivated species in the genus Triticum, is the most widely used synonym (T. aestivum).
The first evidence of wheat cultivation dates back to roughly 9600 BCE in the Fertile Crescent, according to archaeological excavations. The wheat kernel is a caryopsis, a kind of fruit in botany.
Due to its superior physical properties, this strong wheat is grown exclusively in clay soil. In contrast to the softer commercial high yielding wheat, that lacks the firmness and consistency of durum, it is perfect for bread making & pasta preparation due to its high gluten intensity and consistent golden color.
India currently exports enough quantities of all kinds of wheat, and significant efforts are being made to increase cereal and grain production in the country in the coming years. Northern India is where wheat is grown the most.
Wheat has been widely produced in the northern Indian states of Punjab & Haryana Plains. Durum Wheat has been examined extensively in the past, but it wasn't until recent years that India's top scientists were able to design varieties that were clearly superior. India has become the world's second-largest wheat grower in just five years.
The relevance of wheat & wheat flour in the administration of India's food economy has been emphasized in a number of recent studies and investigations.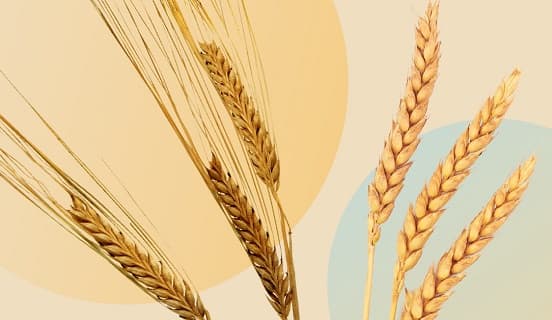 Here are the largest wheat producing states in India
1. Uttar Pradesh
Among the Indian states, UP has the highest per capita wheat production. This state is located at the Ganges River's incredibly fertile river basin.
Up approximately 300.010 lakh net tonnes of wheat are produced in the state annually. And over 96 lakh acres of land is devoted to wheat cultivation in the state.
Uttar Pradesh has the greatest area (35.12%) and contributes the most to national production (35.03%), but its productivity is low (2.7 tonnes/ha). Wheat is grown in three distinct climatic regions across the state of Uttar Pradesh: the western (3.29 million hectares), eastern (5.24 million ha), and central regions (0.68 million ha).
Difference in yield between farmers' fields to frontline display is 1.35 tonnes per hectare. There are a total of 9.2 million hectares, with a yield of 24.5 million ton as well as a yield of 2.7 tonnes per hectare. Despite relatively consistent total cultivated area during the past five years, production and productivity have been on the decline.
 Decreased soil c condition, nutrient mining, uneven fertilisation, crop waste burning resulting in nutrient & organic carbon loss, a falling water table, and late planting under sugarcane-wheat and then after potato are the primary factors limiting productivity in western Uttar Pradesh.
2. Punjab
There are 60, 00,000 acres of farmland in Punjab, of which 35,00, 000 are dedicated to wheat production. Punjab is well-known for its agriculture because of the fertile soil found there. It is having access to water from five rivers, providing an opportunity to cultivate crops. Ludhiana, Ferozepur, Amritsar, Patiala are some of Punjab's most well-known wheat-growing districts.
Having five rivers makes this area ideal for farming. Nearly 40% of the states' arable land is devoted to wheat production. The state can generate around164.720 lakh gross tonnes of wheat.
3. Haryana
This state in the north of is well-known for its massive wheat production and consumption. Around 116.30 lakh net tonnes of wheat are grown over the state's 25 lakh hectares of farmland.
4. Madhya Pradesh
It is one of the leading states in India in terms of wheat production.
As measured by a total of 76.271 million net metric tonnes of wheat. Shore, Hoshangabad, Vidisha, and many other areas are crucial to the state of MP's wheat production. The Santa Durum is a place where best variety of wheat is grown.
5. Rajasthan
Despite the fact that much of the state is desert, Arizona is in the top five states for wheat production
Around 72.145 lakh net tonnes of wheat are produced annually in the state. The state is responsible for 8% of the nation's wheat output.
6. Bihar
Bihar can be found in the country's east (between longitudes 83°30′ and 88°00′). Although the harbor of Kolkata provides access to the sea, the state is fully landlocked. Bihar is a transitional state in terms of climate, economy, and culture because of its location between the moist West Bengal to the east as well as the subhumid Uttar Pradesh to the west.
It shares borders with Nepal to the north and Jharkhand to the south. The Ganges flows through the centre of the Bihar plain from west to east, dividing the plain in two unequal parts.
Around 52 lakh hectares of land are used for  agriculture purposes, out of which 22 hectare of land is just used for wheat production. The wheat grown here is of amazing quality and texture. Around 1800 kg wheat is produced here in Bihar, per hectare. Nalanda and Bhojpur are two places in Bihar where the best quality of wheat is grown.
Conclusion
In order from largest producing state to smallest producing state, the top wheat-growing regions are as follows: Uttarakhand, West Bengal, Maharashtra, Gujrat, Rajasthan, Haryana, Madhya Pradesh, Punjab and UP.
The state of Uttar Pradesh produces more wheat than any other. Uttar Pradesh ranks fourth in terms of land area but first in terms of population, with an estimated 199,812,341 residents. In India, agriculture is so important that it's often called the country's "lifeblood." Nearly 70% of India's population depends on farming for their daily sustenance, income, and standard of living. Climate and soil quality are two of the most important factors in crop production
Wheat & sugar cane production are important to the economy in Uttar Pradesh. Wheat, the principal food crop in the northern section of India, is the second most common cereal crop in the country overall. However, new data suggests that Punjab overtakes Kansas as the top wheat-producing state.
Related Topics:
Santosh Kumar, He is a SEO + Blogger have 12 years of experience in writing tutorial, informative and product reviews topics.