This historical drama serial is based on the real-life story of Punyashlok Ahilyabai. This historical serial started being telecast on Sony TV in January 2021. The lead role of Puntashlok Ahilyabai is played by Aetashaa Sansgiri. The story has the sole purpose to demonstrate the struggle of women that used to happen in the duration 1767- 1795. The production rights of this show are with Dashami Creation. This Hindi inspirational – historical – drama is directed by Jackson Sethi.
Wiki
As stated earlier, this serial is inspired by the life journey of Queen Punyashlok Ahilyabai, who had broken all the barriers of patriarchal society. The serial has nicely represented the life struggles that Punyashlok Ahilyabai did for women's rights, and how she fought for women's rights. This show is best for all those viewers who tend to have an interest in historical events, and who are curious about historical events.
The extraordinary performance of the actors has added beauty to the show and viewers can't wait to watch the next episode of the serial. The King of Malwa, Malhar Rao Holkar, marries his son with Punyashlok Ahilya bai at a very young age.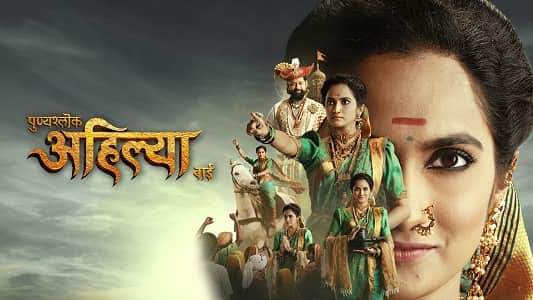 Story
This historical story's purpose at heart is to show how brave, courageous, and high-spirited Punyashlok Ahilya bai was. From a very young age, she was married to the son of King Malhar Rao Holkar. Punyashlok Ahilya bai is shown in the serial as an intelligent, honest, innocent, and kind-hearted girl, who is bold. It is a very rare fact, which people don't know that queen Punyashlok Ahilya bai was homeschooled by her father to read and write.
In the battle of 1754, the husband of Punyashlok Ahilya bai was killed and left her being widowed at the young age of 29. The old society's ritual had pushed the queen to be " Sati", but her father-in-law stopped her from doing so. Throughout her life, she fought for women's rights and received great support from her father-in-law, King Malhar Rao Holkar. After the death of Malhar Rao Holkar, his grandson, and son of Ahilya bai ruled the throne under the guidance of his mother. The queen fought for equal women's rights as equal to men and broke the barrier of biased society towards men.
Timing
The timing of this historical drama on Sony TV is 07:30 PM from Monday to Friday. The running of this show is nearly 30 minutes. This show is a hit show by Sony TV and it has a repeat telecast for 7:40 AM and 12:00 PM every Monday to Friday. At present, the serial has nearly 240 episodes and new episodes will be soon aired on daily basis.
Cast
The Lead Role
Aetashaa Sansgiri as Punyashlok Ahilya bai
SnehlataVasaikar as Gautami Bai
Rajesh Shringarpure as Malhar Rao Thakkar
Krish Chauhan as Khanderao Holkar
Sameer Deshpande as Mankoji Shinde
Santosh Kumar, He is a SEO + Blogger have 12 years of experience in writing tutorial, informative and product reviews topics.