A PC cannot function without a CPU, and it is the brain of a computer. Like all the products, an electronic device such as CPU would produce heat while functioning, and if the heat build-up goes beyond a limit, it could fry the motherboard and kill the computer. In recent years we Indians have started to depend on computers and the demand for accessories heavily has increased.
While most commonly PC's come with a CPU and a monitor as a standard design. Pro gamers and people who work heavily on the computer for hours cannot rely on a regular design. One of the main reasons could be that a regular computer might not be able to satisfy all the requirements of such people. However, a customized CPU cabinet case comes designed in such a way that it could accommodate add-ons and also has features like extra cooling fans and space for adding liquid cooling systems. A regular CPU will not come with these features.
Indian market is diverse and it simply means that the number of models available on the market is diverse; you could find CPU cabinet case at a price that could range from INR 2500 to a maximum of INR 15000. Therefore, if you are looking for a cabinet case with almost all the features at a price of less than INR 5000, you should consider purchasing the products mentioned below.
Best Buy CPU Cabinet Below 5000 INR
If you check the product listed below, you will find all the products to have exceptional features that would not be found in any other products.
1. Thermaltake V200CA-1K8-00M1WN-01, CPU cabinet case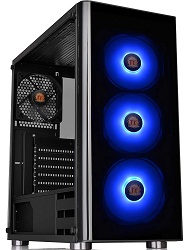 The brand Thermaltake has a reputation in manufacturing and marketing good quality product on the Indian market today. The products from this international brand are designed to be advanced, stylish, and efficient at the same time. The V200 CPU cabinet from thisbrand is no different. This CPU cabinet comes incorporated with tempered glass for enhanced efficiency and style. Apart from this, this CPU cabinet case comes with inbuilt 120mm 12V motherboard sync RGB cooling fans, which keep the heat inside the CPU to a optimum level. The product also comes with features that would allow the user to control the RGB light via I/O light control button. The input and output ports like a USB port, Audio jack, etc. Are place on the top of the cabinet for enhanced accessibility.
Pros
Tempered glass incorporated
Inbuilt high-quality RGB fans
Dual-mode 12V sync controller
RGB light control via I/O light control buttons
16 different modes of LED light modes
Cons
2. Corsair Carbide Series CC-9011050-WW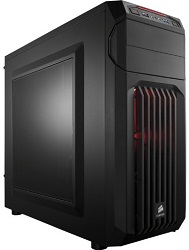 Most regular PC users does not care about their CPU cabinet, however, hard-core pro gamers and computer user's know the importance of an efficient CPU, and they would prefer purchasing a CPU cabinet case from a good brand. This product comes from Corsair and the brand have the reputation of marketing good CPU cabinet case. The ventilation system incorporated into this CPU cabinet case is comparatively very good and along with the dust filters at the front and PSU intake, it keeps the motherboard and all the dependent parts safe and clean. Unlike most of the cabinet case, this one comes designed with the space to accommodate long graphics card and also facilitate to install up to 4 storage drives in it. The manufacturer offers a 2-year warranty on this product.
Pros
Extra-large side panel window
Dust filters for maximum cleanliness
2-year warranty
Extra-large cabinet for a long graphics card
Can facilitate installing up to 4 storage drives
Easy to install and maintain
Cons
Few of the customers have reviewed the product to lack the space and facility to install a liquid cooling system.
3. Aerocool Bolt RGB PC Gaming CPU Cabinet

This CPU cabinet case is all about the style and quality, while most of the brands focus too much on style, Aerocool has a reputation in maintaining style and quality at the same time. This CPU cabinet case comes designed with inbuilt RGB LED design in the front panel and the design is kept optimum. The inbuilt LED light has 13 preset lighting modes and the LED control button placed on the top of the cabinet will enable the user to switch the lighting modes. One of the best things about this product is that it comes with a acrylic side panel that makes the inside of your rig visible to all. When it comes to style apart from the LED lighting on the front panel, the manufacturer has made the front panel in carbon fiber style for enhanced look and futuristic feel. Another important thing about this product is the dual-chamber design that would improve the ventilation and keep the interior of the case cool.
Pros
Stylish RGB led design on the front panel
Carbon fibre style front panel
Dual-chamber for better ventilation
12 different LED lighting modes
Acrylic side panels for style and visibility of your rig interior
Cons
Few of the customers have reviewed the product to come in an inefficient packaging.
4. Chiptronex GX3000 RGB Mid Tower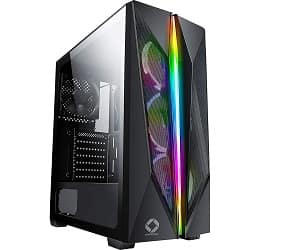 This CPU cabinet case is one of the most popular cabinet cases available on the Indian market today. This cabinet case comes from the brand Chiptronex and it boasts quality, style, and features at the same time. Unlike most of the products on this list, if you consider the features incorporated, the price of this CPU cabinet case is reasonable. This CPU cabinet case comes with 3 different 120mm RGB cooling fans incorporated in the front panel and a strip of LED RGB light that synchronizes with the motherboard. One of the best things about this product is that it is designed to support ITX/ATX/MATX. Another thing about this product is that it comes with one USB 3.0, two USB 2.0, and an HD Audio socket on the top panel for enhanced accessibility. The RGB LED light modes could be controlled through the RGB control button/switch on the cabinet case-control panel. The sides of this cabinet case are made of high-quality tempered glass, that offers enhanced visibility of the rig interior. Apart from all the above-mentioned features, the cabinet case is designed to facilitate installing two 3.5 HDD and two 2.5 SSD. This cabinet case also has one 120mm cooling fan at the rear end for maximum motherboard cooling.
Pros
Tempered side panels for visibility of the rig interior
Support ATX/ITX,MATX motherboards
Comes with one USB 3.0, HD Audio, and two USB 2.0 ports
Has 3 120mm cooling RGB fans in the front panel
One 120mm cooling fan in the rear
RGB strip in the front
Cons
Few of the parts inside the cabinet case is made of fibre, if not handled carefully, you could break it.
5. Antec GX202 Mid Tower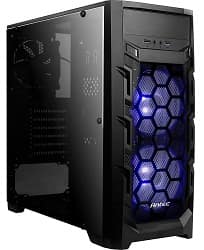 At least a few people would be familiar with Antec's name as it not only manufactures and markets CPU cabinet case, but also other computer accessories in the international market. There are different variants of this product available on the Indian market, the user should feel free to select anyone. The Antec GX202 comes made of a combination of SPCC and plastic. The product also has a transparent side window panel that offers visibility of what is inside your rig. The manufacturer has designed this product in such a way that it could support ITX/ATX/MATX mainboards. One of the things about this product is that it comes with two 120mm cooling fans in the front and one 120 mm cooling fan in the rear. Another top feature incorporated into this product is that it comes with two USB 3.0, mic/audio ports and power, and reset buttons on the top of the front panel. The overall dimension of the cabinet case is 450 x 205 x 435 mm.
Pros
Made of SPCC and plastic material
Transparent side window panel
Support ATX/ITX/MATX main boards
Has I/O buttons and ports on the front panel
Comes with two 120 mm fans in the front panel
Cons
This CPU cabinet case lacks dust filter and the number of cooling fans is not always efficient for hard-core gamers.
How to Choose The Best CPU Cabinet
CPU cabinets are available for a long time. Those days the cabinets were just boxes that can house the motherboard and wires. It was considered to be a protective box that can hold the CPU inside that. However, the days have changed, and the CPU cabinets are evolving with different features. Indeed, many models depend on many types of uses. Using a CPU cabinet shall for sure improve the performance of the computer too. There are many varieties available, and you need to choose the right one based on your requirement. This article shall help you in selecting the right cabinet for your CPU.
Size of the Cabinet
It is a factor you must start with because there are a total of three different sizes available in the market. Each has its advantages over the other. However, the extent that you choose must suit your need.
Full Tower:

As the name implies, this case is spacious. It can house the entire motherboard, cooling systems, and other hardware comfortably. It also has multiple cord connection pathways.

Mid Tower:

You can fit an ATX type motherboard in it and shall be of 18 inches in size. It is the one that is most commonly used these days.

Mini ITX:

This is a highly portable CPU cabinet that houses mini or micro ITX motherboards. It is not compatible with many hardware. Also, there is no provision for a liquid cooling system too.
Other critical features
SSD Mounting Points and Drive Bays
The CPU case should have either 2.5 inch or 3.5-inch drive bays. It shall help accommodate to store storage devices. Some cases also come with a 5.25-inch bay that shall allow you to keep the optical drive and fan controller.
Easy Installation
These days, the cabinets have come that shall help you install it with much ease. There is no need to use any screwdrivers.
Tangle Free Cable Management
Find the CPU cabinet that allows you to connect the cables to it with ease. Also, there must be ample space at the back to avoid tangling of wires too.
Cooler Unit
A few cabinets models come with a space at the back of the cabinet where you can fit the liquid cooling system. It shall ensure that you need not even touch the motherboard while you change the cooler.
Front Panel Connection
It is an incredible advantage you have when you buy a cabinet of this sort as you may have many external storage devices. For you to connect them with ease, you may choose this model.
Airflow
It is most important that you must look for in a cabinet. Purchase a CPU case with fans and allow maximum airflow to keep your system cool. It enhances the performance of the system.
Dust Filters
These days, CPU cabinets have come with dust filters. It shall avoid dust formation in the internal hardware of the CPU.
Water Cooling Space
Yes, your CPU cabinet shall have fans attached to it. But if there is a water cooling space, it adds further support to your CPU.
CPU Cabinet Case Frequently Asked Questions
Does the CPU cabinet case really matter?
Yes, some people assume that the CPU cabinet case has no role in the performance of a computer. This is a wrong assumption, CPU cabinet case do play an important role in enhancing and maintaining the overall performance of a computer. The better and efficient the CPU cabinet case, the better heat control it has.
Are all CPU cabinet cases have the same specification?
No, each type or model CPU cabinet case might have a different overall dimension. Some of them might be small and some of them too big. Each CPU case size is engineered to handle different size motherboards and parts attached to it.
Are big CPU cabinet case better than smaller ones?
Yes, experts commonly recommend using bigger cabinet cases as they offer more efficient cooling, which, in turn, helps to maintain efficiency and increase the lifespan of the computer. However, the motherboard should fit inside the CPU cabinet case you are purchasing.
How to find out if the motherboard of my computer would fit inside an external CPU cabinet case?
Most of the computers come with basic information like the motherboard type, dimension, etc. If the dimension is not available in your computer specifications, find out the type of motherboard and model and then google to find out the dimension. With this data consider a CPU cabinet case that is suitable.
Is it okay to assemble and use a CPU without a cabinet case?
Yes, it is okay to use build a PC without using a CPU cabinet case, however, the motherboard and all the attached hardware would be exposed. This could help in better cooling, but, you need to be very careful in leaving your PC open. If there is any static interference or shock, the entire motherboard could be worthless in just a second. One of the reasons for using a CPU cabinet case is to protect the motherboard and parts from static interference and exposure to dust, and any damages.
I already have a CPU cabinet that came default with my computer. When should I consider changing it?
If you already have a CPU cabinet, there is no need to change it unless you notice the CPU overheating or if you find the motherboard getting damaged frequently. Most commonly, people consider purchasing a new CPU cabinet case if they are planning to assemble a new PC or if they find a default CPU cabinet inefficient.
Conclusion
If you are looking for a CPU cabinet case, then you would know the importance of an efficient product. This is why we recommend that you consider purchasing any one of the products mentioned above and do not neglect any one of it.
List of Products Under Rs.5000 In India
Santosh Kumar, He is a SEO + Blogger have 12 years of experience in writing tutorial, informative and product reviews topics.