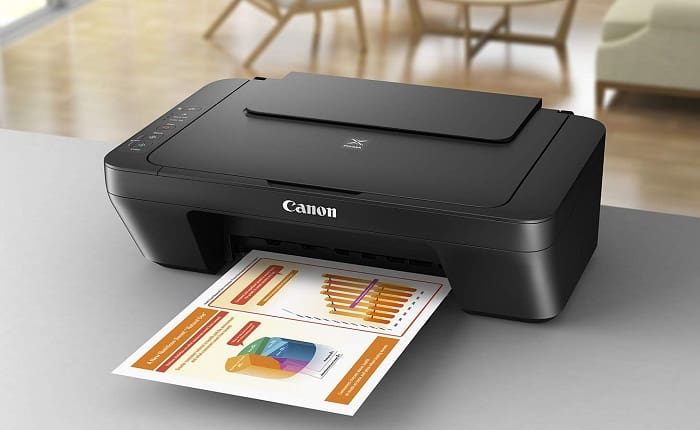 While choosing a printer for home or office use, you should always consider several things before making the final purchase decision. Like, how often you are going to use it, what are your needs, printing quality of the printer, does it come with scanning features, and so on. You won't believe that the printers start from the price point of only two thousand rupees, but they only come with some basic features.
And there are too many options present in the market if you are willing to buy a good printer for your home use or even for office use. If you don't know what you want in your desired printer, you will find yourself a bit confused because of hundreds of printer options. Yeah, it is also true that only a few options present when it comes to buying a printer under 5000 rupees budget, but you should always keep an eye on every option and choose the perfect one that suits your needs.
Best Selling Printers Below 5000 INR

Here we have compiled a list of seven best printers under 5000 rupees budget that you can buy from any Indian market. We found these best seven options after groundbreaking research, and now let's take a look at them and what you can expect from each option of this list, if you have little extra budget the you should try our list of top ten best printers under 10,000 which have some advance features.
1. HP DeskJet 2135 All-in-One Colour Printer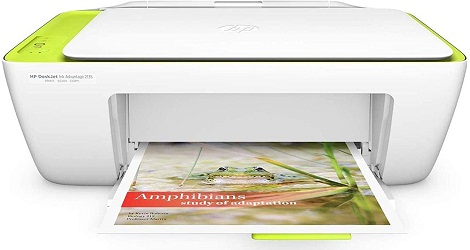 The HP DeskJet 2135 all-in-one printer is one of India's most popular because of the price point, and it only costs around 5000 rupees. And still, it comes with almost all the features that a user can expect from a color printer. You can get a firm idea about the popularity of this DeskJet series of the printer by just taking a look at its ratings that it got on online stores. If you are looking to buy a best printer for students home use where you don't want to use it for too much printing work, it can be a great option. For better clarification, we want to let you know that it is a typical inkjet printer, not the laser printer. Which means it works on the liquid ink cartridges model.
The cartridges are quite suitable for the occasional printing and all the home-based printing tasks, but some users reported that it gets jammed after a few days if you don't use it for a few days. Now let's take a look at the feature section of this all-in-one printer. So, the HP company has provided both scanning and printing features in one printer that is making it more suitable for home-based printing tasks. Another great thing is that it can print the color photos and documents; in our opinion, this seems a great deal because you are getting a color printer at this price point. The manufacturers claim that each black color cartridge can provide 480 printed pages, but on the other hand, the color cartridge can only last up to 150 pages or photos. Therefore the black and white page printing cost is around 1.4 rupees per page, and the color printed page's cost is approximately 4.5 rupees per page.
Pros
Perfect For home and small office use.
Color printer.
The scanner is available.
Easy to use.
Cons
Jamming of the cartridge can be an issue if you will not use it for more than a week.
2. Ricoh SP 111 Jam-Free Monochrome Laser Printer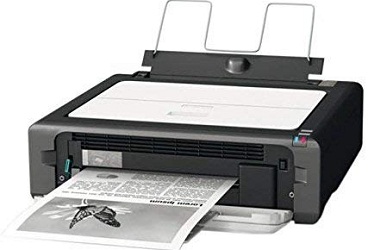 It is a sure thing that you rarely find any laser printer at the price point of only five thousand rupees. But in case if you want to buy a laser printer over the inkjet printer, then this is the one that you were looking for. So, on the second spot of this list, we have decided to add the Ricoh SP 111 Jam-Free Monochrome Laser Printer on this list to offer more value. Again this printer is also pretty famous in India, and the reason we have already mentioned earlier, yeah, you got it right, this is the price point. No other manufacturers offer the laser printing technology of printers in this budget segment if we neglect a few awesome brands. First, let's take a look at the printing quality of this laser printer, so it can easily print higher DPI of pages without any issue. And yeah, the laser printers are mainly famous because they can print smaller text with excellent details.
Talking about the design section, so it is nothing different because it looks like almost all the standard printers. However, we found that this laser printer looks a bit boxy at first glance. Going forward to the printing section again, we want to let you know that if you are willing to buy this laser printer by Ricoh, you can print only black and white documents with this printer. It's because this is a monochrome laser printer; in short, there are no other colors of cartridges present inside it. Usually, the inkjet and laser printer both produce a bit of noise while printing documents, but thankfully there is no such case with this one. In simple words, this Ricoh SP 111 model of printer is famous because of its quiet printing operations.
Pros
No noise.
Laser printer.
The print cost is too low.
It requires very little maintenance.
High DPI printing.
Cons
No scanning feature comes with this printer; it means you can only use it for printing black and white documents.
3. Canon Pixma E410 All-in-One Inkjet Printer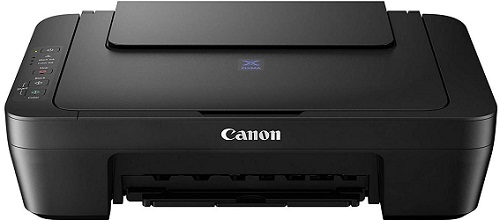 Now it is time to share another great brand of the printer with all the readers of this post, so here on the third spot of this list, we have the Canon Pixma E410 All-in-One Inkjet colour Printer for home and office use. There are many quality printers present in the market by the globally famous brand name Canon. So if you want to spend your money to buy a home-use printer from a reliable brand name, make sure to take a look at this option. Again this one is another all-in-one type of inkjet printer; in simple words, it can print, copy, and scan documents and photos. And if you want to know if it prints colored documents or not, we want to let you know that it can print both colored and black & white documents or photos. The design seems pretty similar to the other Deskjet printers of HP, but the best part is that it doesn't look very boxy.
Talking about the printing quality, so according to the manufacturers, this all-in-one printer can easily print high-quality documents and photos. And the best part is that it doesn't increase the cost of per page printing. The DPI sensitivity of this printer is impressive; therefore, it can easily print very clear documents and small fonts and texts. Yes, it also supports the document scanning features. You can use this scanner to print a document into several copies and convert a physical document into a digital copy. The excellent connectivity of this inkjet printer allows you to easily use it by connecting with your pc or laptop. Some additional features such as auto turn on when plugged and quiet printing can make your experience more convenient with this Canon Pixma E410 inkjet printer.
Pros
Low-cost cartridges.
Energy-efficient.
Higher DPI.
Color printing is also available.
Cons
4. HP Deskjet 2621 All-in-One Colour Printer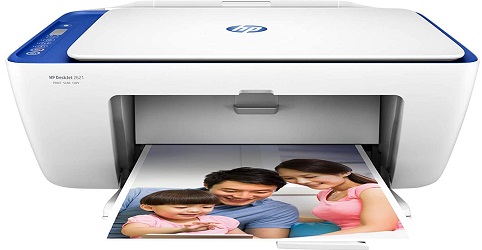 Like we mentioned that the Deskjet series of printers are very popular in India. These printers suit all the needs of a person looking for a printer that can handle decent printing tasks for home and small office use. This time on the fourth spot of this list, we have the HP Deskjet 2621 all-in-one printer. But the biggest highlight of this printer is that it comes with the wireless connectivity option. In simple words, you can easily connect this printer with your smartphone to experience hand-free printing. However, the manufacturers claim that a user can easily connect this printer with any android or ios device to send print commands to the printer wirelessly. Not only this but if you have smart devices like Amazon Alexa and Google Assistant, then you can pair this printer with these smart devices to activate with voice commons.
Going down to the feature section of this inkjet printer, you can perform tasks such as printing a document, copying a document, and scanning documents or photos. Yes, you got it right, this all-in-one printer comes with a scanner as well. Now let's move forward to the printing quality section; this printer can color both colored and black & white document printing. Talking about the overall quality of printed documents, so in our opinion, you won't going to find it worthless. It's because the printing quality is quite good actually because the manufacturers have provided higher DPI printing. The only thing about this printer that we don't like is that the printing cost per page is way higher than other printers. And the manufacturers suggest that you should buy this all-in-one printer for home or office use if you are willing to print 1000 pages per month.
Pros
Wireless connectivity.
Hand-free printing.
Stylish looks.
The scanner is available.
Cons
The only point that you should keep in mind before buying this printer is that the printing cost per page is more than others.
How to Choose The Best Printer in India
Whether you are planning to purchase the printer for your office or home, there are plenty of options available in the market that seems extremely dependable and better than others. However, with a limited budget of 5000, it is crucial to have some important points in mind. And this is what we are going to discuss here.
The first crucial thing to think of while purchasing a new printer is the type of printer you need to buy. The common categories of printers that you can go with are Inkjet, Ink tank, and Laser printer. As the price of all these printers differs a lot from each other, it is important to know the pros and cons associated with every one of them. Apart from the price, most of these printers also differ in the feature-list too. So, research well and then choose the right type of printer for yourself.
Brand reliability is another important thing to consider while purchasing a new printer. A better brand has better service reach and you can rely on their products for the features and performance. So, instead of falling for the price and offers, try focusing on the brand reliability of the product.
The technology has given the printers an extra hand over the other devices. Now the printers aren't only limited for printing the pages. You can now print, scan, and even copy the pages without seeking the help of the other devices. So, choose the best printer from a reliable brand that has all the features that you need for yourself at the best price.
Print speed can play an important role in choosing an ideal printer. The number of pages the printer prints in a minute defines the print speed, and this typically depends on the printer type and the laser printers are generally faster than the other types of printers. So, if you prefer a faster printer for yourself, the laser printers would be an ideal choice for you. Also, the print speed for colored and monochrome pages. So, keep this in mind and buy the best printer with decent print speed.
Printing cost is an important constraint that you should keep in mind while purchasing a printer. BE sure that the printer you are planning to buy for yourself has better printing costs and offers you the best value for money. The lesser printing cost will help you get full use of the printer regardless of the place where you are planning to use it in.
The maintenance cost of the printer is another thing to look for. By the maintenance cost, we mean the printer's cartridge cost, the service, and others. Make sure that the printer you are planning to buy for yourself has better value and offers great usability. By this, you will be able to choose a perfect printer for yourself that is affordable and has a better value for money.
Printer Frequently Asked Questions
Is it okay to leave the printer switched on 24×7?
Yes, it is okay to leave the printer switched on 24×7, however, we will not recommend that you do it. Some printers do not have a safety setup that could prevent the circuit incorporated into the printer from burning or malfunctioning if any issues arise.
Do printers that come at a price less than INR 5000 have inbuilt memory?
Yes and no, a printer under the price of INR 5000 may or may not come with inbuilt memory. The inbuilt memory feature could depend on the printer model. Even some of the premium printers do not have an inbuilt memory feature. Therefore, if you need a printer with an inbuilt memory feature, then you need to check the specifications and purchase a printer with this feature.
What are the common issues a printer could face?
There are several possible issues that a printer could exhibit. The first, printer not printing even if the cartridges are full. Other common issues could be, slow printing, incomplete printing, overuse of ink, leaky cartridges, print quality is deteriorating, each time, etc. Most of these problems require complex troubleshooting and some of them could be settled by the user.
Is it possible to track a printer based on the print? Do printers have fingerprints?
Yes, while the process is complicated, decoding the print could be useful to track the printer make, model, and serial number. In some cases, even the state and time could be decoded from the print. This is how law enforcement officials track criminals and frauds.
A printer that comes at a price less than INR 5000 is good?
Yes, as the competition on the Indian market has increased, most of the reputed brands have brought down the price of their printers. Even the premium printer is not as expensive as the ones 5 or 10-years before. Therefore, you do not have to worry about the quality of the printer under INR 5000, they are good and durable. Most of them come with good features too.
Which type of printer is the best, laser printer or inkjet printer?
If you are asking about the quality of the print, inkjet printers are better than a laser printer. However, if you compare the speed of printing, laser printers are twice much faster than an inkjet printer.
Conclusion
It seems very understandable how hard it is to choose the best printer under a lower budget. Therefore we have compiled a comprehensive list on this topic, and this post was all about people who are looking for budget-friendly printers for their office and home use. We are saying this because in this post we have listed seven best printers under 5000 rupees In India.
List of Products Under Rs.5000 In India
Santosh Kumar, He is a SEO + Blogger have 12 years of experience in writing tutorial, informative and product reviews topics.