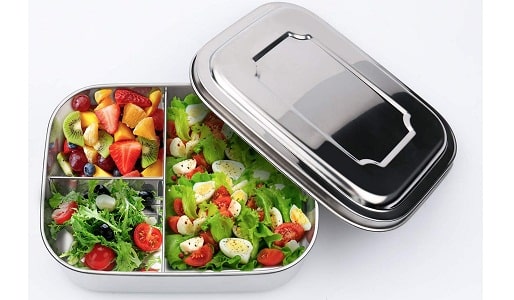 Whether you are from the working class of India or the school and college-going crowd, the one thing that always remains common is the "Lunch Box." Every inch of your tired body feels relaxed on opening your lunch box. But the safety and durability of your lunch box and the food inside is very important. Stainless-Steel is the best material you can think of when you talk about durability and safety. It not only is environmentally friendly but also has anti-bacterial activities.
This allows you to carry any type of food and drink anywhere. The Stainless-Steel lunch box keeps your food warm or cold and it is suitable for Indian Cuisine. Selecting among the best Stainless-steel lunch boxes in India is a task but you can compare the characteristics and cost of the lunch box and choose the one that matches all your requirements.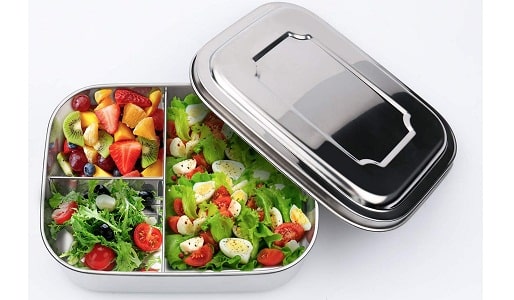 List of the best Stainless-Steel Lunch Box in India
How to choose the best Stainless Steel Lunch Box in India?
Stainless steel lunch boxes are the first choice of most people in India as they keep the food healthy and nutritious. In order to pack your food that retains its quality, you must keep in mind the quality and size of the box. But choosing a stainless steel lunch box is a daunting task as there are a dozen options to choose from, which can be indecisive to determine which one is the best? To help you choose the best, we have prepared a comprehensive buying guide after knowing genuine reviews, brand popularity and price. In this section, we are going to discuss the factors that you should consider while buying a stainless steel lunch box for young children or yourself.
1. Lunch box's Capacity or Number of Containers
Depending on appetite or the number of people you plan to serve, lunch box capacity varies. Typically, a lunch box with a smaller container inside of 350 to 400 ml is suitable for school children. While a stainless steel lunch box that comes with three to four containers of 300 ml each along with a bag is ideal for office goers. If you travel often, a lunch box containing four to five 400ml containers is an excellent choice. The larger the container, the greater the amount of food served to about three to four people. It is entirely up to you to choose the box with smaller size or larger size containers in a set of a lunch boxes.
2. Structure of a lunch box
If you are going to choose a lunch box for school kids, it is good to have a box with a more compact and smaller design so that your child does not have trouble keeping it in his bag.  However, when you are comprising for a double-decker, pyramid-shaped or oval tiffin box, it is best to look for a set that comes with a carry bag.
3. Purpose
It is important to first think about whom you plan to buy a lunch box from or why you need it. A stainless steel box that has classic look may be enough for school going students. If you plan on carrying fresh food while travelling or on your way to work, you'll need a sizable lunch box that keeps food untouched as well.
4. Lid's type
Stainless steel lunch box often not assured leaf-proof. To pack soups or semi-solid curries, you need one that features a plastic lid that is airtight, spill-proof, and leak-proof. If you pack dry food items like fried rice, roti, fruits, and pickle, you should opt for a lunch box with stainless steel lid.
5. Insulation
The box you're going to buy must have insulation capability so that your packaged food stays fresh for a long time. It is best to go with an insulated tiffin box while you are travelling or don't open the box within two hours. However, if you're packing dry snacks, such as fruit, the insulation box won't be as useful.
Stainless Steel Lunch Box Frequently Asked Questions
How does it wash and care for a stainless steel lunch box?
Place your lunch box in the dishwasher or hand washes it to give it a thorough cleaning. Then, wash it off with warm water. Dip the box in warm soapy water and wash it with a warm soapy sponge. Pour baking soda paste to remove tough stains or residue. For more stubborn stains, get a nylon non-abrasive pad dipped in detergent to tackle most stains. After cleaning, it is recommended that you wipe the surface thoroughly with a clean, dry cloth.
Does stainless steel corrode or steel?
Being resilient against corrosion and heat, stainless is a highly used material in Indian homes. Typically, chromium with stainless steel forms a protective layer as it reacts with oxygen, preventing corrosion and eliminating the risk of permanent marks.  Stainless steel lunch boxes last for long and resist growing stains with regular cleaning and gentle upkeep.
Pure steel, on the other hand, is not completely impermeable and is highly resistant to corrosion. Stainless steel is more susceptible to wear and tear if cleaned with harsh detergents, or other chemicals such as bleach. To prevent damage to steel, you must clean it regularly.
How long do stainless steel Tiffins keep food warm?
A regular 3-tier lunch box can keep food warm for almost one to two hours. Some stainless steel lunch boxes are constructed in three-tier insulated boxes which keep food fresh and warm for almost three to four hours.
What is the best stainless Tiffin Box?
There are a ton of options available in the Indian market when it comes to a stainless steel lunch box. These can be available in different designs, sizes, and lids under different colours. While some stainless steel boxes come with a single tier, two tiers, or three tiers. Some of the best stainless steel tiffin boxes is as follow:
Cello Click It Stainless Steel Lunch Pack
Sumeet Stainless Steel Lunch Box
Nilay Leak Proof Lunch Box 3 Compartment Stainless Steel Lunch Box
Signoraware Best Stainless Steel Lunch Box
How to choose the best stainless steel Lunch box for kids?
Choosing stainless steel lunch box for a child can be difficult, especially for children. Based on the amount of food, the colour of the lid they like, and the size that fits their bag, you can choose the right lunch box.
Check Other Stainless Steel Products:
Santosh Kumar, He is a SEO + Blogger have 12 years of experience in writing tutorial, informative and product reviews topics.