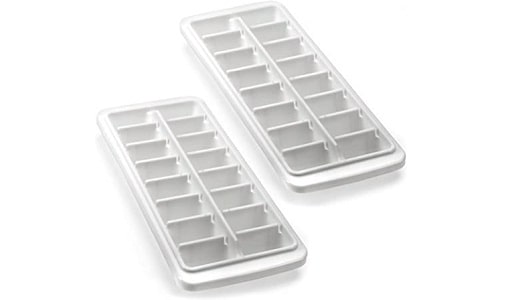 The people living in India want to stay fresh and cool both inside and outside as the hot air outside makes the body feel tired all the time. During the scorching heat of summer, most of us love to drink favourite beverages like refreshing juices, soft drinks, lemonade, etc. All you have to do is add refrigerating ice cubes to prepare a cool and refreshing drink. Homemade cold coffee, beverages, lassi and other drinks keep you hydrated. Without a cube tray, it is impossible to convert water into ice cubes form.
Two common materials used to make ice cube trays include plastic and silicone. But, you will have another strong and durable option which is stainless steel. The ice cubes that freeze in these trays do not dilute your drink and keep it cold for a long time. Keep reading to know certain best stainless steel ice cube trays in India.

List of Best Stainless Steel Ice Cube Tray in India
How to choose the best stainless steel ice cube tray?
Let's see key factors to consider before purchasing stainless steel ice cube trays or reusable ice cubes.
Why stainless steel?
If you are too concerned about the health hazards due to the usage of plastics and silicones, you would appreciate the toxic-free nature of the stainless steel for your ice cube trays. They are good conductors of cold temperature and eliminate the incidences of chemicals from plastics or silicone trays leaching into the ice cubes. Moreover, the longevity and robustness of the product and the quality that it doesn't change the flavour of the ice cubes are making potential customers invest in them. If you have planned to serve fancy drinks and wine at the parties, you wouldn't like it if the plastic ice cubes alter the flavour. After all, you would want your guests to enjoy the drink to the fullest.
Similarly, the cubes are formed with a uniform shape and make them perfect for treating your guests at parties. They stay in shape for long hours and come off easily from the trays.
Why reusable ice cubes?
Reusable ice cubes are a boon for spirit drinkers who retain the cool temperature for longer and don't dilute the drink. Ice cubes made out of water can melt over time and dilute the drink, thereby altering the strength. On the other hand, the reusable ice cubes made of food-grade material chill the drinks without altering the flavor or strength.
What should you look for?
Make sure to read about the material before investment. To ensure the quality, you must look for the food grade 304 stainless steel and 100% premium food grade.
Make sure that it comes with silicone-tipped stainless steel tongs as they would be comfortable while picking the cubes without slipping or freezing your fingers.
You might also like to choose more number of cubes in a set. A few companies provide 8 or 10 cubes in a set that allows you to chill them all at a time, and it would be highly helpful to serve a large gathering.
Take away:
Ice cubes have been chilling the drinks for a long time now; this evolution has highly benefited the whiskey connoisseur and retains the flavor, thus doesn't upset them until the last drop of the drink. Careful consideration of the above tips and proper handling of the reusable ice cubes can significantly affect your beverage time.
Conclusion:
Summers are tiring, and hot winds and congested cities drive people crazy. Chilled water or refreshing beverages help us beat the heat. People are drawn toward reusable things with new inventions in various fields. Likewise, the invention of reusable ice cubes and the ice cube trays made of stainless steel are bringing more value to the purpose.
Check Other Stainless Steel Products:
Santosh Kumar, He is a SEO + Blogger have 12 years of experience in writing tutorial, informative and product reviews topics.