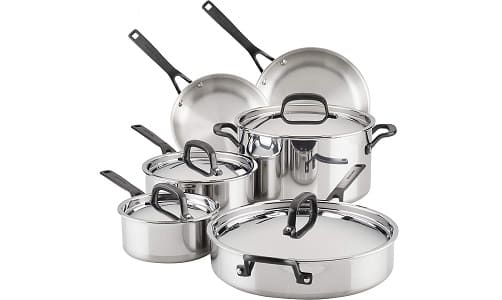 If you like cooking, then you may know that the cookware is the best partner in the kitchen. The taste, flavour of meals depends on the cookware. The cookware is something that can make or mar your food. You may be a good cook but if you fail to select the best and appropriate cookware, then it may prove to be a flaw in your cooking. Stainless steel is the best option when it comes to cookware. 'Stainless' word represents no rust.
The Stainless-Steel Cookware is durable, rust-free and also prevents the metallic taste in the food. You don't need to worry about the cost of this cookware as they fit perfectly in your budget. These stainless-steel cookwares are non-reactive to the food. All you have to do is to pick up the best stainless-steel cookware in India that suits your cooking style and helps you make the best food.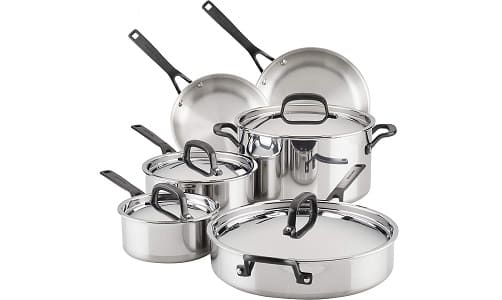 List of the Best Stainless-Steel Cookware in India
How To Choose The Best Stainless Steel Cookware
Here are the tips to choose different types of stainless steel cookwares:
Frying Pan
A frying pan is a flat-bottomed kitchen utensil with a handle. The sizes of a frying pan range from 16 cm to 30 cm. Available cooking capacity ranges from 1 kg to 3.5 kg. Frying Pans are available in various materials such are nonstick, iron, stainless steel, ionized, and ceramic.
Saucepan
A saucepan is a long flat bottomed kitchen utensil with a handle. It is mostly used to prepare food that requires prolonged boiling, such as soups, stews, gravies, and custards. It can carry 1 litre to 3 litre of food. Saucepans are available in 14 to 24 cm. They are available in non stick, stainless steel, and iron material.
Kadhai
A kadhai is a semi-round kitchen utensil, available with and without handles on both sides. Kadhai can be used for frying, sautéing, and even cooking curries. The cooking capacity of Kadhai goes from 1 litre to 7 litres. It's your kitchenware saviour as it is an unbreakable cooking utensil. Kadhai's durability depends on its material and its usage. Materials Kadhai available includes aluminium, stainless silver, non-stick, and iron.
Spatula
A spatula is a must-have utensil for every kitchen. It is a thin, broad flat head blade with a long stick for handling, mixing, and flipping food. Spatula sizes vary. The preferred spatula size is where the head is 15 cm wide with at least a 20 cm long handle. Spatulas are also available in wooden, silicon, brass, and stainless steel.
Cookware Set
This option may turn into everyone's go-to option as this is a set of 3 or 5 or even more kitchen utensils cookware consisting of Kadhai, lid, spatula, Tawa, saucepan, frying pan, and casserole. With this purchase, you do not have to look for different products and materials. You can select a material-based standard or bigger-size products all at once. Buying a cookware set based on your needs and requirements will save you some time and money.
Conclusion
Having the right kitchenware for prepping your food is a sturdy task. Which material, size, or capacity you need might get very confusing. You must first select material for durability and its essential effects in food preparation. Following you might want to check on what size you need entirely depends on you. Hope this manual helps you with your queries on buying any item of a cookware utensil.
Check Other Stainless Steel Products:
Santosh Kumar, He is a SEO + Blogger have 12 years of experience in writing tutorial, informative and product reviews topics.