A Spatula is an essential utensil or tool used to flip, mix, and turn the food. People using non-stick cookware in their kitchen should use a non-stick spatula to protect the Teflon coating. But, the question is what material will be suitable who have used stainless or metal cookware/pots/pans. Spatulas made from stainless steel are compatible with these pans surfaces as they can tolerate high temperatures, especially in Indian kitchens. That's why they are popular for Indian style cooking over the years.
Nowadays, these spatulas come in different sizes, designs, even coloured handles, which means the rear handle is equipped with coloured material and the front is pure stainless steel. Depending on how often you cook with metal pans, you can buy either a set of four or a set of two stainless steel spatulas. Here we have enlisted the best stainless spatulas in India.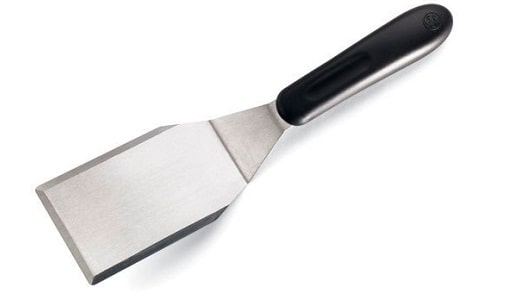 List of Best Stainless Steel Spatula in India
How To Choose The Best Stainless Steel Spatula
Some points to be kept in mind when selecting a stainless steel spatula have been discussed here.
Type of spatula
You need to decide about the type of stainless steel spatula you require. The standard shape of a spatula is like a flat spoon. However, spatulas come in various shapes and styles suited for specific purposes.
The fish spatula is angular-shaped. It is so named because it is perfect for flipping over pan-fried fish fillets. The whole fish fillet can be fitted on this spatula without flaking its parts. The fish spatula is not limited to flipping fish fillets only. It can also be used to flip omelettes, grilled cheese, pancakes and many more dishes. Silicone-covered stainless steel fish spatulas that do not scratch the pan's surface are also available.
Scraper does not have a flipper shape like conventional spatulas. Instead, its head is shaped somewhat like a knife, with one side flat and the other rounded. This stainless steel spatula is well suited for spreading frosting on a cake or turning or moving soft food items such as scrambled eggs. Its design enables it to access even tight corners. However, the scraper cannot be used for turning or moving heavy food items.
The spreader is a long and narrow stainless steel spatula resembling a sword. It is designed to spread icing on the cake, condiments on sandwiches, cheese spreads and other similar spreading tasks. It has a rounded head, and the blade is flexible. The rounded head scoops up the thing to be spread while the flexible blade spreads the toppings easily without shredding the cake, bread, or any other base.
Turner is another type of stainless steel spatula designed for high-temperature cooking and moving large quantities of food. The blade is shaped like a trapezoid and is solid or slotted. The blade's tip is tapered to slide under the food with ease.
Heat tolerance
Spatulas should be able to withstand heat and should not degrade at high temperatures. Stainless steel spatulas have high heat tolerance anyway. However, it is necessary to select only those stainless steel spatulas which have been tested for high-temperature tolerance—the greater the heat tolerance, the more its durability.
Edge
Stainless steel spatula with a thin and sharp leading edge is suitable for flipping and moving delicate food items such as pancakes. On the other hand, the thicker leading edge is well suited for heavy food items.
Conclusion
It is important to have the correct type of stainless steel spatula as per the type of food you want to use it for. Make sure that it has all the features you want.
Check Other Stainless Steel Products:
Santosh Kumar, He is a SEO + Blogger have 12 years of experience in writing tutorial, informative and product reviews topics.