Dance Plus is an Indian reality dance contest television series that is broadcast in Hindi and presented by the Frames Production house in collaboration with Urban Brew Studios. The show's motto is "Ise Kehte Hain Dance." Sugandha Mishra and Raghav Juyal acted as host for this show.
Season 4 was aired on 6th October 2018 and the last episode of the season was on 2nd February 2019. The series showcases dance performers in a competition for a grand prize. These performers can be solo acts, duos, or larger groups, and they can execute any kind of dance.
Every year Dance Plus season is aired on TV which brings in exceptional contestants. No doubt, this TV show raises their standards every year and comes up with best star performers that helps them in gaining great TRP.
Dance Plus Season 4 Winner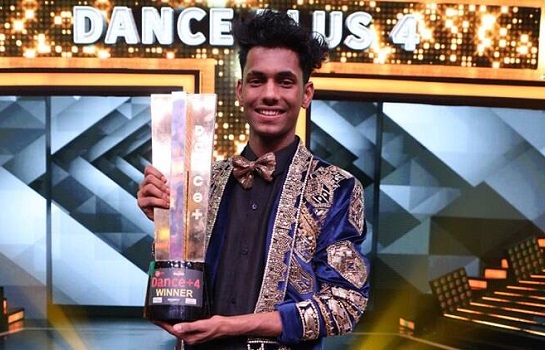 The champion of season 4 was Chetan Salunkhe, who competed for team Punit Pathak. The Dance Plus Season 4 Winner got Rs 25 lakhs as a prize money and a trophy of golden dance plus along with some exciting gift vouchers.
Dance Plus Season 4 Runner-Up
After the declaration of the winner of dance plus season 4, the runner up of this season were Vartika Jha from Team Dharmesh, V Unbeatable from Team Dharmesh and Aanchal and Sujan from Team Punit.
Punit's and Dharmesh team made their places in top 4 contestants while Shakti Mohan's team couldn't reach that list.
Dance Plus Season 4 Judge
This season saw Remo D'Souza reprise his role as the show's "super judge," as he has done in previous years. Remo is well-known for his work as a choreographer in addition to his work as a film director. He has directed a number of films and videos, some of which include A Flying Jatt, Race 3, ABCD, & ABCD 2. In addition to that, he has been a judge on all three seasons of DID as well as Jhalak Dikhla Ja.
Dance Plus Season 4 Mentors
The contestants of Dance Plus Season 4 were mentored by top 3 well-known dancers. The list includes:
Shakti Mohan
Punit Pathak
And, Dharmesh Yelande
Contestants were chosen to work with a certain judge or mentor as part of a team during the audition process. The winner of the competition was determined at the very end of the show.
Each and every one of the Dance Plus Four Contestants have incredibly distinctive and one-of-a-kind dance moves. They are separated into the teams of Shakti, Dharmesh, and Punit respectively. Every week, Remo D'Souza will evaluate the performances of all of the Contestants as well as the Crew. In addition to that, both of them are going to engage in a dance-off against one another.
Dance Plus Season 4 Contestants
Check out below the list of contestants and their mentors
Team Shakti
Rishabh Sharma known for his popping
B-Unique-Animation
The Veterans-Hip-hop
Team Punit
Aanchal and Sujan known for their contemporary dance style
Chetan Sulankhe- Popping
Feel Crew- Lyrical
Team Dharmesh
V Unbeatable popular for their hip-hop style
Gang 13- Urban choreography
Vartika Jha- Hip-hop and popping
S-Unity crew- Hip-hop
Related Topics:
Santosh Kumar, He is a SEO + Blogger have 12 years of experience in writing tutorial, informative and product reviews topics.