Many people often want to get home an electric kettle, but they are not sure whether it is a useful appliance or not. Electric kettles are one of the best and most useful kitchen appliances. You will be able to heat liquids in just no time and save a lot of time and money. They make the task easy for you. They come with several benefits that you will be able to enjoy when you are using them. But you should also understand that they also come with some disadvantages. It is not just the electric kettles, but any kind of product that you buy will have both pros and cons as well.
So, you should first get information about the pros and cons and then weigh them against each other to know the product in detail. Here we have given both advantages and disadvantages, but before that let us have a look at the main features of electric kettles.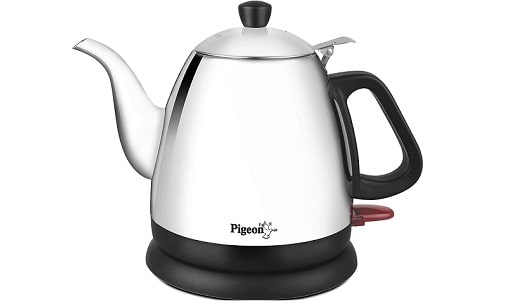 Main features of Electric kettles:
Here are some of the main features of latest electric kettles that you need to know before buying one:
They are easily portable. The design, size, shape and usage of the electric kettle is designed in such a way that you will be able to carry it along with you anywhere. You will just need a socket for using the electric kettle. Some of them can even work with the help of a USB cable, and that makes them easier to use anywhere. So, they are portable.
An electric kettle is very easy to use. When compared to normal or conventional electric kettles, electric kettles are much better. You will be able to use them easily and handle them comfortably even when they are hot. They have outer insulation that keeps them cool and easy to handle. But when it comes to conventional kettles, this is not possible.
You can use it at a temperature of your choice. When you are heating different kinds of liquids, you will have to heat them at different temperatures. Sometimes you don't want the liquid to be too cold or too hot, and in that, you should be able to handle the temperature well. This is possible only with electric kettles than the stovetop heating process or conventional kettles.
They have an auto-shutoff feature. If you are using the conventional kettles, then you will have to place them on the stovetop and then remove them manually when the boiling process is done. But when it comes to electric kettles, they automatically shut off when they are done boiling or heating the liquid that is in the kettle.
Advantages of an electric kettle:
One of the best things about an electric kettles is that they can be used in multiple ways. Yes, you can use it for boiling water, making coffee or tea and also for boiling eggs. This is why it is important to have an electric kettle at home.
An electric kettle is much faster than the conventional kettles, and that makes them quite faster. So, you will be able to get hot water or beverages instantly with an electric kettle.
The latest kettles come with advanced features, and that makes it possible for you to boil water or other beverages at the desired temperature or at a temperature of your choice.
When compared to the stovetops, these electric kettles consume very little energy. That means you will be able to save a lot.
An electric kettle can be easily carried along with you, and hence you will be able to use them anywhere and at any time without any worries.
They have an auto-shutoff feature, and hence you need not have to worry about excess power consumption or too much boiling or cooking.
You will also be able to use the kettle with a USB cable if you choose that kind of model.
Disadvantages of Electric Kettles:
One of the most important points that you need to keep in mind is its price. An electric kettle is expensive than stovetop kettles.
The electric kettles are made using plastic, which is not a safe option and also they can lead to fire accidents as well.
As they work on electricity, it can increase your electricity bill.
So, this is some useful information about electric kettles that can help you. There are many other pros and cons of using an electric kettle. You should compare them and then decide whether it is a good product for you or not. When compared to the cons, the advantages of using an electric kettle are high, and hence it is good to get one for your kitchen today. But just make sure that you are picking the best kettle so that it gives you all the benefits listed above and lasts for a very long time.
Related Topics
Santosh Kumar, He is a SEO + Blogger have 12 years of experience in writing tutorial, informative and product reviews topics.