When you go out shopping or when you check out online for some kitchen appliances, you will be surprised with the different kinds of appliances that you get to see. Most of the appliances that are available are very popular, and one of such amazing kitchen appliances that is getting more and more popular these days is an electric kettle. An electric kettle is a faster, convenient, and safe option when compared to the conventional kettles that are available in the market. With a conventional kettle, you will have to monitor it from time to time, which is not the case with electric kettles.
An electric kettle for tea making is very simple to use. It comes with a cord, and you just need to plug it into the socket and switch it on. You will also be able to find the cordless options, which work by just charging the electric kettle. Such models come with a USB port for charging or using. You can set the temperature, and it will do its job. You need not have to stay there to monitor the boiling process. The best part about the latest technology is they come with an auto-shut-off feature. That means, once the boiling process is completed or when the kettle reaches the maximum temperature set, then it shuts off automatically. With this, you don't overcook something, and also you don't waste electricity.
Electric kettle can be used in multiple ways, other than just boiling water. The main purpose of a kettle is boiling water, but you can do a lot more than that. One of the most common purposes for which an electric kettle is used is for making tea. You will be able to make different kinds of tea with the help of an electric kettle. So, if you have never used your electric kettle for making tea, then here is the process explained for you.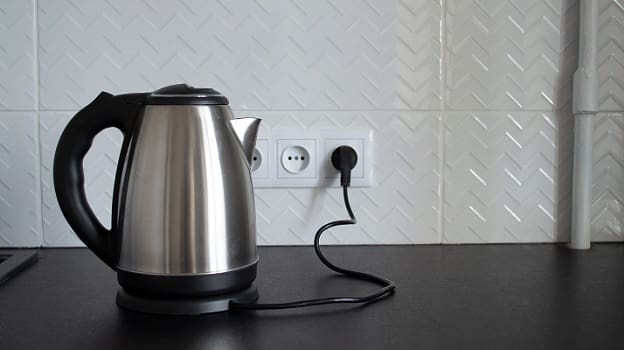 You will be able to make tea in two different ways with an electric kettle: One is with milk, and the other is without milk. You can also make tea with the help of tea bags or tea dips.
Making tea with milk:
Milk tea is the most common and favorite tea option for many people. Many people just love milk tea. So, here is how you can make milk tea in an electric kettle.
You should first start by boiling some water in an electric kettle.
Meanwhile, make sure that you keep a pot ready with tea leaves in it. Depending on how strong you want the tea to be, you will have to keep adding more tea leaves to it.
Once the water is boiled well, you can now switch off the kettle and add this water to the pot with tea leaves.
You should now leave the water in the teapot for at least five minutes. It steeps the tea.
When the process of steeping is done, you should add milk to the tea.
Always remember that you need to keep adding milk very slowly. You should never add it at one go. Also, remember that you should stir the tea very well. If you add milk at a time, that will turn the tea watery.
If you are using tea leaves in original form, then make sure that you strain the tea before you consume it.
Making tea without milk:
Not necessarily everyone will like milk tea, some people even love the tea made without milk. It is one of the healthy options for you. If you are health conscious or on a diet, then plain tea is the best choice. You can make green tea, black tea, Oolong tea and other kinds of tea in an electric kettle.
You should first boil some water in the electric kettle.
You should now take a teapot and add tea leaves to it. You can also take tea bags of your choice.
After the water is boiled completely, you can now add this boiled water to the teapot.
Place a lid of the teapot and allow the tea to steep. If you are making green tea, then it should be left for one minute, whereas for black tea, it should be two minutes. For other kinds of tea like Oolong tea, you will have to steep for a longer time.
After you are done with steeping, you can now strain the tea into a cup and drink. You can also add a sweetener of your choice to make the tea more tasty.
When you wish to make the best tea, you need to keep certain things in mind like the amount of tea leaves that you are adding, the kind of tea leaves, quantity of water, milk and sweetener. You should also make sure that the water is boiled properly. When the water is not boiled well, your tea does not taste good. That is the reason why electric kettles can make the best tea. They will boil water to a temperature of your choice so that you will be able to make the best tea.
Another important point that you need to keep in mind is that you should never add tea leaves to the electric kettle for making tea. You should always brew it separately only. When you brew it directly in the kettle, there are chances that the kettle gets spoiled. The life of the kettle will decrease and hence you will have to again spend amount for it. So, this is the simplest way to make tea in an electric kettle.
If you are using tea bags, then you can just add some boiled water to the teacup and dip the tea bag, and your tea is ready to be served. With the help of the electric kettle, you will be able to save a lot of time that you need to spend near the stovetop for the water to get boiled. Also, you need not have to keep monitoring the water when it is boiling. You can make tea in just a few minutes whenever you feel like having a tea.
Related Topics
Santosh Kumar, He is a SEO + Blogger have 12 years of experience in writing tutorial, informative and product reviews topics.