When it comes to buying an appliance that helps you to boil water quickly, there can't be a better option than an electric kettle. No matter how busy it is, drinking a cup of tea or coffee is everyone's routine. Boiling water in a pan and giving it a proper time may seem a bit tricky. Regularly using a pan for boiling water or making beverages not only taking much time and effort also may increase the risk of burns. Having an electric kettle in your kitchen for preparing a cup of tea or boil a glass of water is a convenient alternative. With its help, you can enjoy any beverage whenever you want.
No doubt, an electric kettle is far better in the term of speed and efficiency. It reduces your efforts and saves time too. Because of its various benefits, an electric kettle has become popular these days. Who would think that an electric kettle is not that necessary, will read this post. In this post, you will know the benefits of using an electric kettle. I hope, after reading this post you would love to buy an electric kettle.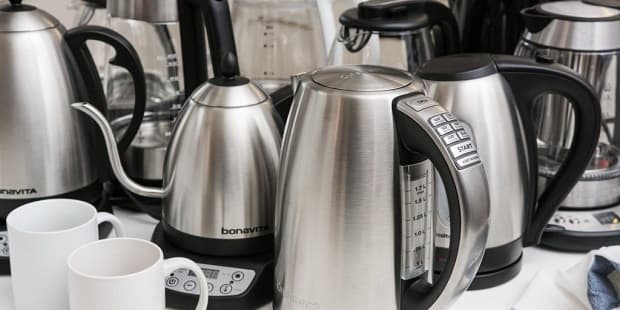 Benefits of having an electric kettle for the kitchen
There are various benefits of having an electric kettle for making tea, beverages and makes them more delicious. Let's have a look at some benefits:
1. Makes tea or Coffee tastier
If you are using a gas burner in your kitchen for boiling water or making a beverage, you can notice the taste may differ. However, each beverage needs a different temperature to be boiled to carry soothing flavours and colour. Therefore, an electric kettle helps in maintaining proper flavours and consistency. On the other hand, if you are using a gas stove or microwave to prepare a beverage or boil a glass of water, the quantity and consistency both differ at the same time. Such types of kettles are made of advanced a technique, which includes adjusting temperature switches and automatically power off button. You just need to fill the kettle, the automatic switch can works when the water is adequately boiled.
2. Easy to carry and use
An electric kettle comes in a suitable size and weight. You don't have to worry about carrying it. Every electric kettle brands come with an instruction card and warranty card. It will guide you properly and will help in using the electric kettle step by step.
3. Consume Less Electricity
There is a misconception about electric brands, that they consume more electricity. But that is wrong; an electric kettle comes with a higher wattage which may save your electricity bill. As compared to microwave and electric stovetops, and electric kettles are much more energy- saver. It is obvious when water boils more rapidly, you can save your electricity bill at the end of the month. According to appliances experts, an electric kettle is eighty percentile more energy-efficient than a microwave or stove burner.
4. Safer than traditional Stovetops
Traditional stovetops may enhance the chance to contact with nasty burns and scars. While an electric kettle comes with further safety features like an auto shut-off option and automatically on-off feature. It is much safer than traditional stovetops. Another benefit of having an electric kettle is, it stops the boiling process if the liquid starts bubbling. Suppose, you are busy preparing food and as well as boiling water at once by using traditional stovetops, you may face hassles because of its old technology. The traditional stovetops haven't automatically featured. So, the chance of risk from burns may increase generally.
5. Save efforts and time
In this busy world, each person has limited time because of their hectic schedules. Additionally, waiting for water to boil for making tea at that time will become a cause of anger or irritation. At that time, an electric kettle is an ideal option. During the winter season, the habit of drinking tea and coffee will increase as usually, having an electric kettle for that is the best solution to save to your efforts. It takes less time for boiling water because of its high wattage heating capacity.
6. Reliability and durability
Many people thought that an electric kettle may stop working sometimes. It depends on you how much you used your kettle. No doubt, any electric product will be offered under warranty and comes in different ranges. You have to no worry about its durability if you work it in a good manner by using all instructions.
Final Words:
An electric kettle is an advanced solution to boil water, preparing beverages, tea or coffee. With lots of benefits, it reduces your efforts and offers you to taste flavouring drinks. Those who think that an electric kettle is not that effective, after reading all benefits they can change their mind surely.
Related Topics
Santosh Kumar, He is a SEO + Blogger have 12 years of experience in writing tutorial, informative and product reviews topics.