Bigg Boss, the Hindi version of the widely successful American television show Big Brother, has gained enormous popularity in the country's Hindi-language version. As a result, the show's producers decided to make it available in other Indian local languages. This year, the Tamil version of the show debuted with Kamal Haasan as its host. The show broadcast on Star Vijay & streams on the OTT channel Disney+ Hotstar, and it has garnered positive reception from audiences.
It is a famous reality television show in India that has garnered a big audience among the country's general populace. The first season of Bigg Boss was produced in Hindi for a predominantly Hindi-speaking audience. After achieving unprecedented success in the reality television industry, Bigg Boss has expanded to other networks to meet the overwhelming demand for a remake of the show in other local languages.
List of All Bigg Boss Tamil Winners
The following is a list of all-time Tamil Bigg Boss winners from all seasons.
Season 1 of Tamil Bigg Boss –Winner, Aarav Nafeez
Aarav Nafeez made history by being the first person to win the most championship title in television history, Bigg Boss Tamil Season 1. He is a model and actor from India who is known for his work in the Tamil cinema industry. Saithan, in which he co-starred with Vijay Antony, was his first entry into the acting world (2016). He became well-known after winning the first season of Bigg Boss Tamil, which was anchored by Kamal Haasan.
Aarav was crowned the champion of the inaugural season of Big Boss Tamil, which aired in 2012. Aarav received the most votes out of the three finale contenders, who were Sneha, Ganesh, & Harish, respectively. Big Boss & Vijay television awarded him prize money of Rs. 50,00,000 in exchange for his participation in the show. With the coveted and imposing Ultimate Trophy comes the grand prize.
Season 2 of Tamil Bigg Boss –Winner, Riythvika
Riythvika has been crowned the Bigg Boss Tamil Season 2 winner, with the show's host, iconic actor Kamal Haasan, serving as the show's host. She has appeared in several Tamil films in supporting parts. She began her professional acting career with an appearance in Paradesi, a film directed by Bala. She was the winner of the reality program and has amassed a large fan base.
She received a trophy as well as a monetary award of Rs. 10 lakh. As a runner-up, Aishwarya Dutta took second place, followed by Vijayalakshmi Feroz in third place, and Janani Iyer in fourth place.
The show premiered on 23 June 2019 following the conclusion of the second season, and it concluded on 6 October 2019 with the season finale.
Season 3 of Tamil Bigg Boss –Winner, Mugen Rao
When Mugen Rao appeared on Big Boss Season 3, he wowed the audience with his fantastic performance. As a result, he has been crowned the victor of the Bigg Boss Tamil season three. He is a Malaysian performer, singer, director, and entrepreneur who has worked in a variety of fields.
Season 4 of Tamil Bigg Boss –Winner, Aari Arujunan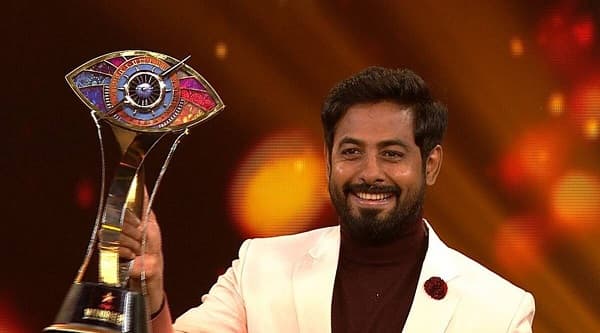 Aari Arujunan, better known by his stage name Aari, was crowned the Tamil Bigg Boss Season 4 winner on Sunday. According to the latest figures, Aari has received 16.5 billion votes. As among the most nominated participants in the BB house, he was well-known for his sincerity and straightforward demeanor, which earned him the nickname "The Straight Shooter." Silambattam is a martial art discipline in which he is a specialist, and he holds a World Record for growing seedlings with a group of 3000 students.
Season 5 of Tamil Bigg Boss –Winner – Yet to be declared
The Tamil Bigg Boss Season 5 has recently started on 3rd October 2021. The winner is yet to be declared. Here is the list of Bigg Boss Tamil Contestants of Season 5
Isaivani
She has performed with 'The Casteless Collective,' an Indian indie group based in Chennai. She is a gaana singer from the city of Chennai. She was born in the Chennai suburb of Royapuram to parents Sivakumar D & Selvi. Isaivani's performing career started at the age of 6 when she appeared with her father, and by 2018, she had performed with him in approximately 10,000 performances.
Raju Jeyamohan
He is indeed an Indian film & TV actor who has primarily worked in the Tamil film industry during his career. Raju made his acting debut in the 2019 film Natpuna Ennanu Theriyuma, which was directed by Raju. Additionally, he has appeared in television series, including 'Kana Kaanum Kalangal, 'Kalloori Salai, 'Aandaal Azhagar, and 'Saravanan Meenatchi.' Raju tied the knot with his long-term partner.
Mathumitha
Mathumitha is a known fashion designer  of Germany & model.  She is the daughter of a Sri Lankan father and a German mother. In the upcoming season of Bigg Boss Tamil, which will stream on Star Vijay TV and be hosted by Kamal Haasan, Mathumitha will be one of the competitors.
Abishek Raja
Abishek RaajaIndian is an actor & video jockey who has primarily worked in the Tamil cinema industry during his career. Imaikkaa Nodigal, Abishek's first feature film, premiered in theatres in 2018. It was directed by Abishek.
Namitha Marimuthu
She is indeed an Indian model who works primarily in the Tamil movie industry. She was born and raised in Chennai. She made her acting and singing debut in the Kollywood film Nadodigal 2, directed by Samuthirakani, in which she also performed as a playback singer. She is the first transgender woman from India to represent the country in Ms. Trans Star World. She also competed in Ms. Chennai, Miss Pondicherry, and other beauty pageants.
Priyanka Deshpande
She is a TV actress and host who is currently associated with Vijay television. Priyanka is initially from Maharashtra, and she attended St Antony School in Hubballi, Karnataka, for her secondary education. After completing her secondary education, her family relocated to Chennai, where she went on to complete her bachelor's in Viscom at Ethiraj Institution in Chennai, Tamil Nadu.
Abhinay Vaddi
He is a South Indian actor who is most known for his performance in Tamil & Telugu language films, among other things. He is the grandchild of Gemini Ganesan & Nadigaiyar Thilagam (Mahanati) Savithri, and the son of Gemini Ganesan and Thilagam (Mahanati) Savithri.
Chinnaponnu
Chinnaponnu, commonly known as Chinna Ponnu, is a Tamil-language folk & playback singer who mostly performs in the Tamil language. She rose to fame as a result of the track "Vazhthuren Vazhthuren" from the film Chandramukhi, in which Rajinikanth and Jyothika appeared. Following that, her second significant hit, "Nakku Mukka," which was incorporated in the 2008 movie Kadhalil Vizhunthen, earned her a slew of accolades.
Pavani Reddy
Pavani Reddy is a popular Indian film actress who has appeared in films and on television. She is well-known for her efforts in the languages of Telugu and Tamil. Having worked in tv soaps like Agnipooulu and Rettai Vaal Kuruvi, I can speak from experience. Pavani had her feature movie debut with Dream, which she co-wrote and directed (2012). She became well-known as a result of her role in the Tamil television series Rettai Vaal Kuruvi.
Nadia Chang
She is a Malaysian model and actress who works in the fashion industry. She was raised in the Malaysian city of Ampang, near the capital city of Kuala Lumpur. Nadia competed in the 'Mrs. Malaysia World 2016' pageant and finished as a finalist. Nadia Chang has directed several short films as well as Malaysian movies. Bigg Boss Tamil is a reality television show that airs on the NBC network. In the fifth season of Bigg Boss Tamil, Nadia Chang is among the participants. The show airs on Star Vijay.
The list includes few more popular names like Akshara Reddy, Varun, etc.
List of Tamil Bigg Boss Show Judges and Hosts till date
Have a look at the Judges and Hosts of Tamil Bigg Boss Show Reality Show to date:
| | | | | |
| --- | --- | --- | --- | --- |
| Year | Tamil Bigg Boss Season | Winners | Runner-up | Name of Hosts |
| 2017 | Season 1 | Arav Nafeez | Snehan Sivaselvam | Kamal Hasan |
| 2018 | Season 2 | Riythvika | Aishwaraya Dutta | Kamal Hasan |
| 2019 | Season 3 | Mugen Rao | Sandy | Kamal Hasan |
| 2020 | Season 4 | Aari Arujunan | Balaji Murugadoss | Kamal Hasan |
| 2021 | Season 5 | To be announced | To be announced | Kamal Hasan |
The audience is the judge of the show. Each week, contestants are voted for eviction by their fellow contestants in the house. Participants in the contest what they'd like to save from eviction are nominated by the audience and then voted for them. Each viewer can cast a maximum of ten votes every day. The person who receives the lowest votes is eliminated. A contestant who violates the rules or who must leave the home for medical reasons is expelled from the competition.
Conclusion
Above all, this was the show's ability to be amusing that helped it become a hit. Bigg Boss provided a great deal of amusement to the public, from its original premise to the way wherein the in-house events were created. While some of the activities brought tears to the eyes of the viewers, others brought smiles to their faces.
Santosh Kumar, He is a SEO + Blogger have 12 years of experience in writing tutorial, informative and product reviews topics.