Kaun Banega Crorepati is India's Biggest Quiz Show, which was aired on Star Plus Channel from 2000 to 2007. Subsequently, it aired on Sony Entertainment Television and is still shown there.The dream of becoming a Crorepati for the common man was impossible before this show.But after the launch of this show, many people tried their luck and made their dreams come true by becoming Lakhpati, Crorepati.
The show was established in 2000, inspired by the British Show called "Who wants to be a Millionaire". The concept of the show was unique in itself, so a golden chance for the common people. It gained immense popularity among users. It has been a popular Indian Television show with the highest TRP.
The Bollywood legendary actor Amitabh Bachchan had decided to host the show. Season 1 was a big hit as Amitabh Bachchan's charm and personality won the hearts of the viewers. This show has completed its 13th season last year. If you're interested to know about the Kaun Banega Crorepati Show then read this blog:
Kaun Banega Crorepati Show Format
The show format Kaun Banega Crorepati is similar to Who Want to Be a Millionaire? In this show, contestants come to showcase their General Knowledge. Host cum Bollywood superstar Amitabh Bachchan will ask MCQs (Multiple Choice Questions), and candidates have to choose the accurate answer as per the show format.
For every correct answer, there is an assured amount that is credited to your name through a cheque.And if you lose or give a wrong answer, you have to go home empty-handed or with less amount. Those who want to become Millionaire can apply for this show. You can check online to know about the registration process.
Purpose of Show
It was commenced to fulfil the dreams of the people. Many people won a certain amount while the top 15 people became millionaires in their season. With 20 years of telecast, Kaun Banega Crorepati has rolled out 13 Seasons thus establishing it as one of the most popular quiz shows in India. Here we are going to discuss the Kaun Banega Crorepati Winners from Season 1 to Season 13.
List of Kaun Banega Crorepati Winners
Kaun Banega Crorepati Season 1 – Winner, HarshwarshanNawathe
The first winner named HarshwarshanNawathe was a civil services applicant at that time. After winning Rs. 1 crore, he quit the preparation of civil services. He used the price money to enrol in a reputed University in the UK to study an MBA course.
 Presently, he works at the senior position of an MNC in Mumbai. With vast GK knowledge, he gave correct answers to all questions. The winning question was "Among whom does the Indian Constitution permit to take part in the proceedings of parliament?" And he said 'Attorney General", which was the right answer.
Kaun Banega Crorepati Season 2 – Winner, Brajesh Dubey Ajay Devgn&Kajol
After a gap of 4 years, the show once again re-entered Indian Television. Fans were eagerly waiting for the next season after the successful season one. The show was as usual hosted by the legendary Amitabh Bachchan Sir with excitement. Season 2 involved 62 episodes; each episode had clever and interesting questions.
With great exposure to General knowledge, several contestants won a certain amount. But the winner of the hefty cash prize was Brajesh Dubey. He is the son of K. Dubey which is a former national hockey umpire. As an electrical engineer, he had good knowledge of worldwide GK.
It was the first season of KBC that has special episodes for a sponsor reason with Bollywood stars. The popular celebrity Ajay Devgn and KajolDevgn also won the cash prize in the KBC Season 2.
Kaun Banega Crorepati Season 3 – No Winner
In the history of KBC, Season 3 was the first edition where there is no winner. The previous season was hosted by Amitabh Bachchan but Season 3 had given to another Bollywood Popular Celebrity Mr Khan. Yes, Mr Shahrukh khan is the king of the Bollywood industry.
People got used to seeing Big B, so it was strange for the audience to watch the show with a new face.And with this, no one came out as a winner that year. But the show was very much in the news with the arrival of a new host.
Kaun Banega Crorepati Season 4 – Winner, RahatTaslim
KBC Season 4 came with iconic Amitabh Bachchan with great enthusiasts. With the incredible response, this season became popular. It was the first time when a common woman won the cash prize of Rs. 1 crore. This remarkable season was started in 2010. Rahat Taslim, winner of KBC Season 4 was a homemaker before coming to the show.
She used the prize money to start her business in a nearby mall. Her victory was remarkable and inspired every woman of the nation. With all her dedication and hard work, she answered all questions without fail.
Kaun Banega Crorepati Season 5 – Winner, Sushil Kumar
Another common man of the country named Sushil Kumar won the KBC Season 5 cash prize ofRs. 5 Crores. This season was also remarkable because the cash prize was up to 5 crores. Winner of KBC Season 5, Sushil Kumar won the heart of the audience with his laughter and positive attitude during the broadcast.He entertained the audience and showcase their General Knowledge, thus making him the winner of KBC with a hefty amount.
But wait, listen to the question of 5 crores, Which Colonial Power ended its involvement in India by selling the rights of Nicobar Islands to the British on October 18, 1868? Of course, he gave the right answer to Denmark.He used his cash prize to start a cab business and to purchase land.
Kaun Banega Crorepati Season 6 – Winner, Sawhney and Raina
The sixth season of KBC started once again with the announcement of Rs. 1 crore. Season 6 was won by two contestants: Sunmeet Kaur Sawhney and Manoj Kumar Raina respectively. Sunmeet Kaur was an ambitious fashion designer and a hardworking woman. She gave up on her designer dream because of family pressure. She also start a tiffin centre which eventually closed.
Thereafter, she started giving coaching to the students. She became the first woman who won Rs. 5 crores. The deciding question for her was 'Who is the first woman to successfully climb K2, the world's second-highest mountain peak? She answered 'Wanda Rutkiewicz' which was the correct answer.
Another winner of KBC Season 6, Manoj Kumar Raina lives in Srinagar. But he is posted in Jammu because of his Northern Railway service. After winning the hefty amount (Rs.1 Crore), he used cash prize to rebuild his home.
Kaun Banega Crorepati Season 7 – Winner, Fatima and Rangrez
This is another season that saw two winners namely, Fatima and Rangrez. This season was hosted by none other than Mr Amitabh Bachchan. Both contestants won Rs. 1 crore. KBC season 7 was also remarkable because of Firoj Fatima, who had taken a huge amount as a loan for her father's treatment. With help of this amount, she treats her father illness, and spent money to continue studying.
On the other hand, Taj Mohammad Rangrez who was a history teacher gave the correct answer to all questions and won Rs. 1 crore in season 7 of KBC. He used his cash prize to treat his little daughter vision impairment. The rest of the money was spent to build a family home and marry 2 orphans' girls by him. This season gave a popular tagline " Seekhna Bandh Toh Jeetna Bandh".
Kaun Banega Crorepati Season 8 – Winner, Achin & Sarthak Narula, Megha Patil
With a new format, KBC Season 8 came in 2014, as usual, hosted by Amitabh Bachchan. This year the two lifelines, namely three wise men and code red were introduced to the contestants. In the history of KBC, it was the season that starts awarding Rs. 7 crores to the winner.
The Delhi based two brothers Achin and Sarthak Narula win the show and took the bag of 7 crores. This is the highest amount in the entire edition of KBC. The duo used the cash prize to pay for their mother's cancer treatment and to set up their own business in Delhi.
The female contestant, Megha Patil who is a housewife also won the KBC Season 8. At present, she lives in her hometown with her family. She uses the prize money for their children education and her cancer treatment.
Kaun Banega Crorepati Season 9 – Winner, AnamikaMajumdar
In Season 9, a contestant was introduced with new lifelines like Phone-a-friend, Plus One lifeline, Video Calls and a new format. The season ended up with one female winner called Anamika Majumdar. The female contestant from Jamshedpur worked in NGO. In KBC season 9, she showed her passion for reading and learning.
The winning question for her was "Which of these artists was principally entrusted with the task of 'illuminating 'the original document of the constitution of India'? Of course, she gave the right answer which was Nandlal Bose.
Kaun Banega Crorepati Season 10 – Winner, Binita Jain
KBC Season 10 was won by Binita Jain from Assam. Before coming on the show, she was a teacher in the coaching centre. Mr Amitabh Bachchan declared her winner of Season 10 of KBC after answering the correct answer. She used price money to secure the future of her children. She currently opened a dental clinic for her son in her hometown.
Kaun Banega Crorepati Season 11 – Winners, Sanoj Raj, Ajeet Kumar, Babita Tade and Gautam Kumar Jha
KBC season 11 was won by three different contestants, namely Sanoj, Ajeet, Babita and Gautam. Gautam from Madhubani, Bihar is an engineer with the Indian Railways. While Babita taken is the third winner who gave all 15th questions and won the prize money. On the other hand, Sanoj Raj is an IAS aspirant who prepares for the civil service exam at that time. Last but not least Babita Tade was the third winner who grab the winning price of Rs. 7 Crores. Ajeet Kumar is a Jail Superintendent and one and only contestant who won 1 crore in KBC Season 9th.
Kaun Banega Crorepati Season 12 – Winners, Anupa Das, Mohita Sharma and NaziaNasim
Season 12 of KBC was remarked because all winners are female contestants. NaziaNasim lives in New Delhi while second winner Mohita Sharma is from Himachal Pradesh. The third contestant Anupa Das from Chattisgarh grabs the winning amount of Rs. 1 crore on KBC Season 12.
Kaun Banega Crorepati Season 13 – Winner, Himani Bundela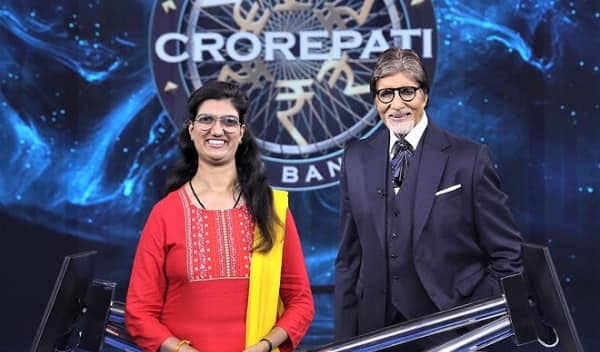 The first contestant of Season 13, Himani Bundela from Agra and won the cash prize of Rs. 1 crore. She is a Math's teacher by profession. However, the cash prize is seven crores but she selected the wrong option. After winning 1 crore rupees, she used it to treat her vision.
| | | | |
| --- | --- | --- | --- |
| Year | Season | Winners | Prize Money |
| 2000-2001 | Season -1 | HarshwarshanNawathe | Rs. 1 Crore |
| 2005-2006 | Season – 2 | Brajesh Dubey Ajay Devgn&Kajol | Rs. 1 Crore |
| 2007 | Season – 3 | No winner | N/A |
| 2010 | Season – 4 | RahatTaslim | Rs. 1 Crore |
| 2011 | Season – 5 | Sushil Kumar | Rs. 5 Crore |
| 2012- 2013 | Season – 6 | Manoj Kumar Raina Sunmeet Kaur Sawhney | Rs. 1 Crore |
| 2013 | Season – 7 | Mohammed RangrezFiroj Fatima | Rs. 1 Crore |
| 2014 | Season – 8 | Narula Brothers | Rs. 7 Crore |
| 2017 | Season – 9 | Anamika Majumdar | Rs. 1 Crore |
| 2018 | Season -10 | Binita Jain | Rs. 1 Crore |
| 2019 | Season – 11 | Sanoj Raj | Rs. 1 Crore |
| 2020 | Season – 12 | Nazia Nasim, Mohita Sharma &Anupa Das | Rs. 1 Crore |
| 2021 | Season -13 | Himani Bundela | Rs. 1 Crore |
Final Words
Kaun Banega Crorepati fulfils the dreams of various people every year. If you want to become a part of this show, you can register for it. Just know, the show is about General Knowledge of worldwide and confidence. Sitting in front of Big B "Amitabh Bachchan" is a big dream for everyone. You can achieve your goals and dreams by winning a heft cash prize through Kaun Banega Crorepati Show.
Santosh Kumar, He is a SEO + Blogger have 12 years of experience in writing tutorial, informative and product reviews topics.