Zindagi Mere Ghar Aana is a popular TV show on Star Plus that was started on 26th July 2021. This is basically a comedy-drama or soap opera show. Rahib Siddiqui and Inder Das are the directors, and Zama Habib and Ishrat Ara are the producers of this show. The show is being created under the Qissago Telefilms LLP production company.
The lead roles of Zindagi Mere Ghar Aana are Hasan Zaidi, and Esha Kansara. Currently, the show has successfully completed 128 episodes and will telecast more episodes in the coming days.
Story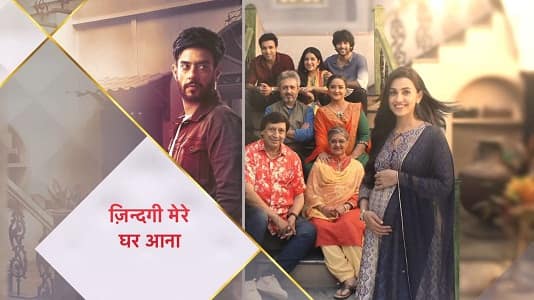 The show starts centering on a middle-class Sakhuja family. The family is lost the eldest son of the family, Karan Sakhuja. He was a health warrior and lost his life when treating patients affected by Covid-19. When Karan died, her wife Amrita was pregnant. Anyhow, Amrita tries to cover up her sadness and give happiness to her family.
In the meantime, Guneetand Angad lose their source of income which brings sadness to the family again. Their situation becomes worse when Krishnakant Sehgal breaks the alliance of giving her doctor Meera's hand for Angad. He feels that Sakhujas don't match his status. This makes Sakhujas stressful both financially and emotionally.
During this time, a person named Pritam Choudhary enters their lives d wants to stay as a renter in their house. Pritam is a strange guy and has a tragic past. He agrees to pay a heavy amount of rent, because of which Sakhujas decide to keep him, but Amrita doesn't agree with this because she feels that Pritam is not right for her family.
Eventually, she agrees with this decision when Pritam saves the life of Angad. In the beginning, Pritam got annoyed because of the over-caring attitude of the family. With time, he understands their situation starts respecting Amrita for her efforts. As a result, he started getting attracted to Amrita.
Then Pritam's past starts to unfold everybody knows his wife Vishakhaand son Rahul. In the past, Pritam Choudhary was a valiant IPS officer who was faced many disasters. However, he was dutiful. He has also unwrapped the identity of a drug dealer along with his colleagues. On the other side,Amrita gives birth to Ansh.
With time, Pritam comes closer to the Sakhuja family and likes Amrita strongly. In the meantime, Yuvraj Singh comes intoAmrita's life and asks for her hand. He is an NRI residing in Canada.
Show Timing
Zindagi Mere Ghar Aana TV show telecasts on Star Plus from Monday to Saturday at 7 pm. Its running time is 20 to 22 minutes.
Cast Names
Esha Kansara
Esha plays the role of Amrita Sakhuja. She is Karan's widow, daughter of Saroj and Kuljeet, and Ansh'smother in the show.
Hasan Zaidi
Hasan Zaidi plays the role of Pritam Chaudhary, who is an undercover IPS officer. He is the tenant of the Sakhujafamily. He is Rahul's father and ex-husband of Vishakha.
Ankit Narang
Ankit is Angad Sakhujain the show. He is Karan's younger brother and the second son of Guneetand Nimrat. Amrita is his sister-in-law.
Ishaan Dhawan
The role of Kabir Sakhuja,the youngest son of the Sakhujafamily, is played by Ishaan Dhawan. Kabir Sakhujais the elder brother of Soniand the younger brother of Karan and Angad. He is the younger brother-in-law of Amrita.
AkanshaSareen
She plays the role of Vishakhain the show. She is Rahul's mother and ex-wife of Pritam Choudhary.
The above is the main star cast of the show. We hope that you have got what you are looking for in this article.
Santosh Kumar, He is a SEO + Blogger have 12 years of experience in writing tutorial, informative and product reviews topics.