Regular needs of tea, milk, coffee make you habitual of using sugar which isn't good for health. But this ingredient is essential to balance the texture & flavours of any dessert or beverage. With the use of regularly added sugar substitutes, the sugar requirement will not be as much.
The best home-grown option that exists is jaggery powers, better known as gud powder. Being one of the versatile ingredients, it has been used in various recipes. Jaggery powder is made from either palm juice or sugarcane depending on part of the India you live in.
Jaggery not only fulfils the requirement of sugar but is also effective for health in numerous ways. For instance: The consumption of Jaggery powder relieves and prevents constipation and also encourages bowel movements which can clear up any bad food stuck in your stomach.
Being a good source of minerals and vitamins, it makes up for the lack of nutrients in your body that occurs due to lack of imbalance or improper diet. In addition, it supports weight management, helps maintain radiant skin, energies body and helps to stay warm during winters.
List of Best Jaggery Powder In India
1. Vedaka Jaggery Powder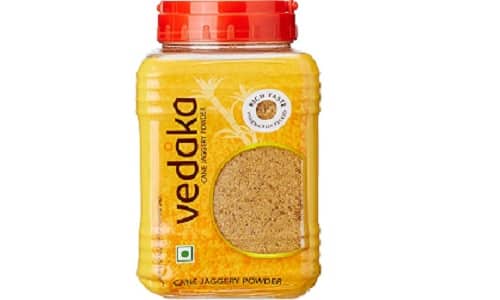 Jaggery Powder from Vedaka adds a unique flavour to your food. You can use it as a substitute for honey and sugar. The jaggery power is ideal for use in day to day cooking or for preparing different types of delicious desserts like burfi, Kheer, and more which you love to eat. This 1 Kg premium quality Jaggery powder is free from any types of added flavours and adulteration. Moreover, it offers a shelf life of 1 year and is packed in a jar. The packing makes it easy for storage and use. Using jaggery powder allows you to add a unique flavour to your food. Being one of the purist jaggery powders, many users buy it for regular cooking needs. Also, the price is comparatively more affordable than others on other jaggery powders available in the Indian market.
| | |
| --- | --- |
| Pros | Cons |
| It adds a unique flavour to your desserts, tea, milk, etc. | The taste is not that good. |
| The Jaggery powder is available in 100Kg packing. | |
| Jaggery Powder with no added sugar. | |
2. Nutriplato-enriching Lives Jaggery Powder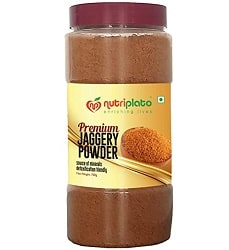 Nutriplato Jaggery Powder is made from original sugarcane juice, which means it is pure and unrefined sugar. It helps to fulfil nutritional gaps in your body that occur due to a lack of improper diet due to a good source of minerals and vitamins. It is a healthy alternative to your daily refined sugar, making it truly beneficial. Though, it adds sweetness to your dishes and savouries while maintaining your health. This jaggery powder preserves molasses content, giving it a higher mineral content and making it nutritious. Consumption of Jaggery powder helps you to stay warm during winters and heat in your body from inside.
| | |
| --- | --- |
| Pros | Cons |
| This Jaggery powder helps the body fight against cough & cold. | The jaggery is bitter. |
| It helps maintain radiant skin. | |
3. Organic India – Jaggery Powder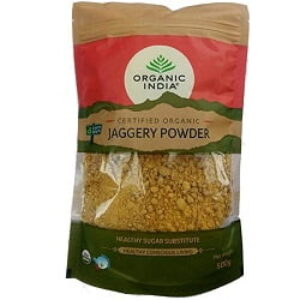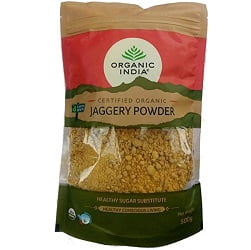 Organic Jaggery Powder brings to you the premium quality powder consisting of no chemical additive, colours or flavours. The 500g Powder is made from organic certified sugar cane. This golden-brown powder is very delicious and a healthier substitute for processed sugar & artificial sweeteners. It is full of nutrition, contains vitamins, iron and minerals. Furthermore, it enhances the taste of coffee, tea and other beverages. The natural taste and flavour make it one of the premium qualities of Jaggery Powder.
| | |
| --- | --- |
| Pros | Cons |
| The product is a great value for money. | Not Found. |
| It has natural flavours and tastes. | |
Conclusion
The top listed Jaggery powder adds natural sweetness to your life. What are you waiting for? You should try one of them.
Jaggery Powder Frequently Asked Questions
1. Is it okay to consume jaggery daily?
Yes, jaggery is advised to be consumed every day after meals as it aids in digesting and avoids constipation by turning on our body's digestive enzymes.
2. What occurs if we consume jaggery regularly?
It aids with normal meal digestion by triggering the body's digestive enzymes.
3. Can we have jaggery in our tea?
Yes. Jaggery improves digestion, particularly for those who suffer from constipation. Jaggery is the perfect addition to your morning tea since it helps your body digest food more quickly after a long fasting period.
4. Can coffee be made with jaggery?
Yes. If you want to improve the flavour of black coffee, you can think about adding nut milk, honey, or jaggery.
5. Can we consume jaggery while we are hungry? When should you consume jaggery?
Jaggery plus warm water can be consumed in the morning to cleanse the stomach, enhance digestion, and ward off issues like constipation, acidity, and digestive disorders.
6. If we use lemon juice, can we add jaggery?
Yes. You'll need a glass of warm water, a tsp of lemon juice, and a tiny bit of dried jaggery to create this beverage.
7. How much jaggery is healthy for you?
Jaggery's high magnesium content increases intestinal strength. 16 mg of magnesium, or 4% of the daily recommended amount, are present in every 10 grams of jaggery.
8. Does curd go well with jaggery?
Yes. The digestive tract is strengthened, and digestion is improved by curd. Jaggery and curd should be consumed together.
9. Is jaggery a helpful digestive aid?
An ancient tradition of eating a piece of jaggery post a big meal was lost over time as people began drinking soft drinks to wash it down their meals.
10. What can I do to avoid milk curdling when I add jaggery?
Jaggery's pH is decreased during chemical processing, which causes it to curdle when mixed with hot milk, among other problems.
11. Can jaggery cause weight gain?
The body's metabolism is accelerated whenever jaggery is consumed, which aids in the faster burning of belly fat.
12. Is jaggery preferable to honey?
Both honey and jaggery will raise blood sugar levels; however, since they comprise micronutrients, switching to honey or jaggery is preferable.
Ridhima Sharma is a Senior Pharmacist at Kukreja Hospital, New Delhi. Ridhima completed her Diploma in Pharmacy (D. Pharm) from UP University. She regularly writes article on health information, fitness and beauty related products at IndiasStuffs.com