Meet: Badlegi Duniya ki Reet is one of the famous Hindi Soap operas on Zee TV. The show is premiered on August' 2021. The soap opera has Ashi Singh and Shagun Pandey in the lead roles. Due to the unique and attractive script of this soap opera, it has fascinated many viewers, but very few viewers know that Meet: Badlegi Duniya ki Reet is inspired by Bengali TV show: Bokul Kotha.
Wiki
This soap opera's unique concept is that it is led by a female role – Ashi Singh, who plays the role of Meet Honda. Meet breaks all stereotypes of society and in the soap opera, she is the only working person in her family, and she feeds her family with her income by taking up the job of the delivery agent. This serial is really inspired for all the girls who want to break the barrier of gender roles while taking up jobs. This serial brings attention to viewers that when it comes to difficult jobs women are equally empowered as compared to men.
Show Story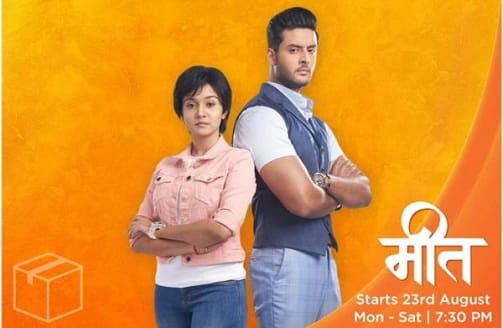 This TV show is written by Seema Mantri. This soap opera has the story of Meet Hooda. The story revolves around Meet, who is bold, spirited, and gamine in nature. Meet has all the responsibility of her family on her shoulders and does not even blink before taking up the responsibility. She takes the job of delivery agent and feeds her family.
Meet's gamine nature is a result of her grandmother's blames and taunts that she could never be like a boy. When Meet's father lose his life while serving as a police officer then  Meet had to take responsibility for her family. The tragic incident made Meet Hooda marry Meet Ahlawat.
Show Timing
On the ZEE5 platform, this opera is available all the time- as it is available for online streaming on the platform. From Monday to Friday viewers can watch their favorite serial Meet: Badlegi Duniya ki Reet on the Zee TV channel at 7:30 PM. This serial starts at 7:30 PM and ends at 08:00 PM. It has run for half an hour. On Zee, TV viewers can watch the repeat telecasts of this show any time at the noon.
Cast Names
Main Cast: Ashi Singh as Meet
Lead Role: Shagun Pandey as Meet Ahlawat
Supportive Roles
Amma as Meet Honda's grandmother
Anubha Honda – Meet Honda's Mother
Manushri Honda – Meet Honda's Mother
Sooraj Thapar as Rajvardhan Ahlawat, who is Meet Ahlawat's father.
Sonica Handa as Babita Ahlawat, who is Meet Ahlawat's mother.
Nisha Rawal as Masoon, who is Meet Ahlawat's sister.
Other than these main casts, lead roles, and supportive roles; there are many other small supporting roles that are portrayed in the Meet: Badlegi Duniya Ki Reet.
Other Zee Tv Serials:
Santosh Kumar, He is a SEO + Blogger have 12 years of experience in writing tutorial, informative and product reviews topics.