Samosa is one of the most popular snacks, and people across the world love them. It is made using Potato and all-purpose flour as main ingredients and deep-fried in oil. Nowadays, people are getting more and more health-conscious and trying to avoid fried food, especially deep-fried. But for some people, it is just next to impossible to give up their favorite snack. But there is a simple way to eat your favorite snack, samosa, and still stay away from deep frying. Are you wondering how it is even possible? Then Air Fryers are the answer for it.
Air fryers work in a very simple way. Hot air is circulated on the food inside the air fryer. It will give you the same crispy food as your deep fry. But the only difference is you will use just a few drops of oil instead of a few cups of oil for frying. The recipe for making samosa will remain the same. If you are using an air fryer for the first time to make the samosa, let us look at how to make samosa in the air fryer.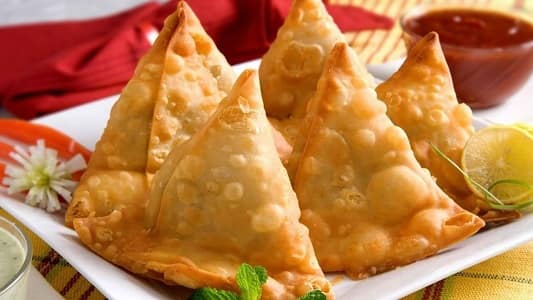 Ingredients:
One cup Maida
One Tablespoon salt
One Tablespoon carrom seeds
Two Tablespoons oil
Little Water
Three boiled potatoes.
One cup boiled peas
Spice powders
One tablespoon chili powder
One Tablespoon coriander powder
One Tablespoon cumin powder
One Tablespoon Garam Masala
One Tablespoon amchur
Two Tablespoon chili-ginger paste
Salt according to taste
Recipe:
You should first take Maida, salt, one tablespoon oil, and carom seeds and mix them well. Keep adding water and knead the flour into the dough. Leave the dough covered for at least 20 minutes.
Now take a pan and place it on the stove and add one tablespoon of oil. Add cumin seeds and green chili, and ginger paste to it. You should now add peas to the pan and add water for them to cook. Once they are cooked well, you should add mashed potatoes, chili powder, salt, cumin powder, coriander powder, amchur, garam masala and mix them. Once it is done, you should leave it to cool down.
Now take a small part of the dough and make it into a round ball of lemon size. Roll it and then make a cone with it. Stuff this cone with the potato filling that you prepared and close it well. Once you are done with all samosas, leave them for at least 15 minutes.
How to air fry samosa?
You should preset the air fryer for six minutes at a temperature of 160 degrees C.
With the help of a small brush, apply some oil to the samosa that you prepared.
Now air fry them for eight minutes at 160 degrees C.
You should flip them in the middle.
Once you flip them, let fry them for at least six minutes at 200 degrees C. They will look golden brown if they are done.
You can serve them hot with any chutney of your choice. Hot and crispy samosa without or very little oil are ready. They will taste almost the same as feed fried samosa, in fact, much better than them.
Related Topics:
Santosh Kumar, He is a SEO + Blogger have 12 years of experience in writing tutorial, informative and product reviews topics.