Ever thought of having crunchy, succulent, and delicious dishes like Samosa, French Fries, and more? We all know the answer. However, at the same time, what if someone tells you that they all can be prepared without any hassle and the most necessary aspect of them being healthy.
We all have heard about the Air Fryers. How they work, what are their uses, and when used wisely, how efficient and healthy dishes we can make in them. However, to take the benefits, one should have complete information about the product. What is preferred and what should not be tried cooking in an Air Fryer.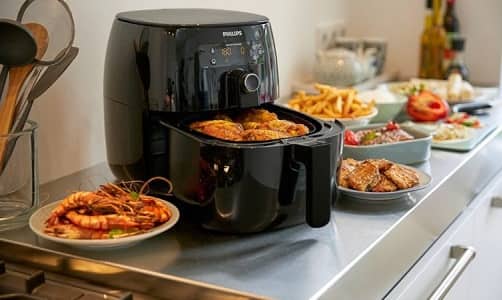 Below is the list of the items that one should not try to cook in an Air Fryer because you like your food cooked.
1. Large Whole Chicken
If you wish to have your whole chicken entirely cooked, I may not suggest you put it inside an Air Fryer. The best you will get is a lump of overcooked breast meat and undercooked thigh meat. I would suggest you try the smaller pieces. After that, let the machine do its work.
2. Cake Doughnuts
It is the sweets that complete your diet. Cake and doughnuts are some of the best dishes to complete your meal. But, if you wish to prepare it in your Air fryer, you may end up making a dry piece of flour and sweet. It is mainly because of its composition and the ingredients used to prepare it. If you wish to prepare some sweets to try making cookies. They are sweet and healthy.
3. Extra Cheese
One Pizza with extra cheese. I think this is the most common line you may hear inside a Pizza shop. We all love cheese for its texture, how succulent they are, and the long layer they make while stranding. But apologies, you may not enjoy the same if you put too much cheese inside an Air Fryer, it will ooze out before you get the perfect texture. If you wish to enjoy it, try Cheese balls. Use a thick layer of rice and breadcrumbs, which shall hold the cheese inside them. It is a perfect solution for your snacky evening.
4. Broccoli
When it comes to vegetarian people, broccoli is one of the best sources of proteins. They are juicy, crunchy, and no one can deny they are easy to cook. If you wish to keep it like that way, you may not wish would put it inside your Air fryer, or else you will end up having dry broccoli. It will make it difficult to chew.
5. Olive Oil
When it comes to cooking, we all can agree olive oil is a better option than refined or vegetable oil for healthy food. My apologies to break it up to you as this is a bad combination. If you use Olive Oil to preheat or pour it on top of your dishes, it will end up giving you a burnt and smokey taste, and I am pretty sure you may not wish to compromise with your taste.
Conclusion:
Air Fryers are one-of-a-kind machines, a technology that makes cooking safer and readily available. All you need to know is how and what should you put inside it. Thank you for reading! Stay Healthy!
Related Topics:
Santosh Kumar, He is a SEO + Blogger have 12 years of experience in writing tutorial, informative and product reviews topics.