Air fryers are one of the topmost trending kitchen appliances nowadays. If you ask a person who does not own it, will only know how French fries taste on it. However, for a person who is using it for several years will tell you about its versatility. Only you can test it when you have it. We are not indirectly pointing you towards purchasing it. But, if you think so, we cant help! An air fryer is a must-have appliance in your kitchen. Apart from substituting different kitchen devices, it makes your food super healthy. Thus, if you want to cut down calories from your diet, it is probably the best idea.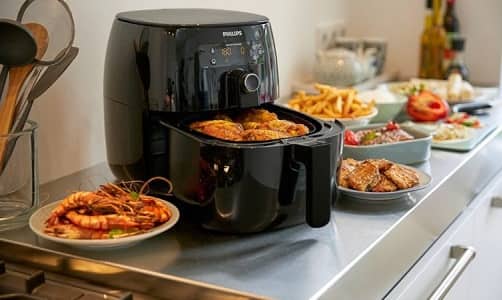 However, one aspect of the good air fryer that many people fear is its cleaning and care. As it is an electronic appliance, any lack of maintenance or negligence in care can directly have an ill effect on its function. To make you fully assured about the right technique to clean and care for your new air fryer, we are here. Let us look at some easy steps:
1. How to clean if you use it regularly?
Answer: Air fryers come with various accessories. Most of these, including the basket and trays, can be manually or cleaned with a dishwasher. One can clean it with a regular method of soap and warm water. However, for using the dishwasher, make sure to go through the brand manual provided with it. After cleaning these parts, let them dry before assembling in the appliance. However, if the accessories have a lot of build-up, one can soak it in warm water for half an hour. Cleanse it regularly afterward. It will help in the removal of stubborn junks. For cleaning the air fryer bottom, use a damp cloth to wipe it properly. After this, wipe it with a dry cloth to ensure full drying.
2. How to clean if you are an occasional user?
Answer: If you do not use your air fryer too frequently, you come under this category. Occasional users will not find too much greasy build-up inside the air fryer. Therefore, cleaning it with a damp sponge would be more than enough. Make sure that you do not leave any corner inside. We recommend unplugging the machine every time you use it for occasional users. If you see any build up in the coil, clean it similarly. However, if the coil is hot, allow it to cool before wiping it. Otherwise, it can challenge your safety.
3. Do you wish to deep cleanse your air fryer?
Answer: Once in a while, you should go for deep cleansing of your air fryer. You can readily perform this at home. When there is an excessive build-up of leftovers and grease in the air fryer, it starts to eliminate an offensive odor. Therefore, you must deep clean it. You will require a mixture of water and baking soda. Apply this paste and scrub the air fryer using a toothbrush. We recommend you to avoid the use of metal spoons to scrub the stick on food. It can cause scratches on the surface of the air fryer.
Conclusion:
We hope that the cleaning and care tips of the air fryer proved helpful for you. Thanks for reading. Come back again!
Related Topics:
Santosh Kumar, He is a SEO + Blogger have 12 years of experience in writing tutorial, informative and product reviews topics.