Air fryer is the recent trend in kitchen appliances. It has become so popular because of the fact that you can have oil free fried food which is amazing. The food looks like deep fried and are crispy too which is exactly everyone craves for. There are many items that you can try out with air fryer. Many people are not aware of what air fryer can do and just don't use it.
In this article, we have listed some best recipes that you can try at home using air fryer. Let us dive into it.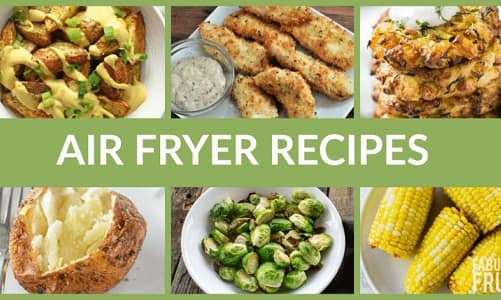 1. Onion Bhaji
Every one loves some hot onion bhaji as a snack in the evenings or a side dish. This onion Bhaji made with air fryer is guilt free and contains very less oil compared to the traditional deep fried onion bhaji. It is simply made by mixing onions with gram flour, rice flour, some spices and water. Place them in air fryer, spray with oil and fry them for some time. Later again spray with some oil and fry for another few minutes. Hot onion bhaji is very delicious and can be made easily with air fryer.
2. Brownies
Brownies are everyone favourite desert. It can be eaten warm or with an ice cream. It tastes delicious. You just need to combine sugar, cocoa powder, flour, baking powder and salt. Later whisk melted butter with an egg and combine dry and wet ingredients. Transfer this batter to a mould and put it in air fryer for around 18 minutes at 350 degrees. Your air fried brownies are ready to serve.
3. Tandoori Chicken
Tandoori chicken is famous Indian dish. You can have it with rice or eat it as an appetizer. Either way it is a delicious recipe which can be prepared in air fryer. Just marinate the chicken with a mixture of yogurt, spices and ginger garlic paste. Place this chicken in air fryer to fry for some time and that's it you get a tasty tandoori chicken.
4. French Fries
French fries are a great snack and is kids favourite. Whether you are using fresh potatoes or frozen fries to make french fries, air fryer is your best option. Just cut your potatoes to required size, season them with spices and spray some oil before placing them in the air fryer. You can lace frozen fries directly in air fryer to get delicious fries. They doesn't consume much oil as deep fried fries.
5. Egg Rolls
Egg rolls definitely need a crispy shell to make them tasty. This surprisingly can be achieved with air fryer. You just need to prepare the filling. Put the filling by rolling the pastry as rolls. Spray with some oil and put them in air fryer. You will get a crispy shell, perfectly cooked egg rolls.
6. Chips
You can make numerous varieties of chips using air fryer. Some of the ideas are potato chips, sweet potato chips, beetroot chips or even spinach chips. Cut the required vegetables into thin slices, coat them with spices and put them in air fryer to get fried.
7. Chicken pakora
A number of variety recipes can be made using chicken. Many people are still experimenting new recipes with air fryer. Chicken is one among them. Chicken pakora is one of the tasty recipes that can be taken as a side dish or a snack. All you need to do is cut the chicken pieces, marinate them and just coat them with besan powder. Place them in the air fryer for crispy and tasty chicken pakora.
8. Tindora Fry
One of the vegetarian recipes that has got popularity is the tindora fry. Most of the people don't like this vegetable and avoid it. However, with air fryer you can get crispy tindoras and you will never hate this vegetable. Chop the tindoras to desired size, make them thin, mix them with 1 tablespoon oil, salt and chilli powder. Place them in air fryer and occasionally stir them to get even crisp on the vegetable.
9. Samosa
Samosa is yet another traditional Indian dish quite famous all over India. You need to make proper potato filling, pastry. Make the samosas by filling this potato fill and seal them. Brush them with oil and place them in air fryer to get crispy samosas.
10. Manchurian Balls
Manchurian balls are Chinese Indian recipe which are very tasty and can be seen in any occasion as a starter or as a side with noodles. You can make them easily in air fryer by mixing desired chopped vegetables with corn flour, wheat flour soy sauce and salt. Place them in air fryer and occasionally stir them to evenly cook. You can eat them as is or can mix them with gravy.
You can go through the above 10 recipes and try them in your air fryer. We are sure you would like them.
Related Topics:
Santosh Kumar, He is a SEO + Blogger have 12 years of experience in writing tutorial, informative and product reviews topics.