UPI is a boon for people to do transactions directly through their mobile phones.This means it obviates the need to carry a wallet or cash. It is enough just to scan and enter a secure UPI PIN to make the payment.Once the transaction is done successfully, it gets directly credited to the bank account in which you want to make the payment.
Like all other Indian banks, the Bank of Maharashtra has supplied its UPI or Unified Payments Interface service to offer customers to retrieve their bank accounts on cell phones and access online transactions.
But there is a common issue that many users face is that UPI is not working or failed UPI transactions while sending money from one bank account to another. This can happen due to various reasons like the user has exceeded the daily limit, has insufficient balance or have entered the wrong UPI PIN, wrong recipient's details etc.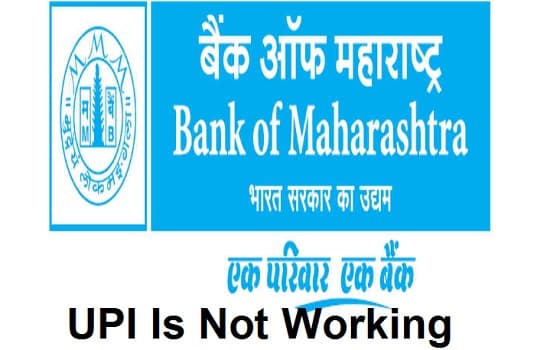 Sometimes Bank of Maharashtra is unavailable or overloaded, so wait till it gets resolved. Here we have come up with the possible issues and the solution associated with the problems. Let's quickly have a look:
Incorrect Details of Receiver
A high possibility that can lead to a failed UPI transaction is the filling of the wrong details of the receiver.Before making any payment, ensure that all personal details such as bank account information and its IFSC code are mentioned correctly. Another circumstance in which a transaction fails is lack of internet connection and incorrect IFSC Code of the bank.
Bank balance is not enough to be transacted
Another important factor that can lead to unsuccessful transactions is insufficient balance.If you are trying to make a payment or send money in this situation, the transaction cannot be done. So before doing any transaction, you should check your account balance by clicking on the Bank of Maharashtra money transfer option on the official app.
Interruption in Internet Connection
It is highly recommended to check the Internet connection when making payments through the Bank of Maharashtra UPI.  Another possibility in which a transaction fails is when you're not in paying mode and the recipient is not in receiving mode.
Third-Party Applications must be updated
For every UPI transaction, you should have a third app on your mobile. These mobile payments can include PhonePe, GooglePay, Paytm, BHIM or any other app. If app new version has arrived and the version of the application is running on your phone, then there is a possibility that the transition will fail. For that, you'll get a notification from the app. If your UPI payment has failed repeatedly, then there is a possibility of an outdated app. To solve this kind of problem, you can go to the play store and download its updated version. Then try again, and the problem should be resolved.
Entering Wrong Pin
Another reason why a Bank of Maharashtra UPI transaction can be unsuccessful is by entering or forgetting an incorrect PIN. In such a case, the account holder can reset his UPI by visiting the UPI profile page on the official homepage of his bank.The next step to follow is to enter the option Forget UPI PIN to set a new PIN.
Contact Customer Support of Bank of Maharashtra
In case, the all above given solutions are taking you to a dead end, if there are not working even after following the instructions then customer support is the final alternative. You can call 1800 233 4526 and further explain the UPI related issues. A slightly different solution in such a situation can be visiting the nearby branch of the Bank of Maharashtra.
Santosh Kumar, He is a SEO + Blogger have 12 years of experience in writing tutorial, informative and product reviews topics.