Under the budget of 12 thousand rupees, Samsung Galaxy F13 is a pretty good deal. You get everything with this smartphone that you can expect from a value-for-money or budget-range smartphone in 2022. The Galaxy F series by Samsung is one of the best ones so far. In launching this smartphone series, Samsung is specifically targeting people who want to buy budget smartphones with good specifications, impressive battery life, and minimalistic but attractive design.
Samsung Galaxy F13 comes with just a 4GB ram variant, but you have two variants in terms of ROM. In our opinion, under 12k, the 128GB ROM variant seems like a great deal. Despite being a budget-range smartphone, Galaxy F13 comes with an FHD+ 60Hz display. Color reproduction and brightness-wise, this display is pretty impressive. If you want a smartphone primarily for content consumption, then F13 is a perfect option for you. Performance is quite decent because it comes with the Exynos 850 Processor. The main selling point of this smartphone device is its humongous 6000mAh battery. There are just a few other smartphones that come with such enormous battery capacity under a 12k price point.
Despite being a fantastic smartphone option, many people are complaining about the charging issues with Samsung Galaxy F13. In today's post, we will be taking a look at this issue by going in depth. So let's get down to the causes of the Samsung Galaxy F13 not charging, and possible fixes.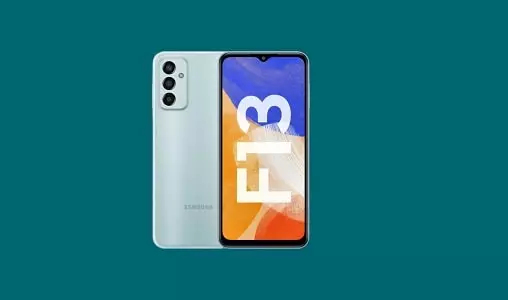 Troubleshooting Samsung Galaxy F13 not charging issue
The following could be the reasons why your Samsung Galaxy F13 is not charging:
Type-C Port Blockage
Defective Charging Cable
Faulty Charging Adapter
Software Issues
Type-C Port Blockage
Since you don't get a phone case out of the box with Samsung Galaxy F13 that's why there are higher chances of your phone's charging port being blocked because of dirt. Usually, when you buy a smartphone, you get a clear case out of the box, and it has special protection around the charging port area to prevent dirt from going inside the charging port. It could be a possible reason that the charging port of your Galaxy F13 is blocked, and to clean it out just use a needle, but do it carefully. Or else, just visit a mobile repair shop to have it cleaned properly.
Defective Charging Cable
With Samsung Galaxy F13, you get the original Samsung charging cable, but it isn't as durable as you think. With extensive use, sometimes the charging cable may cause problems because of rupturing from somewhere. You can test out pretty easily whether your charging cable is defective or not by using it to connect your smartphone to a PC or laptop. If the laptop or PC doesn't detect your Samsung Galaxy F13, that simply means you need to replace your charging cable. For that, we'd always recommend to you that you should opt for a braided charging cable instead of a normal one.
Faulty Charging Adapter
It is possible that you are having charging issues with your Samsung Galaxy F13 because it is your phone's charging adapter that is faulty. To verify that, you can use another charging adapter with the original USB or charging cable. In this case, again you can't do much, so just buy a new original Samsung charging adapter that has the same power output.
Software Issues
If there is nothing wrong with the charging port, charging cable, and adapter, you are still facing the issue when charging your Samsung Galaxy F13. This simply indicates that the problem is actually software related. If that's the case then try out the fixes listed below.
First of all, reboot your device, and then try to see if there is a new system update available. Just update your smartphone to a newer version operating system, and it'll indeed resolve the charging issues.
Another scenario could be that there is some glitch or bug in your smartphone, if that is the actual cause then we'd recommend you format your device once. For that, you can simply use the Factory Reset option from the settings.
In more than 90% of the cases when people complain about charging issues with their smartphones, these are the common root causes. And we have just provided you with the possible fixes, so try them out and see which one works for you. If you are still facing the same issue over and over, then just pay a visit to a nearby Samsung store or a trusted mobile repair shop.
Santosh Kumar, He is a SEO + Blogger have 12 years of experience in writing tutorial, informative and product reviews topics.