iQOO is one such brand that is known to offer the best flagship smartphones in India. However this brand started in 2019, but it's been able to compete with the most well-established brands like Samsung, Apple, OnePlus, Xiaomi, etc. The noteworthy thing is that iQOO is actually a sub-brand of Vivo, which is another huge smartphone brand in India. But unlike Vivo, iQOO was established to launch one of the best-performance smartphones in India. However, the scenarios are changing now because iQOO is now down to launching budget to mid-range smartphones in the country.
Recently, iQOO launched the Z series smartphones, and the Z6 smartphones are the latest ones in this smartphone series. But talking about a special edition in this series, it would be the iQOO Z6 44W. It is actually an under-20k budget smartphone with incredible performance, impressive features, and a stylish design. On top of that, the iQOO Z6 44W comes with a humongous 5000mAh battery and a 44-watt fast charger out of the box.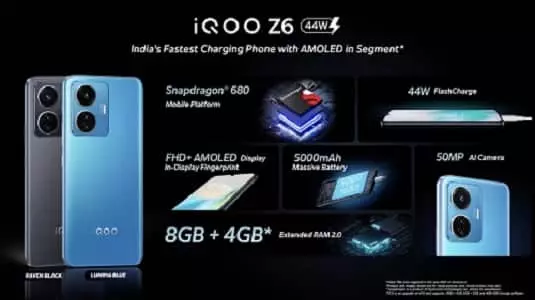 These are the prime reasons why people like the iQOO Z6 44W smartphone. However, after crazy sales in the first two months of the launch of this smartphone, people started complaining about having charging issues with their devices. If you are also facing the iQOO Z6 44W not charging issue, then keep on reading today's post. Here we will be going over the possible reasons behind this, and what could you possibly do to fix it. So let's get down to it then. Shall we?
Troubleshooting iQOO Z6 44W not charging issue
The following could be the reasons why your iQOO Z6 44W is not charging:
Charging Port Issue
Broken Charging Cable
Broken Charging Brick/Adapter
Software Issues
Charging Port Issue
iQOO Z6 44W comes with a type-C charging port, and on its own, a type-C port is pretty good because it doesn't cause any issues in the long run. However, you may face charging issues with iQOO Z6 44W in the long run when the type-C or charging port of your device is clogged or blocked because of dirt buildup over time. But to prevent that from happening, iQOO has provided a good quality clear phone case out of the box which specifically provides protection to the charging port area. If you find out that it is the blockage of the charging port that is the root cause, then we'd say use a needle to clean it out or pay a mobile repair person to have it cleaned.
Broken Charging Cable
Quality-wise, the iQOO Z6 44W charging cable is pretty good, and you won't have issues with it in the long run. But sometimes it happens when the charging cable ruptures because of temperature fluctuations or rough usage. When you use the same USB cable to connect your phone to a PC or laptop, if the other device doesn't detect your iQOO Z6 44W, that simply means the charging cable is faulty. If you have any other USB to type-C cable, then use it as a replacement for the broken one, or buy a new one from the market.
Broken Charging Brick/Adapter
Other Z6 smartphones in the same iQOO series come with decent 15-watt chargers out of the box. But you get a 44-watt fast charger with iQOO Z6 44W. The quality of this fast charger is pretty good, however, if you accidentally drop it, that may cause some charging-related issues. If you have already checked that your device's charging port and charging cable are working fine, then it is the charger adapter that is causing the issue. So we'd say just head over to the market and buy a new but original iQOO Z6 44W charger.
Software Issues
Charging issues because of software-related bugs and glitches are pretty common. If you have been using a smartphone for many years now, you may have encountered such issues at some point. In case you have tried all the fixes listed above but still having the same issue with your iQOO Z6 44W over and over again, that simply indicates the issue is actually software related. To resolve it, just follow the instruction given below:
Your first approach should be to reboot your device and try to charge it after that. Didn't work? Well, now go to the settings of your iQOO Z6 44W, and find the "System Update" option in the About Phone section. From there, if available install the newer version of the operating system on the device,
If the problem persists even after updating the smartphone to the current version of the operating system, you should hard reset your device. For that simply press the power key and volume down button together to open up the boot menu. From there you can hard reset your device by whipping all the data.
The chances are pretty slim that you'd face the iQOO Z6 44W not charging issue after trying all the fixes listed in today's post. If you do then we'd recommend paying a visit to the nearby Vivo or iQOO store.
Santosh Kumar, He is a SEO + Blogger have 12 years of experience in writing tutorial, informative and product reviews topics.