In India, the market of an inverter is increasingly rising from past few years owing to the regular power cuts in the summer season at homes. Some of the people want to have the inverter in their business places in order to get uninterrupted power supply during their working hours.
There are various organizations like government institutes, IT (information technology) firms, clinics, commercial institutions, hospitals, etc where the need of having an inverter is quite important. Nowadays, many more big companies have jumped into this segment due to the high potential. This has resulted in further competitive prices of these products and now any person can afford to buy this amazing thing for their homes or offices.
List of Top Inverter Brands in India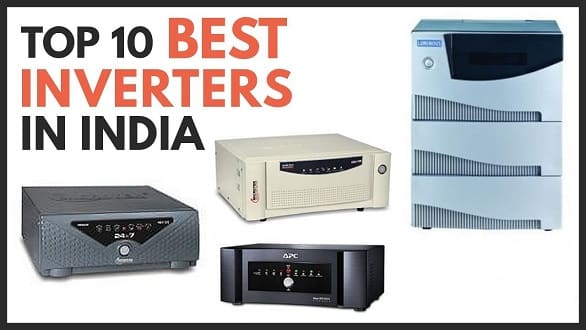 You will find so many big brands which manufacture inverter in India and it's become very difficult to choose the right one from them. Here, we will give you the list of top ten best inverter brands in India, so that you do not find any problem while buying the best one for your home or office:
10. True Power
True Power is power electronics and household Machines Company that was established in the year 1993. The inverters of this brand are rich in excellence as well as features. The few names of the series of the True Power brand are Sapphire, Hulk, and Signature. It is slowly making strong existence in the market of inverters in India.
9. Uniline
Unline brand of an inverter is the product of the Uniline Energy Systems Pvt Ltd which is an Indian company. This company offers full solutions for the power backup through its products such as UPS, inverters, solar energy goods, servo stabilizers, etc.one of the main series of this inverter is Leopower which offers extremely trustworthy inverters that are filled with amazing features such as Excess Protection, High Effectiveness, Automatic Enhancement, Spike Free,  etc.
8. Consul
Consul is a new trustworthy name for the solutions of the power backup. This inverter brand is the product of the Company Consul Consolidated Pvt Ltd which was founded in the year 1981. This company produces a complete variety of power back-up goods which comprises of online UPS, inverters, voltage stabilizers, solar power products as well as transformers.
7. Delta
Delta is an inverter brand of the Company Delta Power Solutions Pvt. Ltd which is a famous firm that offers a comprehensive elucidation for the issues of power backup. Besides manufacturing the inverters, it also makes EV Charging Stations, UPS, Datacenter, etc.
6. Swelect Energy Systems Limited
The sixth name in the list is of Swelect Energy Systems Limited which is a power Microelectronics Company that was incorporated in the year 1994. It not only manufactures inverters but also solar inverters, UPS, solar charge controller, and much more.
5. Su-Kam
This is one more chief inverter brand in India that is owned by the famous company Su-Kam Power Systems Limited which was established in the year 1988. This company provides consistent inverters for home as well as for office uses. The most renowned inverter series of Su-Kam are Falcon, Torque, Cosmic, Blaze, and Micron.
4. Genus
Genus brand of an an inverter is possessed by the Company Genus Power Infrastructure Limited which offers a whole resolution to the power backup. This brand provides excellent inverters in diverse varieties which are filled with the modern features and technologies. Genus brand also offers consistent single phase and 3 phase inverters. Besides from the inverters, this company also provides best quality Home UPS, batteries, Solar Products, Static UPS, etc.
3. Arise
Arise inverter is the product of the Company Arise India Limited that manufacturers electrical as well as electronics goods. This company was founded in the year 1984. From its beginning, this company has fetched a bigger name in delivering world-class goods which offer outstanding performance. Owing to its high-quality goods, the Arise India Limited has earned numerous awards. The main inverters of this brand are Golden, Wonder, Super, Shinestar, etc. At present, the company devises a strong existence in the nation with over 12,000 brokers and more than fifty agencies in India.
2. Microtek
The next name in the list of top ten best inverter brands in India is Microtek which is one of the reliable and oldest products for the power backing in India. This brand is possessed by the Company Microtek International Private Limited which was established in the year 1972. This company is also a part of the Action Group which provides extremely strong, consistent as well as efficient inverters. These inverters also some magnificent features like display warnings, sinewave technology, and auto change. The Microtek International Private Limited manufactures UPS and batteries also in its eight industrial plants situated in diverse regions of India.
1. Luminous
The top name in the list is of Luminous which is the foremost inverter brand in India. This brand is extensively used in the household or the commercial places. The luminous inverter is the product of the renowned company i.e. Luminous Power Technologies Private Limited which was founded in the year 1988. At present, this popular brand dominates in the inverter segment in the nation by fulfilling every kind of load requirement i.e. whether small, medium or high. The inverter series of Luminous comprises of Zelio, Ion, Supreme and that are not only efficient but reliable also. Luminous has a comprehensive network throughout the nation, which consist of 28 sales headquarters and in excess of 50,000 network partners.
Santosh Kumar, He is a SEO + Blogger have 12 years of experience in writing tutorial, informative and product reviews topics.