Bhai Dooj is a Hindu festival celebrated in India. This is a festival of the Hindu religion celebrated on the 2nd day of Shukla paksha of Kartik month. This is also called Yama Dwitiya. On this day, rituals and celebrations are similar to the popular celebrations- Raksha Bandhan. The festival is celebrated after two days of Diwali.
Puja Timings and Shubh Muhurat of Bhai Dooj
This festival is based on a brother-sister relationship. This is celebrated with mutual love and great reverence. This festival is called Bhai Phonta. This is also known as the Tilak ceremony. Once it's over, they pray for their brother's long and happy life.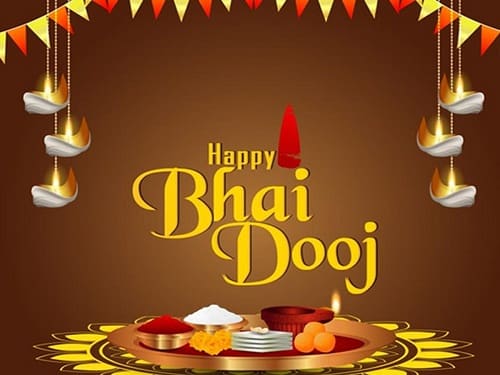 The Bhai Dooj festival is celebrated on 26 October 2022. It's celebrated on Wednesday. The auspicious timing for the celebration is 2:40 on 26 October 2022. And, it remains till 12:45 on 27 October 2022. Brothers give many gifts to their sisters. And, in return, the sisters offer sweets to their brothers. Sisters invite their brothers for meals including their favorite dishes/sweets.
About Bhai dooj festival
This festival signifies the bond between a brother and sister. The bond stands out from the first on a special day. This connection is known as Bhai Teeka. This festival is mostly celebrated in the month of Kartik. The god of death yamraj answers their sister's call as he is invited for a lunch as per traditional beliefs.
As per Indian tradition, the festival is not celebrated without proper traditions and customs. This gives out the vibes about the festival.
Before the Tilak ceremony started, they are under a chalk square with rice.
The brother is seated in this square as he waits for the right timing when the sister is applying Tilak.
Post-Tilak gifts are nuts, fruits, sugar, and black grams to brother. All this is happened before starting the aarti.
Once the aarti and tilak are done, the brother gives a gift and vows to protect her whole life.
Every Hindu festival has a very sensitive background story. This story speaks about the focuses and importance of siblings' bond.
"The Tale of Krishna and Subhadra"One such tale is about Lord Krishna. When he returns home after killing Narkasur, his sister Subhadra welcomes him with fruits, flowers, and sweets. She also lit up some diyas. This, she offers him a great welcome. Afterward, she applied Tilak on his forehead and prays for him living for thousand years. This is how it becomes a custom to apply tilak on the forehead of a brother. In return, the brother presents his sister with alluring gifts.
Bhai Dooj vrat Katha is- Chhaya is the wife of Lord Suryadev has two children, Yamraj and Yamuna. The Yamuna loved her brother a lot. So, she requested him to come to their house for food. But yamraj used to refuse the proposal due to his busy work. In the end, Yamraj went to his sister's home for having food. This symbolizes their love for each other.
Santosh Kumar, He is a SEO + Blogger have 12 years of experience in writing tutorial, informative and product reviews topics.