The next day of Diwali is celebrated as Govardhan Puja in many parts of India. On this day, Lord Krishna defeated Lord Indra. Sometimes, you may get one day gap for the puja. The other name of this puja is Annakuta puja. On this auspicious day, foods made of wheat, rice, curry made of gram, and flour are served to Lord Krishna.
Puja Timings
If you want to offer puja on this day, you must observe specific tithi and timings. This year it will be celebrated on 26th October. It will be Wednesday. Dyuta Krida will be on 26th October. The tithi will begin on 16.18 on 25th October and end on 14.42 on 26th October. You have to make all the preparations for the puja by this time. Many times Govardhan puja coincides with Gujarati New Year. This puja is celebrated in many other parts of India.
In Maharashtra, this day is also celebrated as Bali Pratapada. People of this state commemorate this day with great pomp and show. During this festival, people light their houses with decorative items. It makes the festival much more attractive and better for the devotees.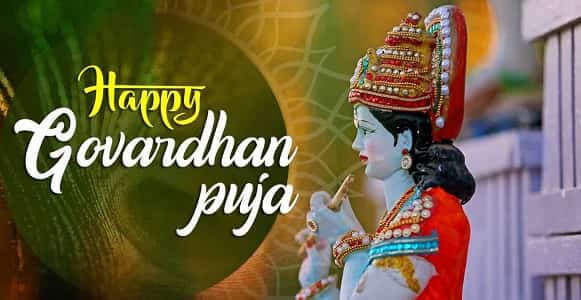 About the Festival
As per the Hindu Mythology, the residents of Gokul worship Lord Indra. Lord Indra is also known as the God of Rain. It is known from various sources that Lord Krishna advised to worship Annakut Hill or Govardhan Parvat. Govardhan Parvat is worshipped to protect the people of this region from drastic climate and weather. Lord Kishna saved the people of this region from climatic disasters with a single finger. Thus from this day, Govardhan Puja started among the people of this region.
You have to follow a series of patterns during this festival. The festival continues for three days. You have to maintain all the rituals for the puja. Many habits were practiced during this period. In some parts, you will find people making an idol of Lord Krishna with the cow dung. It is then decorated with decorative items, including lights or lamps. Many families also make rangolis for this puja. The rangolis are made of coloured powder, sand, and even petals of flowers. This gives a unique look to the house.
The sculptures and idols made of cow dung are then bathed with milk and dressed in beautiful clothes and items. You will also love to view the look of the idol. You can also use precious stones and gems to add the glamour to the model.  As per the Hindu families, the elderly members of the family consider Annakut as an essential part.
As the food is considered during this period, the devotees prepare 56 food items and serve them before Lord Krishna. Almost all the items are delicious, and they are first offered to the Lord. You will see that these food items are served in beautiful dishes. Many people clean their house and kitchen to prepare the 56 dishes. Most dishes are made with proper care and attention. Special care is made while selecting the ingredients.
Santosh Kumar, He is a SEO + Blogger have 12 years of experience in writing tutorial, informative and product reviews topics.