Karva Chauth is one of the holy festivals and occasions of the Hindu religion which the Indian wives perform. It is performed during the Kartik month. This festival is practiced in almost all Indian States. Unlike every year, in 2022, Karwa Chauth will be celebrated on 13th of October 2022. It will be Thursday. However, you have to follow the tithi of the puja.
Date of the puja
The tithi will begin from 13th October, Thursday and end on Friday 14th October. Shubh time for the puja will be from 18.14 PM to 19.27 PM. You must be well aware about the Karwa Chauth tithi commencing time. It will start from 1.59 AM on 12th October, 2022. The tithi will end on 3.08 AM on 13th October, 2022. You have to start fasting from 6.28 AM till 20.45 PM. The moon is expected to rise at 20.45 PM.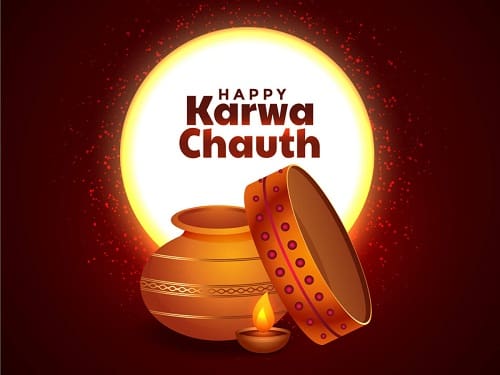 You have to finish your sargi between 4 am to 5 am. To make the sargi you will require phirni, sweets, dry fruits, coconut water, cooked foods, deserts, poori or parathas, mathri, curry and a glass of juice. It will help if you made all the preparations before time.
About Karwa Chauth Festival
At first, you must know the exact meaning of Karwa Chauth. It is of two words. One is Karwa, an earthen pot or oil lamp and Chauth which means four. This is why it is celebrated on the day of Kartik month. There is a long story behind this celebration. There was a Queen Veerabati who was a sister of seven brothers. She was much pampered and loved by her brothers. When she grew up, her brothers thought of getting her married. However, she got married. They were happily leading happy life.
 A year passed, and she was all set to celebrate her Karwa Chauth. As usual she had to keep fasting for the entire day. When her brothers saw her starving in hunger for the whole day, they made a plan. They climbed up the tree and reflected a mirror. Veerabati thought it was the moon, so she broke her fast by having a glass of water. As soon as she was all set to have her food, news came that her husband was dead. She was heartbroken and had no other way.
Now she decided to get back to her husband. To do so, she rushed to Lord Shiva and Goddess Parvati for her husband's life. She told everything to Goddess Parvati about fasting. She also said that she has mistaken the moon as a mirror and broke her fast. Goddess Parvati blessed her with the boon to keep the fast of Karwa Chauth by maintaining all the rituals. After one year, she did as instructed. After performing all the rituals, Veerabati got back her husband on the Karwa Chauth day. This is why every Indian woman celebrates Karwa Chauth. They try to maintain and perform all the rituals right from the morning. The women can get a long-married life by completing Karwa Chauth.
Santosh Kumar, He is a SEO + Blogger have 12 years of experience in writing tutorial, informative and product reviews topics.