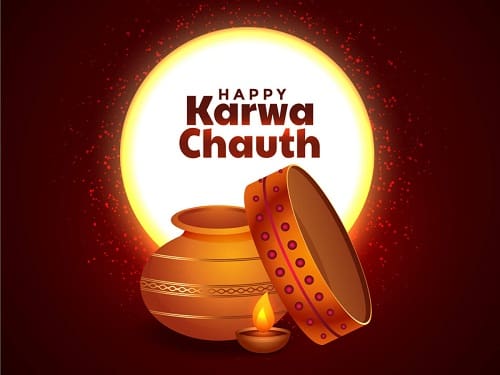 Karva Chauth is one of the holy festivals and occasions of the Hindu religion which the Indian wives perform. It is performed during the Kartik month. This festival is practiced in almost all Indian States. Unlike every year, in 2024, Karwa Chauth will be celebrated on 20th of October 2024. It will be Sunday. However, you have to follow the tithi of the puja.
Karwa Chauth Puja Muhurat Date and Time

The tithi will begin from 20th October, Sunday. Shubh time for the puja will be from 05:46 PM to 07:02 PM. You must be well aware about the Karwa Chauth tithi commencing time. It will start from 06:25 AM on 20th October, 2024 and will end on 7:54 PM. The moon is expected to rise at 08.12 PM.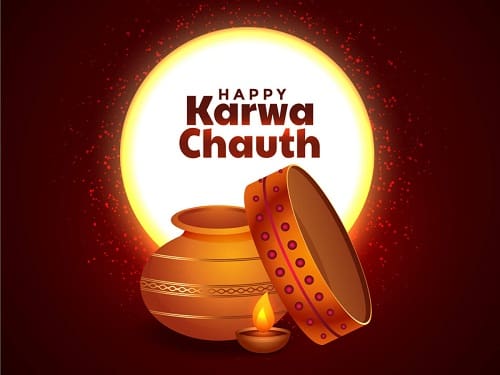 You have to finish your sargi between 4 am to 5 am. To make the sargi you will require phirni, sweets, dry fruits, coconut water, cooked foods, deserts, poori or parathas, mathri, curry and a glass of juice. It will help if you made all the preparations before time.
About Karwa Chauth Festival
At first, you must know the exact meaning of Karwa Chauth. It is of two words. One is Karwa, an earthen pot or oil lamp and Chauth which means four. This is why it is celebrated on the day of Kartik month. There is a long story behind this celebration. There was a Queen Veerabati who was a sister of seven brothers. She was much pampered and loved by her brothers. When she grew up, her brothers thought of getting her married. However, she got married. They were happily leading happy life.
A year passed, and she was all set to celebrate her Karwa Chauth. As usual she had to keep fasting for the entire day. When her brothers saw her starving in hunger for the whole day, they made a plan. They climbed up the tree and reflected a mirror. Veerabati thought it was the moon, so she broke her fast by having a glass of water. As soon as she was all set to have her food, news came that her husband was dead. She was heartbroken and had no other way.
Now she decided to get back to her husband. To do so, she rushed to Lord Shiva and Goddess Parvati for her husband's life. She told everything to Goddess Parvati about fasting. She also said that she has mistaken the moon as a mirror and broke her fast. Goddess Parvati blessed her with the boon to keep the fast of Karwa Chauth by maintaining all the rituals. After one year, she did as instructed. After performing all the rituals, Veerabati got back her husband on the Karwa Chauth day. This is why every Indian woman celebrates Karwa Chauth. They try to maintain and perform all the rituals right from the morning. The women can get a long-married life by completing Karwa Chauth.
Things You Should Not Do On Karwa Chauth
Karwa Chauth is a significant Hindu festival celebrated by married women for the well-being and longevity of their husbands. While it is a beautiful and meaningful tradition, there are some things you should avoid doing on Karwa Chauth to respect the customs and traditions associated with the festival. Here are some things to avoid:
Not Fasting Without Proper Preparation: Karwa Chauth involves a day-long fast from sunrise to moonrise. If you have health conditions that make fasting difficult or dangerous, it's essential to consult with a doctor and make an informed decision. Pregnant or nursing women and those with certain medical conditions should not fast.
Judging or Criticizing Others: Avoid passing judgment or making negative comments about those who choose not to observe the fast or the rituals associated with Karwa Chauth. People have various beliefs and practices, and it's essential to respect their choices.
Forcing Others to Participate: Don't force anyone to observe Karwa Chauth if they are not willing to do so. Participation in the festival should be a personal choice and not coerced by family members or society.
Not Respecting One's Own Comfort and Health: While the fast is a significant aspect of Karwa Chauth, it's crucial to prioritize your well-being. If fasting is causing you excessive discomfort or health issues, consider breaking the fast and making offerings later. The essence of the festival is more about the love, devotion, and prayers than the physical act of fasting.
Neglecting Hydration: Dehydration can be a real concern during a day-long fast. Be sure to drink plenty of water before and after the fast to avoid health issues.
Excessive Spending: Karwa Chauth is not about extravagant gifts or spending beyond your means. It's more about the love, trust, and connection between married couples. Avoid financial strain by keeping the celebrations simple and meaningful.
Engaging in Superstitions: While some rituals are integral to Karwa Chauth, it's essential to differentiate between tradition and superstition. Avoid engaging in practices that promote baseless beliefs or discrimination.
Not Consulting a Doctor: If you have any doubts about fasting, particularly if you have health concerns, consult a medical professional. It's crucial to prioritize your health and well-being.
Rigid Interpretation: Karwa Chauth rituals can vary in different regions and communities. Avoid rigid interpretations of the customs and focus on the core values of love, devotion, and commitment.
Neglecting Safety: If you are breaking your fast by observing the moon, ensure you do so in a safe and well-lit area. Avoid risky situations that could compromise your safety.
Karwa Chauth is a personal and meaningful tradition for many married couples, but it's essential to approach it with respect, flexibility, and a focus on the deeper values it represents.
FAQ Related to Karwa Chauth
What is Karva Chauth?

Karva Chauth is a Hindu festival observed by married women, especially in North India. On this day, married women fast from sunrise to moonrise for the well-being and longevity of their husbands.

When is Karva Chauth celebrated?

Karva Chauth is observed on the fourth day after the full moon in the month of Kartika (October or November) in the Hindu calendar.

What is the significance of Karva Chauth?

Karva Chauth is a symbol of love and devotion between husband and wife. It is believed that fasting on this day ensures the well-being, longevity, and prosperity of the husband.

What is the significance of the fast during Karva Chauth?

The fast is a way for married women to express their love and devotion to their husbands. It is a form of penance to seek the blessings of a long and happy married life.

Do all married women observe the fast during Karva Chauth?

While it is a widely observed tradition, not all married women participate in the Karva Chauth fast. Some women may choose not to observe the fast due to health reasons or personal beliefs.

What are the rituals associated with Karva Chauth?

The day involves a pre-dawn meal (sargi), and the fast is broken only after sighting the moon at night. Women perform a puja, offer prayers, and break their fast after seeing the moon through a sieve.

Can unmarried women observe Karva Chauth?

While the tradition is primarily for married women, some unmarried women choose to observe Karva Chauth for the well-being of their future spouses.

Are there any specific customs related to Karva Chauth?

Yes, women often receive gifts and new clothes from their in-laws, and there is a custom of exchanging Karvas (spherical pots) among married women. These pots symbolize the bond of matrimony.

Is Karva Chauth celebrated only in North India?

While Karva Chauth is more widely celebrated in North India, the festival has gained popularity in other parts of the country as well. Urbanization and cultural exchange have contributed to its spread.

How has the celebration of Karva Chauth evolved over time?

In contemporary times, Karva Chauth has become a more social and festive occasion. Many women come together for community events, exchange stories, and participate in various rituals as a group.

Is there any special significance of the moon during Karva Chauth?

The sighting of the moon is crucial during Karva Chauth, as it marks the end of the fast. Women break their fast after seeing the moon, and the event is often accompanied by prayers for the well-being of their husbands.
Santosh Kumar, He is a SEO + Blogger have 12 years of experience in writing tutorial, informative and product reviews topics.