Every year Ganesh Chaturthi is celebrated during the Bhadrapada's month fourth day of the bright fortnight. In 2022, Ganesh Chaturthi will be celebrated 31st Day of August 2022. It will be on Wednesday. This day is marked as the birthday of Lord Ganesha. He is the son of Goddess Parvati and Lord Shiva. It is also known as Vinayak Chaturthi or Danda Chaturthi in some regions.
Puja timings and shubh muhurat of Ganesh Chaturthi
Madhyanaa Ganesh Puja muhurat will be from 11.05 am to 13.38 on 31st August. The duration of the puja will be for 2 hours and 33 minutes. The visarjan can be done seven days after the puja. It is found that you can do the visarjan on the 9th day of September, 2022. It is better to avoid viewing the moon just before the day of Ganesh Puja. The Chaturthi tithi will begin from 15.33 on 30th August and will end by 15.22 on 31st August. You have to maintain the chaturthi tithi in any chance.
It is okay if you finish all the rituals of the puja within this period. However, you may face some differences on the puja and tithi timings.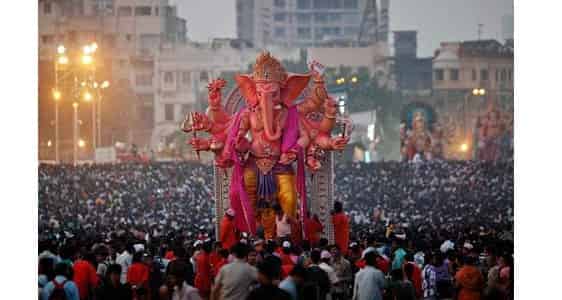 About Ganesh Chaturthi festival
You must know that Ganesh Chaturthi is celebrated as the birthday of Lord Ganesha. Chhtrapati Shivaji commenced the celebration of Ganesh Chaturthi. This is why it is celebrated in Maharashtra. It is known from various stories that Goddess Parvati created Lord Ganesha in the absence of Lord Shiva. She made the idol from the sandalwood paste of Lord Shiva. She used the idol as a protector while going to bath. However, one fine day, Ganesha restricted the entry of Lord Shiva to this place. As a result, a fight began between both of them.
Out of anger, Lord Shiva cut the head of Ganesha. Seeing this, Goddess Parvati got furious and took the form of Goddess Kali. She started destroying the world. To make her calm Lord Shiva ordered his followers to bring a child's head that matches with Ganesha. The first child seen by Lord Shiva's followers was that of an elephant. They cut the head of the baby elephant and bought it before Lord Shiva. Lord Shiva immediately placed it on Ganesha's head. This made Goddess Parvati calm, and everyone started worshipping him.
It was also decided that Lord Ganesha would be first worshipped before any other God on earth. This is why we find his puja is done before any other ones.
The celebration of the puja continues for ten days. On the first day, people worship a clay idol of Lord Ganesha. People make every possible attempt to celebrate the puja in the best possible manner. People offer Lord Ganesha's favorite food, "Laddoos" to him. The celebration continues with other cultural events and functions. Apart from Laddoos, Modak, another sweet, is also offered to him.
People give baths to the idol of Lord Ganesha with pure water and then decorate him with flowers and other accessories. Many people also offer different dresses to Lord Ganesha each day.
Santosh Kumar, He is a SEO + Blogger have 12 years of experience in writing tutorial, informative and product reviews topics.