Every year Chhath puja is celebrated in the name of God Surya. He is the god of energy. In 2022 Chhath puja will be celebrated on 30th October. It is Sunday. Chhath puja is also known by various names. In some places, it is known as Surya shasthi, Chhathi, and several other terms. This puja has a preference in Uttar Pradesh and Bihar. It is celebrated with great pomp and show.
Puja Timings
If you plan to celebrate the puja you must maintain special time and tithis. You have to perform the puja at 6.30 AM during sunrise time. You can also perform the puja during the sunset time at 5.49 PM on that day. The Nahay Khay tithi will commence on 28th October. On this day, you have to clean the house and take a holy dip on the nearby lake or ponds. You must prefer to have chanadal and bottle gourd in your food. If you are fasting, you can have food only once a day. It would help if you also prohibited from taking fried foods.
Kharna and Lohanda tithi will commence on 29th October, 2022. This is the second and essential day for Chhath puja. You have to fast for the whole day without taking a single drop of water. You can have water after the sunset. You must have Kheer as Prasad on this day.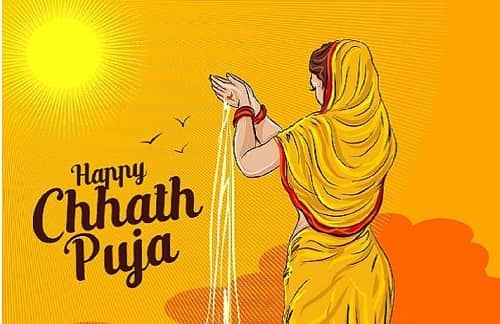 On 30th October you have to perform Sandhya Arghyya. On this day, the women have to go to a nearby pond and offer Arghya to the sun. On 31st October you have to perform Paran. You have to go to the pond early in the morning before the sunrise and offer Arghya to the sun. With this, your fast will come to an end.
About festival
You will come across some stories related to this festival. When Lord Rama and Sita returned from exile they decided to contribute to the Sun god by performing a fast for one whole day. Accordingly they fast for the whole day and broke it by offering prayer to Sun God in the next day. Thus, from that Chhath puja was started. It became a famous festival among the people. There are stories that are related to Mahabharata. You will get numerous such festivals that gave birth to this celebration.
Sixth is a Hindi language which means Chhathi. As this festival is celebrated in the sixth day of the Karthika month it is also called Chhath puja. You have to observe strict fasting during this period. You cannot have a drop of water on the fasting day. People or the devotees used mud or bronze utensils to have their food during the puja period. The puja continues for four days and each day has some special significance.
You must have heard about Thikari a special food of this festival. It is prepared by mixing rice, wheat, dry fruits, sweets, jaggery, ghee, and coconut. It has an excellent taste, and it is one of the staple foods for the occasion. It is also offer to the Sun god.
Santosh Kumar, He is a SEO + Blogger have 12 years of experience in writing tutorial, informative and product reviews topics.