You must know that Kartik is the eighth lunar month per the Hindu calendar. The Purnima which comes during this month is termed Kartika Purnima. Kartik Purnima is celebrated for five days, including Tulsi Vivah, Bhishma Panchaka, Vaikunth Chaturdashi, and Dev Diwali. In 2022, Kartika Purnima is on 8th November.  It will be on Tuesday.
Kartika Purnima Puja Timing
If you want to perform this puja, you have to maintain a specific time and tithi. The shubh muhurat for the puja will commence at 16.07 PM. You have to make all the preparations for the puja before this time. If you want to perform Tulsi Vivah, you have to start it on Prabodhini Ekadashi the day before Kartik purnima. On this day, marriage is held between Tulsi and Lord Shaligram, who is representing Lord Vishnu. Bhishma Panchaka also commences with Prabodhini Ekadashi and ends on Kartik Purnima.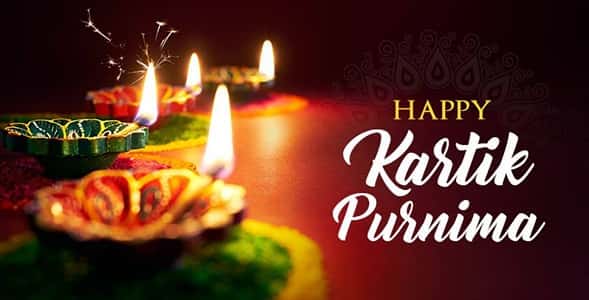 You must have heard about Vaikunth Chaturdashi performed the day before Kartik purnima. On this day, the devotees of Lord Vishnu have to keep the whole day fasting. It is an auspicious day because Lord Vishnu used to worship Lord Shiva with one thousand lotuses.
About Kartik Purnima festival
The story behind this festival is all about a demon named Tripurasura. During  ancient time, there was a demon named Tripurasura who succeeded by defeating the gods. He was also successful in conquering the whole world. It is known from various sources that he built three different places in space and named it Tripura. During this time, Lord Shiva came to rescue the gods. He saved the gods and killed the demon with an arrow. This day was announced to be celebrated as lights and illuminations.
On the other part, Kartik purnima is also celebrated as the birth anniversary of Vrinda, a personification of the Tulsi plant. This day is also marked as the birthday of Matsya. Many people also celebrate this day as the birthday of Lord Kartikeya, son of Lord Shiva. The last five days of Kartik month are essential and holy. Most devotees keep fasting for these five by eating only once a day. This is known as Habisha. Different people celebrate this day with various thoughts and beliefs. They start their day with a holy dip in a river which is known as Kartik snan. It is done just at the time of sunrise. Kartik purnima also marks the marriage of Lord Vishnu and Devi Vrinda. You must have also observed that mela's are organized during this time. The mela or the fair ends with a holy dip of the visitors on the sacred Pushkar Lake for salvation. Most people who come to the mela wish to take a dip in this lake.
This is a holy month, and you can celebrate it with complete sincerity and dedication. Celebrating this puja can bring joy and happiness to your life. You can lead a peaceful life.
Santosh Kumar, He is a SEO + Blogger have 12 years of experience in writing tutorial, informative and product reviews topics.