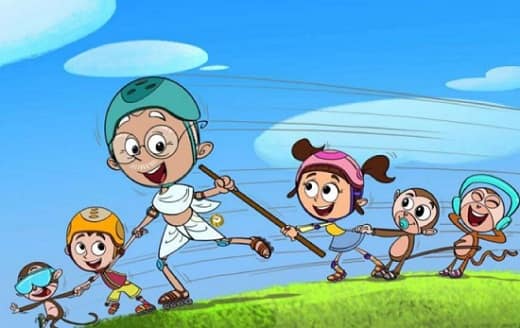 Bapu is a new cartoon show that gained intense popularity and fame among kids due to high value and moral teaching stories. Bapu, the main character of this show is derived from the Father of Nation Mahatma Gandhi. Well, we all know that Mahatma Gandhi played an important role in freedom by his teachings.
The same theme can be spotted in almost every episode of Bapu cartoon. The mahatma Gandhi character is focused on teaching kids the right thing and the method of speaking against wrong. Overall, the theme of this cartoon show is harnessing interests of kids and the fun loving entertaining episodes are worth watching for kids.
Bapu Cartoon Characters Names
There are many characters, mostly kids, and each character has a unique traits regarding the life. If you have watched any of the episodes, you might know about it. You can stream this cartoon show on Zee5 website or through the app.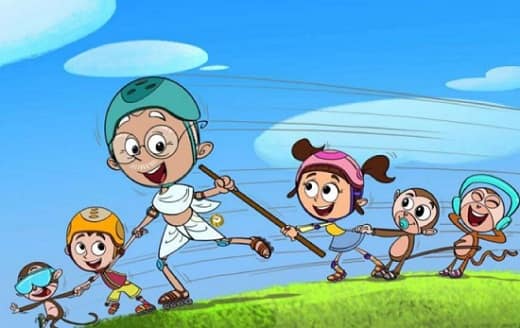 Here are some of the characters from Bapu Cartoon –
Bapu
The main role of this entire show is Bapu Aka Mahatma Gandhi. He is shown sharing the good and positive thoughts regarding life as well as the method to deal with issues. Mahatma Gandhi helped India to get freedom and taught numerous things regarding the necessity of raising voice against wrongfulness. Children can learn so many quality things from the character of Bapu.
Suraj
Suraj is the main character, the fun loving kid, who always stay close to Bapu. He and his sister end up getting into many issues and then they talk with Bapu to learn about the solutions. As a kid, Suraj is shown doing the good things and sometimes he ends up going on wrong track. Well, Bapu role is mainly here to help Suraj and his family. So far, Suraj is loved among everyone.
Tara (Suraj's Sister)
Tara is the sister of Suraj and she is a little girl with so many dreams. She has the importance in correcting Suraj's silly guesses when Bapu teaches new things. There are many seasons aired and you can find Tara correcting Suraj's misunderstandings and she is close to Bapu. The best part is, these three are the main characters.
Suraj and Tara's Parents
Akash, Dad of Suraj is an employee in a company and he is a hardworking man. From spending his day in office to helping kids at home, Akash has an important role. There are many times when Akash is also stuck in problems and Bapu help in such situations to get rid of every issue.
Dola, Gola and Bhola
Mahatma Gandhi's teaching of three monkeys about 'Not Listening Wrong, Not Speaking Wrong, and Not Seeing Wrong' can be spotted with the role of Dhola, Gola and Bhola. These three monkeys are notorious and they have an importance in helping Bapu to do the things in a right way.
There are many other characters in this show like Discount Dsouza, Police man and more.
List of Other Cartoon Shows
Santosh Kumar, He is a SEO + Blogger have 12 years of experience in writing tutorial, informative and product reviews topics.