Dabangg cartoon is aired on the cartoon network to entertain children from India with an action-comedy series. The story is focusing on the fearless policeman Chulbul Pandey. This is the first animated series based on the popular Bollywood movie 'Dabangg. The collaboration of Warner Media and Cosmos Maya introduced this amazing cartoon.
Dabangg Cartoon Characters Names
Many characters are there in the cartoon, but the major role is of the Chulbul Pandey. All-important characters of this series are written below.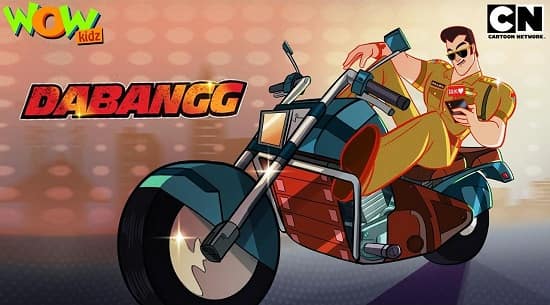 Chulbul Pandey
Chulbul Pandey is the leading character of this cartoon. He is a fearless and brave Supercop, based on the Hollywood movie Dabangg. This series is interesting for Bollywood lovers because the voice is of Chulbul Pandey is of Bollywood actor Salman Khan. And much of the prominent dialogues are the same as in the movie. This character is taken from the movie, but the traits are a little changed and they are made child-friendly. The jokes are good and kids are going to love this character so far.
Rajjo Pandey
Rajjo Pandey is the wife of the Dabangg character Chulbul Pandey. She is such a beautiful lady. She flirts with his husband many times. She is a housewife in the cartoon and takes care of the father of Chulbul Pandey. His character is pretty sweet in the cartoon, and voice by Sonakshi Sinha. Rajjo Pandey support our favourite Chulbul Pandey and when there is any problem which can't be eradicated by Chulbul Pandey, Rajjo is there to help in it.
Makhi
Chulbul Pandey has a brother namely Makhi. His name is Makhanchand Pandey, but most people call him Makhi. He is a simple, polite and wise man, but he has no work for income. He is unmarried and looking for a girl. The Voice of Makhi is given by the Arbaz khan. Makhi is the important character for showing a character, which is always confused between right and wrong. However, Makhi is clean of heart and he is always trying to do the right thing.
Bacha Bhaiya
Bacha Bhaiya is the villain of this story. He is a businessman. But he is not a wise man, and do plenty of wrong works. Chulbul Pandey always fails his plans buy the unique ideas. Prakash raj as in the Dabangg, is given voice for the Bacha Bhaiya. As far as you can say that Bacha Bhaiya is an enemy character that you might have spotted in the Dabangg movie and the character is still in this cartoon show.
Other Characters
Still, there are many other characters that you can find in this show. Those characters not shown on daily episodes and there isn't much to their backstory at all.
Important Note – All the characters mentioned in this list are the leading roles of this series and you can spot them in almost every episode. As the show continues, there might be new characters introduced and we will update the list. So, this might be an incomplete list.
List of Other Cartoon Shows
Santosh Kumar, He is a SEO + Blogger have 12 years of experience in writing tutorial, informative and product reviews topics.