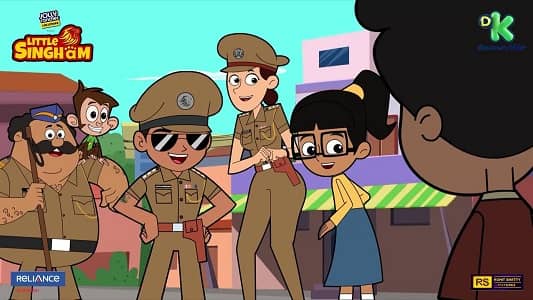 This television series, created by the Picturez of Rohit Shetty in partnership with Discovery Kids & Reliance Animation, is based on the Indian animated character Little Singham. This was the first time it aired on Discovery Kids, which had recently undergone a makeover, on April 21, 2018.
In it, we see Bajirao Singham as a child, fighting criminals, zombies, and dangerous mutants to save his city from destruction. It consists of three seasons and 366 episodes, as well as numerous movies.
Characters Names of Little Singham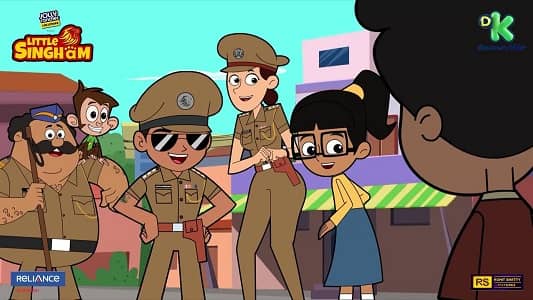 Little Singham: He is the central character of the show & the defender of Mirchi Nagar. He is also the youngest of the main characters. He's dressed in a police uniform with black sunglasses on his face. With the help of the Panja Attack, he protects the people of Mirchi Nagar from various threats.
Rocky Cheetah: He is a villain who is half-human, half-cheetah, and fights against Little Singham.
Teacher Tara: She is a reading, mathematics, and chemistry teacher at Mirchi Nagar City School in Mumbai.
Chikki: It is the monkey that Little Singham keeps as a pet. He also lends a hand to Little Singham.
Ajay: He's a brave young man, and he calls himself Little Singham.
Lattu and Babli: These characters are self-proclaimed assistants to Little Singham.
Babli-She is a bright young lady who is the daughter of Prof. Avishkar. She refers to Ajay Hero as a "hero" on occasion.
Commissioner Faulad Singh– He is a police officer who is distinguished by the wearing of a turban.
Professor Avishkar – He is Faulad Singh's senior scientist, and when the problems are severe, he develops devices for Little Singham, Lattu, Babli, and, Chikki, to help them.
Montu– He is a chubby young man who is a rival of Babli, Lattu, and, Ajay
Inspector Kavya– She along with Little Singham, is a police inspector in Mirchi Nagar, Bangalore.
Hawaldar Karate– He is a sergeant of Little Singham. He is a black belt in karate.
Mantri Ji (Prime Minister): Mantriji is the PM of Mirchi Nagar & is dressed in pajamas and glasses.
Kallu and Ballu: They are the burglars of Mirchi Nagar who are also some of the most likely suspects in the country.
Chef Chao Chao Khao: He is a Chinese chef who is the bad guy of Mirchi Nagar.
Shanta Nani: She is a chef in the Mirchi Nagar neighborhood.
Villains: The villains of Mirchi Nagar in the Little Singham cartoon include King Cobra, Sumudi Spy, Maha mummy, Lallu Lafanga, Junglee Joker, Shambhala, Lord Boga, Dhaturaja, Kaal Rakshas, Munna Mucchi, Ulti Palti, Daaku Dhamaka, Buddhi Man, Khatarnak Khatri, Hanikarak Hippo, and Barood.
Misti Aunty– She is a rambunctious lady from Mirchi Nagar who makes a lot of noise.
Komal– She is Mantriji's daughter, and she is the main character in the film. Little Singham is a favorite of hers.
Little Singham is a fun and interesting animated show through which your kids can learn various lessons and can smartly master how to tackle small issues like Little Singham.
List of Other Cartoon Shows
Santosh Kumar, He is a SEO + Blogger have 12 years of experience in writing tutorial, informative and product reviews topics.