It is one of the popular comedy series and it is directed by Ronjoy Chakraborty.  The MotuPatlu cartoon has become a part of Hindi TV shows under the theme of Motu Patlu ki Jodi. The music director of the serial is Sandesh Sandhya and the producer is Deepa Shah. The serial is full of fun and comedy and it has been appreciated by young and old one on TV. It is an animated 3D- cartoon show and it is mainly based on the everyday lifestyle of Motu and Patlu. Both are the main characters of the story along with many other characters.
Motu is fat and gets into trouble most of the time and his friend Patlu means thin, always coming for his help. Patlu is slim and weak in health when compared with Motu but Patlu is very wise and helpful.  The story is about how both the friends get into trouble and still fight back together to come out successfully.  There are many other characters in the serial and these characters are funny and humorous that people get addicted to watching the serial.
Motu Patlu Cartoon Characters Names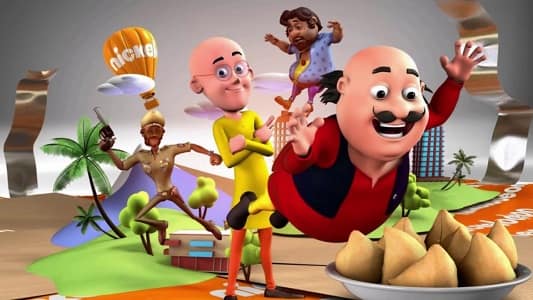 The details of MotuPatlu& the other cartoon characters of the serial are given below:
1. Motu:
Motu is the main character of the story along with Patlu. Motu is fat and always wants to eat Samosas.  He is fond of Samosa so much that he remembers it and wanted to eat it even during fighting with his enemies. Motu believes that – when hungry, he can't think properly. And he asks his friend Patlu to think and find a solution, if there is any serious issue.
2. Patlu:
Patlu is the best friend of Motu but Patlu is thin but a very wise and supportive person. He often helps Motu when gets in trouble. Patlu is very helpful and often gives advice to the people of Furfuri village.
3. Dr.Jhatka:
Doctor Jhatka is friend of Notu and Patlu. He always keeps inventing new things. He has a friend Ghasitram. Dr. Jhatka always gives trouble to Motu and Patlu.
4. Ghasitram:
Ghasitram is a photographer who always pleads with others and says he has 20 years of experience in photography. Ghasitram is fond of rasgullas.
5. Chingam:
Chingam is a friend of Motu&Patlu. He is police inspector of Furfuri Nagar. Chingam loves idlis so much. He is a brave inspector and he always suggests to the people around him not to fear when inspector Chingam is there with them. He always talks about tumhekanoonkikasam, Bharat matakiKasam, Hindustan kiKasam while he runs after the criminals.
6. John:
John is a professional thief and he always wanted to steal something from the town Furfuri. Whenever he makes the plans for stealing, Motu&Patlu spoil his plans completely. They catch John and hand him to police inspector Chingam. John always wanted to send Motu and Patlu out of the city Furfuri. His favorite dialog is John banega Don.
The cartoon characters in the serial are all interesting and each of the characters has a unique style and appearance and it makes every episode of the serial interesting & entertaining.
List of Other Cartoon Shows
Santosh Kumar, He is a SEO + Blogger have 12 years of experience in writing tutorial, informative and product reviews topics.