Gadget Guru Ganesha is another cartoon serial that is shown in Zee5. The best thing about this serial is that both the adults and the kids can see it. The serial is all about some witty kids and their Dadaji and Dadiji. You will love to see their funny acts. The serial is so colorful that you will have fun while watching the serial. You must not miss any of the episodes.
Best characters of Gadget Guru Ganesha: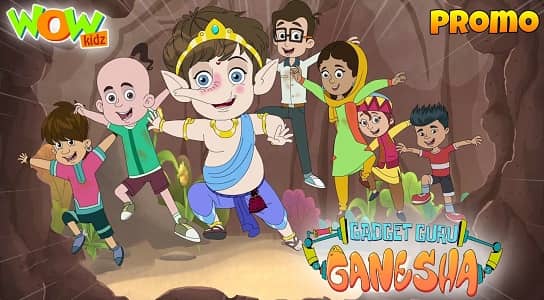 Here are some of the best characters of this serial. If you get an initial introduction, you will know them in a better manner.
Guru:
Guru is a 7-year-old boy who is intelligent. He has a strong passion for science subjects. Apart from this, he also has an interest in adventure and tourism. He also makes a tour to various places in India.
Nikky:
He is another friend of Guru, who is a 7-year-old boy. He has a great love and passion for nature and Kung Fu. This is one of the specialties of Nikky. Both these kids go for adventure and outings. However, Ganesha creates a problem while they are on tour.
Ganesha:
It is a magical toy that appears before the house of the kids. It looks exactly like Lord Ganesha. He loves to eat. He loves to eat Modak like Lord Ganesha. They both have similarities. Ganesha tries to teach these kids the valuable morals of life. He also inspires Guru to grow more interested in the subject. This is a beautiful thing.
Dadaji:
He is also known as Retired General Garam Singh. He is a 65 years old man who runs an orphanage home along with his wife. He is engaged with noble work after his retirement. He is a beautiful person who always focuses on physical exercises for maintaining good health. Apart from all this, his jokes and pranks are so lovely and funny that the small ones love them a lot. He has to stay away from the town for various works, but when he returns home, he brings many toys for the kids. This is why the kids love him.
Dadiji:
Dadiji is known as Prema. She is the wife of Dadaji. Dadiji is a great lady who is 60 years old. She is a south Indian lady who loves the kids. She also takes good care of the little ones. She is a kind, old lady. She takes complete respect of the kids in the orphanage when Dadaji is out of town.
Zukki:
He helps Dadaji and Dadiji in the orphanage. He is a 23-year-old who originates from Bihar. He does not love the kids and always tries to put them in trouble. However, most time, he fails in his attempt. He is a suspicious and shrewd person.
 With all these characters, the serial has become popular among the kids. You must not miss a single episode of this serial. It is a perfect entertaining one in all aspects.
List of Other Cartoon Shows
Santosh Kumar, He is a SEO + Blogger have 12 years of experience in writing tutorial, informative and product reviews topics.