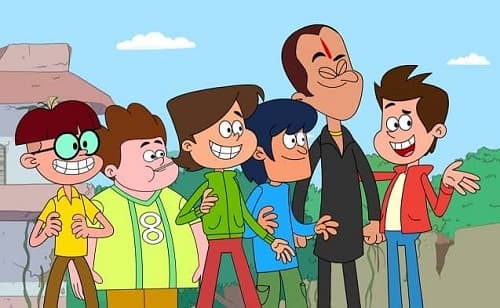 Golmaal is another cartoon serial that the juniors will love. It is also the favorite serial of many kids. Rohit Shetty directs the serial to bring smile on the little faces. If you start watching this serial, you will encounter characters like Madhav, Laxman, Lucky, and Gopal. These four are the noted pranksters. If you have watched the film, you will have a clear conception of these characters. These four friends always create havoc and chaos in every place. They have a peon friend whose name is Pappi. The school peon tries to find the fault of these four guys and report the same to the school principal.
Principal characters of Golmaal Junior: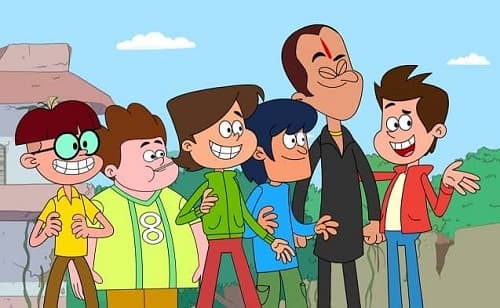 Here you will learn about the four principal characters of Golmaal Junior. It will be good to know about these four people and the other characters of this serial.
Gopal:
Gopal or Gopal Kumar Santoshi is also known as Gopu. He is a 14 and half years old boy who is intelligent and confident at the same time. He has only one weakness. He is afraid of ghosts and other supernatural powers. Knowing this, all his other friends try to take advantage of his problem.
Madhav:
He is also a 14 years old boy who is known by the name of Madhav Singh Ghai. He is a strong, bright, and intelligent boy. He makes all the major plans.
Laxman 1:
He is a 13-year-old boy who is one of the active members of the team. As he wears glasses, he has blind faith in Gopal. He is good at his studies but makes mistakes because he gets nervous.
Laxman 2:
He is a 12 years old boy who is also in the gang. He always suffers from cold and cough. He is well-known for his negative comments.
Lucky:
He is another famous character of this serial which is included in the group. He never participates in any nuisance. He loves one thing, and that is lollypop. If he does not get a lollypop, he gets mad and becomes almost like a monster.
Pappi:
He is a 31 years old school peon who is always against these guys. He always complains to the Principal about the boys but all in vain.
Patwardhan:
He is a strict principle of Golden Hills High School. He loves to have sweets. However, he has a special love for Madhav and Gopal. He is a man of great passion and discipline. He maintains the school in the best possible manner.
Thus, these are the main characters of Golmaal Junior. All the characters are funny and lively. They all have smiling faces. You will love to watch their various acts. Most of the time, people get addicted to the serial and don't even try to miss any episode. If you want to keep the kids engaged a couple of times, you can allow them to watch this serial. It is perfect for people of all ages.
List of Other Cartoon Shows
Santosh Kumar, He is a SEO + Blogger have 12 years of experience in writing tutorial, informative and product reviews topics.