A northern Indian state, Uttarakhand is famous for its Hindu pilgrimage sites. It is located at the foothills of the Himalayan mountain range. Uttarakhand, the historical state, shares its border with Nepal and China and inter-state borders with UP and Himachal Pradesh. Being an agro-geo-climatic, Uttarakhand offers business opportunities for horticulture and floriculture. More than 175 species of herbs and aromatic and medicinal plants are found here.
Apart from being a holistic place in India, Uttarakhand serves some delicious food appreciated for the exquisite subtle taste of the dishes. It is famous for five spices and varieties of other spices.
Even though two different regions are available including Garhwal and Kumaon, they have the same choice of ingredients and cooking methods. Many dishes are similar in the two regions but have different names. Let's take a look at the traditional food of Uttarakhand.
List of Traditional Food of Uttarakhand
1. Aaloo Tamatar Ka Jhol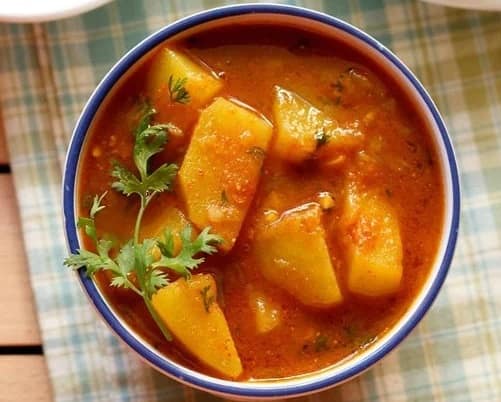 Aaloo Tamatar Ka Jhol, as the name suggests, is a mixed cuisine using Tomato and Potato. It is one of the famous dishes among all the palatable dishes from the list of traditional food of Uttarakhand. It is a highly alluring mix of mouth-watering flavours and incredible aroma, which can be cooked in a minimal time, making this dish tremendous. The recipe is as simple as the locals of Uttarakhand Simple but wonderful. For preparing this dish, all you do to steam some potatoes. You will need to make curry by using tomatoes along with onions. This famous cuisine of the state will make you feel refreshed after a hard day's excursion.
2. Kali
The primary ingredients of Kafuli are Fenugreek leaves, spinach leaves, spices, curd, rice powder, water, and salt. To prepare perfect Pahari Kafuli, you need to mix green leafy vegetables. The dish is loved by Pahari people and by all guests who will come from different parts of the country. It is rich in Vitamin A, C, E, protein, fibre, and other minerals. The two major ingredients that are commonly used to prepare this dish are Fenugreek and Spinach leaves. All you need to mix them and cooked in the pan by adding spices and salt. Kafuli is famous as the State cuisine of Uttarakhand. It eats with the gravy prepared out of the wheat or paste of rice along with water.
3. Bhang ki Chutney
In this mountainous region, you will see a mixture of different tastes. Traditional dishes of Uttarakhand have a pinch of spicy taste, liked by the local people of Uttarakhand. One such dish is Bhang ki Chutney which has a pungent taste. It is one of the famous traditional food items of Uttarakhand. It can be eaten in the form of chutney which is made from many spices and spices. This delicious dish is served with Pahari dishes to enhance the taste. The main ingredient of the dish includes hemp seeds, hemp seeds, cumin, lemon, tamarind, and red chillies.
4. Baadi
Baadi is considered the famous food of Uttarakhand. It contains all the nutritional elements vital for the Human body and has a delicious taste. Without a doubt, it is a blend of nutrition and taste and is inspired by the cuisine of the Garhwal region in Uttarakhand. It is usually served with Phaanu and prepared from the black-coloured Kwada Ka aata. Baadi is rich in Vitamin A and Vitamin B12 because of its main ingredients, such as Water, Ghee, and Kwada Ka Aata.
5. Kandalee Ka Saag
A single cuisine that contains all vital nutrients and splendid flavours are named Kandalee Ka Saag. It provides proper vitamins and essential and aromatic spices which are good for the immune system. The primary ingredients of this dish provide excellent flavour and taste. These include major local spices and leafy vegetables. Saag, as the name suggests, is prepared using green leafy vegetables. Although this staple item, scorpion grass makes it different from other dishes.
6. Dubuk
If you want to taste the exquisite traditional food and tastiest food of Uttarakhand, then you must go to Dubuk. Crowning the state's most famous food, dubuk is easy to indulge in and is healthy for your stomach. It is usually eaten with bhang ki chutney and rice, which adds pungency to the taste and makes it subtle.
7. Garhwal Ka Fannah
The staple food of Mussoorie, Garhwal ka Fannah is tempting enough to grab your attention and taste delicious too. Whether it is a large gathering or a small event, this traditional food is easily available everywhere.
8. Gulgula
Gulgula remains Uttarakhand's famous dish amongst the locals and tourists as well. It can be eaten as a dessert or a snack. It is prepared from basic items, such as jaggery.
Conclusion
The variety of traditional dishes in Uttarakhand offers a highly appealing blend of pungent spices with a high aromatic taste. The traditional food of the state is ideally selected to please the taste buds.