It has been months since the launch of IRCTC New Website and most of the people are loving the new interface. You would have also seen the new interface of IRCTC Next Generation Portal and we are sure that you must also be in love with the portal. There are some features of the next generation portal which people are still not familiar with.
Today, in this article, we are going to tell you how to check the Booked Ticket History in IRCTC Next Generation Website. Have a look at the process below to find out the same.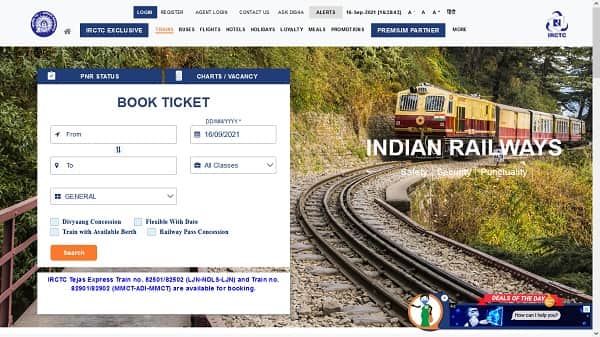 Steps to Check Booked Ticket History in IRCTC New Website
The first step is to visit the IRCTC Next Generation Website and the link to the website is irctc.co.in
On this website, you need to login to check the Booked Ticket History. You will notice a Login Button on the top right corner of the Website. Click on the Login button and you will now be prompted to enter the User ID and Password. Enter the details and click on the Login
After Logging in, Click on My Account from the top menu bar and a drop-down menu will be displayed. From the Menu, Select My Transactions.
Once you select My Transactions, you will notice a sub-menu which will show all types of transaction categories. From this list, you need to click on Booked Ticket History
You will now be redirected to the new page. On this page, you will be able to see all the tickets that you have booked in the past. You can apply a filter for All Journey, Upcoming Journey or even Past Journeys. You can sort the tickets by journey date or by booking date as well.
This is how you can check the details of the ticket history on new IRCTC Website and this way, you can even print the ticket for your upcoming journey. It surely makes it easy for you to get your tickets in case you are not able to recall the PNR.
It should be noted that this process will show you the booked ticket history only for the tickets that have been booked after migration to the New IRCTC Portal. It doesn't reflect the tickets which were booked using the old IRCTC Website. For any other query, you can Ask Disha or you can contact IRCTC on 139.
Santosh Kumar, He is a SEO + Blogger have 12 years of experience in writing tutorial, informative and product reviews topics.