IRCTC is one of the most used websites to book the tickets. It receives millions of clicks every day, every hour and the website is able to support all the traffic in a very good manner. To book a ticket with IRCTC, you need to have a User ID and Password. Even if you wish to book a ticket using the Third Party Website, you will still need IRCTC User ID and Password.
You can use the IRCTC Next Generation Portal for not only booking the tickets but also for booking other services. You must be aware of all the services available with help of the IRCTC Portal. The thing is that sometimes, you might come across a certain problem. One of the common problems that people face is that their IRCTC Login doesn't work. If you are also facing such a problem then this article is for you as we have listed some of the possible fixes here.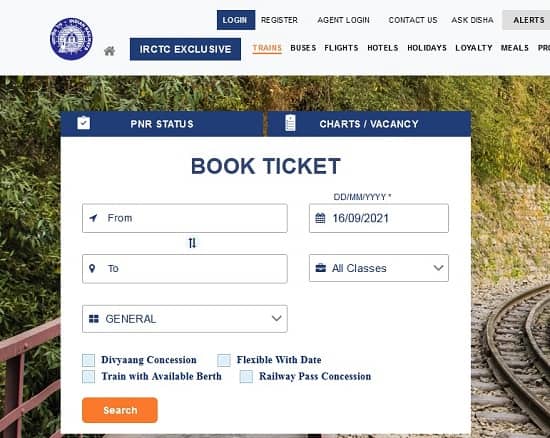 Connection Speed – If you are facing any issue with the IRCTC Login, the first thing that you need to do is check the connection speed. Many times, people do not get proper connection speed and in such a case, the connection is timed out. You should verify the connection speed also ensure that you are able to load the other websites. If you are facing issues with the connection then you can switch to a different connection or use the mobile hotspot to login to IRCTC Portal.
Different Browser– This could also be a browser related bug or it could be possible that IRCTC doesn't support your browser. The reason for that could be that your browser is outdated. In such a case, you can update your browser to the latest version or you can try a different browser for logging in to IRCTC.
Forgot Password– This is the first thing that you must check. If you are getting an error with the password then you can simply go ahead and reset your password. There are times when you would have reset your password but you would have forgotten it again. In such a case, it is best to reset the password and login.
Delete Cookies– Another fix that you can try is by deleting the cookies. Simply delete all the cookies of the browser including the temporary file. This should solve the problems in most of the cases. This will not only resolve the issue but it may also increase the system speed for you
Contacting Customer Support– If nothing works then the last option is to contact the customer support. The contact details are given on www.irctc.co.in or you can call them on 0755-6610661 & 0755-3934141
This was all about IRCTC Login and one of these things should resolve your issue. It should be noted that before you even try to login, you must have your IRCTC User ID and Password. If you do not have an IRCTC ID then you must go ahead and create one. You just need to have a unique Phone Number and an Email Address which you have not used on IRCTC before.
Santosh Kumar, He is a SEO + Blogger have 12 years of experience in writing tutorial, informative and product reviews topics.