Chhattisgarh is one of the popular Indian states famous for its culture and heritage. You must have seen that the people of this region are friendly and good. This state has a high population of tribal people. About 27 percent of the tribal people of this region reside in the Bastar district. People of Chhattisgarh speak two languages. One is the Hindi, and the other is Chhattisgarhi. Not only this, the people of this state are hard working. They are good at making various handicraft products. You can get a wide variety of handicraft products from Chhattisgarh to other Indian states. Because of the increasing number of tribal groups the culture of Chhattisgarh is different from other states.
When it comes to costumes or attires, you will find that these people are colorful and passionate about vibrant colors. If you visit their villages, you will see that women wear colorful sarees with local ornaments. These ornaments are made from bronze. The state is also well known for craftworks. The famous Kosa silk and lost wax art belong to this state. It is the tenth largest state rich in culture, heritage, and diversity.
Traditional dress of men in Chhattisgarh:
As most people in this state belong to the tribal caste, they prefer wearing a cloth on the waist portion. Men prefer wearing dhotis and kurtas. Sometimes you can also get to see men wearing pajamas and kurtas. During any festive seasons, men wear feathers on their hands to perform their local or traditional dance. Tribal men prefer wearing bangles and earrings. Their ornaments are made of silver and bronze. During any pujas you will find men wearing white cloth on their head. It is made of cotton material. Men of tribal groups like Ghotul, Halbas, and Murias prefer to wear dhotis and headgears.
Traditional dress of women in Chhattisgarh: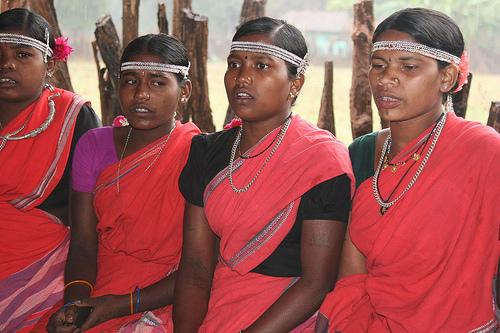 The women in Chhattisgarh prefer to wear colorful sarees and attires. The women in this state prefer to wear dresses up to knee length. They also wear these types of clothes. Most of the fabric is made of linen and silk material. You can also catch women wearing tie and die material clothes that is known as Batik. Even many women of this region carry out this business. They sent these products to other corners of India. Many urban area people also prefer to manufacture such clothes. Maheshwari silk is one of the noted products of this state. Many women prefer silk sarees. They are available in bright colors. During the festive season and wedding session's women wears traditional sarees of this region. They also like to wear lehengas during weddings. The Lehengas are made of silk material. They are embroidered with some unique designs and look. They wear various jewelries made of silver and bronze material. They wear Kadhah during the marriage ceremonies. Apart from this, the women prefer to wear mutiple other jewelries. Their ornaments are symbolic to a great extent. Get more details here about surat sarees wholesale market online shopping in India.
Traditional festivals of Chhattisgarh:
You must be interested in knowing about the state's traditional festivals and occasions. This state is rich in culture and heritage. The state celebrates various festivals during different times of the year. Bastar Dussehra is one of the renowned festivals of Chhattisgarh. This festival is celebrated to offer prayers to Goddess Danteswari. The festival continues for ten days. People keep fast and do other rituals related to this festival. Rajim Kumbh Mela is another famous festival of Chhattisgarh. It is one of the holiest festivals of Chhattisgarh that is celebrated with great pomp and show.  It is the fifth Kumbh mela in which people from various corners of India accumulate and enjoy the mela. It begins on the day of Magh Purnima and continues for 15 days.
Mandai festival is the occasion for the tribals. As Chhattisgarh is a tribal-oriented state, you will find it a famous festival of this state. The tribals perform various rituals during this festival. They sacrifice a goat beneath their sacred tree to honor their tribal god. In addition to this, you can witness other ways being carried during this festival. You can find various other cultural programs being carried out during this time. Kajari festival is a renowned festival celebrated by the farmers of this state.
Thoughts:
This beautiful Indian state has much significance. About 80% of the population of this state prefers farming as their main resource. The land is highly fertile and ideal for the growth of maize, oils, groundnut, and other pulses. On the other part, this state has many thermal power stations. In a nutshell, the state is famous for great things. The culture, heritage, and costumes of the people play a unique role. Many travelers love to explore this state and enjoy its culture. The tribal people of Chhattisgarh always try to maintain their traditions and culture as much as possible.
List of Other Indian States Traditional Dresses