Karnataka's traditional attire exemplifies the inhabitants of this South Indian state's ability to balance modernization and culture. The population of Karnataka's attire and unique way of wearing gowns has affected today's current society. Sarees are preferred by women. Older men adhere to a stringent dress code in order to preserve their traditional garb, as they are religious, emotional, and deeply rooted in their culture.
Traditional dress For men
In Karnataka, the traditional attire for men is comprised of the Kurta and the Lungi.
Kurta is a kind of long shirt that is worn from the waist to the knees. When worn with a Lungi and Dhoti, which is loose pant that is wrapped over the legs and tied at the waist, the look is complete.
The Angavastram, which is a cloth worn over the shoulder to wrap the upper region of the body, is used to complete this full outfit.
It is worn by men in Karnataka with or without a kurta.
Traditional dress For women
Silk Sarees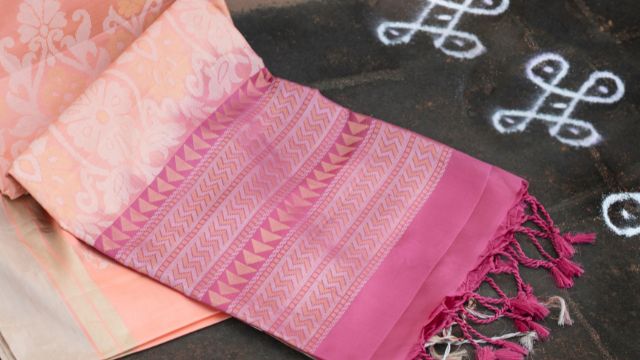 Women in Karnataka dress in silk sarees that are woven with precision and refinement by skilled artisans. The sarees are made of a range of fabrics, including traditional Mysore and Bangalore silks, cotton, and other synthetic fibers.
They are not just popular in Karnataka, but they are also well-known across the rest of the country. At some time in her life, every Indian lady has dreamed of owning a classic Kanchipuram saree of her own.
Kanchipuram sarees
Despite the fact that Kanchipuram sarees are available in a wide variety of styles, designs, & color combinations, they are still considered traditional. The classic ones are available in a variety of colors, including red, pink, cream, crimson, and white, among others.
Karnataka's Kanchipuram and Kanjeevaram sarees are known for their beautiful designs as well as their extremely silky and rich feel. These sarees are handcrafted by the artisans and then colored and embellished with Zari work and give them the grandeur of South Indian culture and tradition.
The artists shows artistry of zari work with the use of pure thread of silk, silver wire and then uses pure gold.
Ilkal sarees
Ilkal sarees are one of the most popular styles of Karnataka culture dress worn by women. These sarees are made with both silk and cotton. These sarees are also a great Karnataka traditional dress for girls.
A traditional Karnataka Ilkal saree is woven using cotton warp on the body and art silk warp for the border and pallu portion of the saree.
In the Ilkal saree, simple designs make up the main body of the garment, while a stunning pallu is decorated with flattering motifs like temples structures, palanquins, elephants, & lotus flowers.
The border of these Ilkal sarees is approximately 4–6 inches wide, and it is the prominent feature of the garment. Both the bottom & pallu of the saree have eye-catching borders that enhance the overall appearance of the saree.
Sarees are typically dyed in the colors cherry red, emerald green, & parrot green, with the exception of some designs.
Karnataka's Culture
A plethora of historical secrets are interwoven within a vast and diverse culture, ranging from exuberant culture and art of multilingual ethnicity to astounding dance forms and mesmerizing music. The state also has a sophisticated heritage, zealous festivals, and elegant clothing, as well as delectable cuisine, among other things. Destinations like Bangalore, the beautiful Coorg, the lesser-known hill city of Chikmagalur, & heritage sites such as Hampi all serve as major tourist attractions, drawing in large numbers of visitors each year.
Ancient History: Karnataka's history can be traced back to ancient times. It was home to several great dynasties, including the Mauryas, Satavahanas, Kadambas, and Chalukyas, who played a significant role in shaping the region's culture.
Hoysala Empire: The Hoysala Empire, which ruled over Karnataka from the 10th to the 14th centuries, left behind a remarkable legacy of temples and sculptures. The Chennakesava Temple in Belur, the Hoysaleswara Temple in Halebidu, and the Kesava Temple in Somanathapura are some of the famous examples of Hoysala architecture.
Vijayanagara Empire: The Vijayanagara Empire, which thrived in the 14th and 16th centuries, played a pivotal role in the cultural and architectural development of Karnataka. The city of Hampi, which was once the capital of the empire, is a UNESCO World Heritage site and contains numerous magnificent temples and structures.
Language and Literature: Karnataka is known for its rich literary heritage. The Kannada language, the state's official language, has a long history of classical literature. The works of poets like Pampa, Ranna, and Ponna are considered classics in Kannada literature.
Music and Dance: Karnataka is the birthplace of two of the most famous classical art forms in India, namely Carnatic music and Bharatanatyam dance. The state has produced many legendary musicians and dancers who have contributed significantly to the cultural heritage of India.
Folk Traditions: Karnataka is home to a variety of folk art forms, including Yakshagana, a traditional theater art, and Dollu Kunitha, a dynamic drum dance. These folk traditions are an integral part of the state's cultural heritage.
Festivals: Karnataka celebrates a range of festivals, including Ugadi, Ganesha Chaturthi, and Dasara (Navaratri), with great enthusiasm and cultural significance. The Mysuru Dasara is a particularly grand and famous celebration, featuring a grand procession and cultural programs.
Architecture: Karnataka is known for its impressive architecture, from ancient temples to modern buildings. Apart from the historic temples, the state is home to impressive forts, palaces, and architectural wonders like the Mysore Palace and the Vidhana Soudha in Bangalore.
Cuisine: Karnataka's cuisine is diverse and delicious, with a combination of South Indian and local flavors. Some popular dishes include Bisi Bele Bath, Ragi Mudde, and Dosa. Udupi, a coastal town in Karnataka, is famous for its vegetarian cuisine.
Art and Craft: Karnataka is known for its traditional art and craft forms, including Mysore silk sarees, Bidriware (metal handicraft), and Mysore painting, which are recognized for their craftsmanship and artistic excellence.
Karnataka's cultural history and heritage continue to be a source of pride for its residents and an attraction for tourists and scholars interested in exploring India's rich cultural tapestry.
List of Other Indian States Traditional Dresses