Sikkim is one of the small states located in the northeastern regions, distributed its border with Bhutan, Nepal, and China. It offers too much from the scenarios of valleys, mountains, delicious cuisine, peaceful environment, diverse culture, rich legacy and various others. The state is home to thousands of wild species of flowers, animals, and the third-highest peak MT. Kanchenjunga.
Many people who come from Rajasthan, Bihar, West Bengal, and South regions have become a part of this state.Since ancient times, Sikkim was associated with three tribes which include Lepcha, Bhutia and Nepalese.Out of which, the Lepchas are the real residents of the state who flourish with a combination of exquisite colours.
Each community have its languages, traditions, living standards, rituals and customs. The costumes worn by both men and women of Sikkim reflect not only their traditions but also their religious beliefs and social status. There are mainly two types of tribes in Sikkim. You will notice that people of Bhutia background look exactly like Tibetan costumes, also known as Tibetan Chuba. Let's explore more about them: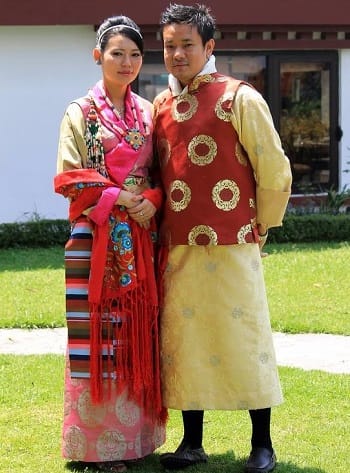 Traditional Dress of men in Sikkim:
Thokro Dum is an essential traditional outfit worn by the men of the Lepcha tribe. This traditional dress contains a pyjama which goes till the calves. It is combined with a headgear which is called Shamo, and Yenthaste, a traditional Lepcha shirt completes the outfit looks. During religious and festive celebrations, they love to wear rattan hats and cone-shaped bamboo hats. These headgears are decorated with fine canes from straws, bamboos, and leaves. The looks complete with a waistband called Dupra. The attire including pyjamas are generally short and signifies that the mean is actual occupants of marshy lands.
Another traditional dress worn by Sikkim men is Shuruval that comprises a long and double-layered garment. It is aesthetically appealing. Sikkim men sometimes combined it with a shirt, also known as a simple short a Daura. It has churidar looks from the bottom part, making it comfortable for men to wear.
Traditional Dress of women in Sikkim:
In the Sikkim, saree is also known as Dumvum or a Dumyanin the traditional Sikkim language. It is a traditional outfit that goes down to the ankle. It is one of the most comfortable attire which indicates feminine beauty and also signifies their pride and honour.  The outfit also consists of a loose-fitting blouse, also known as Tago with this saree. The complete combination has very beautiful and vibrant colours. In addition to these, women also add a belt called Nyamrek and headgear called taro to cover the head.
Kho is the most popular Sikkim traditional dress, worn by both men and women. It is a piece of cloth stuck at the neck and wrapped around the waist with a belt. It is very similar to the Tibetan Chuba.
Final Thoughts:
Being multi-nationality, Sikkim has a plethora of traditions and cultures as it has been home to numerous national communities and is a land of rich cultural history.
List of Other Indian States Traditional Dresses