Manipur is one of the seven sisters of the northeast, notoriously known as the land of jewels. The state is well-known for its captivating hills, rivers, lush green environment & gardens, beautiful scenarios, vegetation, agriculture land, art & culture. In addition to these, the rich cultural patterns and ancient traditions are rapidly evolving in the people.Manipur is a state that is beautifully presented by its folk and classical dance forms.People of Manipur showcase peace and prosperity through various festivals like Lai Harraoba.
When it comes to clothing, there are different costumes in Manipur where functionality, elegance and comfort matter the most.The outfits are easy to wear as they focus heavily on style statements and simplicity. But, the patterns and designs are different, very unique & colourful. Let us discuss which traditional dress is worn by both men and women respectively in Manipur: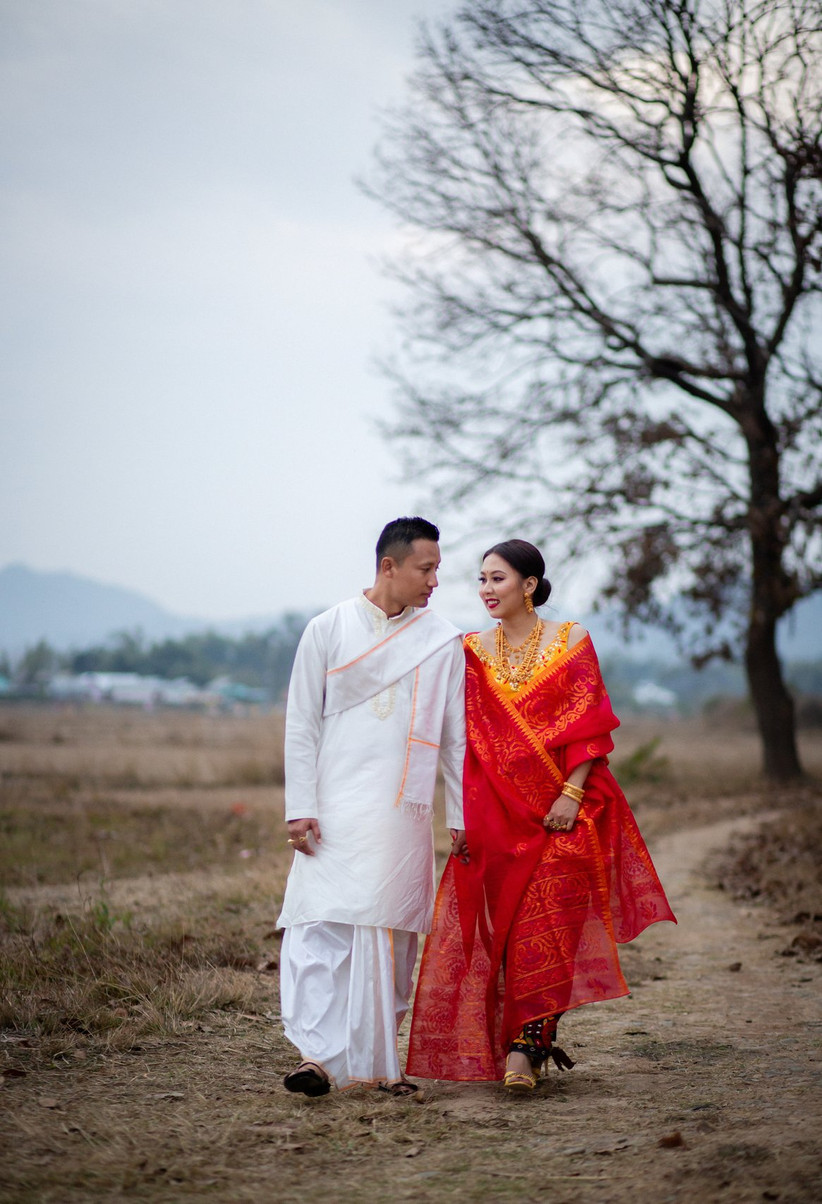 Traditional Dress of Men in Manipur:
Men wear traditional costumes namely dhoti with a jacket in Manipur. The combination of these traditional dresses is incomplete without a turban, which is commonly known as Pagri. During winters, men who belong to wealthy backgrounds wear padded and quilted coats. The colour of kurta and dhoti is typically white. The dhoti is very similar to regular Bengali dhoti.
This traditional dress of Manipur for men is popularly known as KhamenChatpaworn only by the rich men during ceremonies. The prints on them are available in different colours like deep red, deep purple, chocolate brown, etc.
These costumes were gifted by kings to poets, geniuses and other people as a reward in ancient times.The kings were wearing a special Nigthoupi dress during wars.
Traditional Dress for Women in Manipur:
The Phanek is very similar to the lehenga which is wrapped around the waist. They are hand-woven on flank looms using silk, cotton and other fabrics. They are generally found in flat colourful strips and block prints. They do not come in bold designs or floral patterns. Most women have worn Phanek with an upper cloth or mini blouse like North Indian women wearing saree.
Inaphi is a short piece of cloth, similar to the shawl. It has been using vivid colours, traditional textiles, and bold themes. It is used to cover the upper body. Manipuri weavers use soft pastel colours that highlight the moderate appeal of shawls and maintain elegance. The semi-transparent is often used to design this traditional dress.
An alternative of Phanek, MayekNaibi worn by Manipur women occasionally or in traditional functions. The bottom of this dress is exaggerated with different designs of knobs and decorated with heavy embroidery. The clothing is very unique and differs from the regular wedding outfits and vibrant colours. It is the best combination of elegance and sophistication.
Lai Pai an astonishing piece of cloth decorated with a border that can easily match to yellow While Chi Phi. They are best suited for festivals, weddings, functions, and carnivals.
The traditional bridal dress of Manipur women is Potloi. It gives the soon-to-be bride an incredibly prominent look. It has a cylinder shape from the bottom and is attached to the blouse & inner garment. This ideal dress comes in pink, green, and red colours. The patlou is adorned with applique works using ornamented and geometrical figures, and decorative stones.
Final Thoughts:
The state has a lot to offer in which the traditional clothes & dance forms of the state are prominent. The colours of dresses are vibrant but at the same, they are charming & elegant.
List of Other Indian States Traditional Dresses