The largest state of India, Maharashtra is known for its Marathi folk music, Lazim dance, mixed culture, literature, food and many festivals like Ganesh Chaturthi, GudiPadwa etc. Agriculture and fisheries is the livelihood of the majority of people. It has become popular from geographical regions to rich cultures, traditions and tourist destinations. The city of dreams has a different heritage, clothing style, western touch, cultures, even big business empires.When it comes to Maharashtra traditional attire, vibrant colours & gold jewellery come to mind.The traditional or regular clothes of Maharashtra are very practical and realistic in their approach.
Besides Marathi culture, it is home to Hindus, Buddhists, Sikhs, and Christians. The legacy of Marathi Culture has formed withShivaji Empire, latter Dnyaneshwar, Varakari, Eknath, Chockhamela, Namdev, and Chockhamela.If you're interested to know more about Maharashtra's traditional attire of both men & women, check out the complete list:
Traditional dress of men in Maharashtra: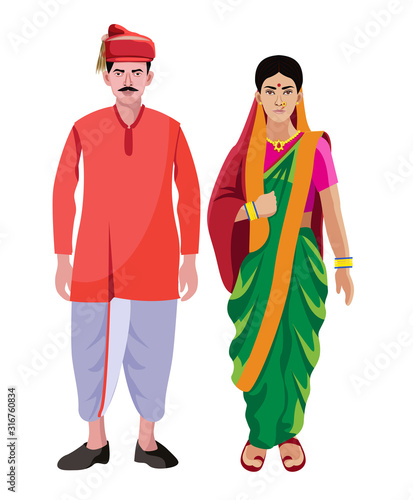 1. Dhoti
Typically, men belonging to Maharashtra love to wear dhoti. Dhoti is a piece of cloth generally made of cotton fabric and is saffron or cream in colour. The fact is, they are unstitched and don't require any adequate measurements. You can wear it loose or tight as per your comfort. Nagpur, the district in Maharashtra is popular for its Dhotis collection.
2. Shirt or Kurta
The combination of dhoti and Kurta is the traditional dress for men in Maharashtra. This piece of cloth is usually made up of cotton which makes it comfortable, especially in summer. Since the climate is warm to hot in the state, it is quite comfortable to wear a kurta. These top wears are generally white or grey, are loose & thin.
3. Pehta
Pehta is a headgear, also known as head cover, pagris, topi. It is usually made up of cotton fabric. All men in Maharashtra wear Pehta to protect their heads from sun lights. In addition to prevention the direct sun rays, it completes the traditional dress of men.
4. Bandi
Bandi is a waistcoat which may wear by them occasionally. It is a sleeveless coat or jacket worn above the shirts or kurtas. This waistcoat made the overall attire look complete and formal. They are thoughtfully designed so that Maharashtrian feels confident and presentable in front of everyone.
Traditional dress of women in Maharashtra:
1. Sarees
The trend of wearing sarees in Maharashtra begins in the kings & queen period. The style of wearing by women in Maharashtra may differ. Some wear full-length sarees while some only wear knee-length or in skirt form. These sarees are 9-yards long, full of vibrant colours, finish, shine and embroidery. Sarees, also known as Lugade in Maharashtra is common attire for women
2. Choli
Saree is incomplete without choli as it is a type of shirt or top to cover the upper body of women. The blouses are short, have hooks in the front for gathering both sides, and come with or without sleeves. Like men's clothes, women's clothes are also made of cotton fabric. They are ideal available in green, red or yellow colour.
3. Jewellery
Traditional jewellery is also part of women's clothing in Maharashtra. Jewellery like Nath, Earrings, Haar (Necklace) with different stones, Green bangles, and Mangal Sutra is part of women in the state. Even, some women wear toe rings and rings in fingers.
Festivals:
Some popular festivals of Maharashtra are Ganesh Chathurthi, Nag Panchami, Gokul Ashtami, Gudi Padwa, Makar Sankranti, Ellora Festival, Shivaji Jayanti, many others.
Final Thoughts:
Maharashtra is rich in cultures, traditions, languages, dance forms, language, even attires. They are several communities that have been come up with their dressing.
List of Other Indian States Traditional Dresses