Gujarat is a state which is rich in architecture, culture, rituals, and costumes. Most of the places in Gujarat commencing from the kingdom of Lord Krishna to the salty desert of Great Rann of Kutch are filled with culture and history. It is noted for its extraordinary natural beauty. Unlike the food, architecture, culture, and heritage of this state, the costume or the dressing sense of the people in this state is much crucial. The people love to wear colorful and vibrant color dresses. Apart from this, the costumes of this region have an attractive look. You will love to wear it at least once.
Widely speaking, the costume of the Gujarati people is different and unique from other people. They are colorful and have beautiful embroideries that make them unique in all aspects. People of this state love to wear jewelries made of various metals. They have some special foods which everyone would love to taste. You must have seen many Gujarati men wearing Kediyu and Chorno. Women of this state wear Sarees and Chaniya Cholis. With the influence of western culture, you might observe some changes in the attire of the people.
Traditional dress of men in Gujarat: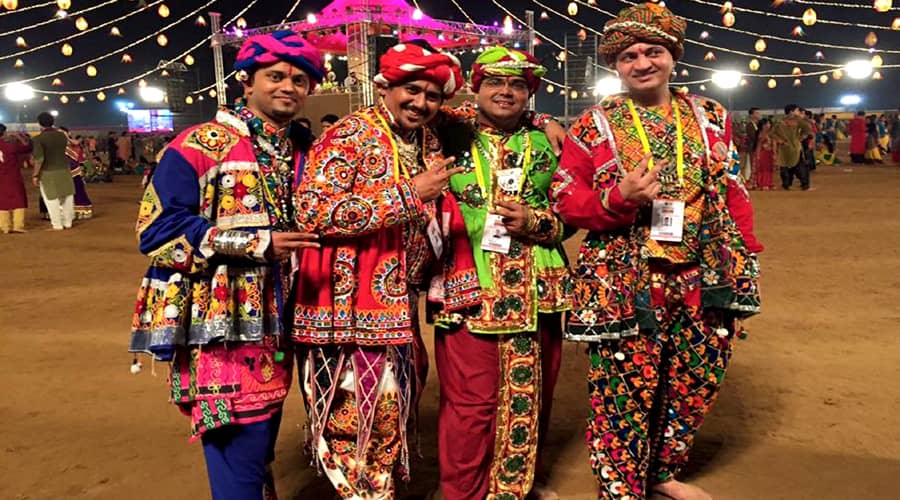 You might be interested in knowing about the traditional dress of Gujarati men. Kediyu and Chorno are some of the formal dresses of Gujarati men. It is also known as Dhoti and Chorno. Dhotis are available in a stitched form. You can wear it during the festive and wedding seasons. This dress is ideal for a hot and humid weather in Gujarat. You can comfortably move with this dress. Many men attach elastic on the waist for a better fitting. If you wish to buy it, you can get it anywhere on the market. Phento is another famous men attire of Gujarat. Your dress and look is incomplete without Phento.  It is worn on the head like headgear. Many men also wear kurtas with dhotis. On the other hand, many men love to wear jewelries like chains and rings. You will get ample men wearing golden or diamond rings and chains. It is common in this state. The chorno's are colorful and available in various fabrics.
During the wedding seasons, men wear sherwanis or pajamas. It is available in many designs and color. The sherwanis are found in silk and georgette material.
Traditional dress of women in Gujarat:
Just like men, Gujarati women love to wear colorful and bright attires. They have some traditional dresses which they prefer wearing during special occasions. Ghagra Choli or Chaniya Choli is one of the women's traditional dresses in Gujarat. They also take a dupatta or an Odhni with this dress. It is used to cover up the upper part of choli. The chaniyo is like lehengas or skirts, which is almost like a petticoat. It is beautifully decorated with mirrors and other items. The whole thing looks stunning. You can get this dress from any local shop in Gujarat. The chunni or the odhni is worn diagonally to cover the head. It is also decorated with mirrors and other decorative items.
Saree is famous traditional Gujarati apparel that is worn by maximum women. It is available in different fabrics. The pallu remains in the front. It is nicely pleated with pins. The colors are colorful and well-decorated. Most Gujarati women keep their keys tucked into the saree in the waist part. The keys are hung with a silver hook. It will prevent the keys from falling down somewhere. It gives them a perfect housewife look.
Traditional festivals of Gujarat:
It is a beautiful state that celebrates many festivals. Out of this Navaratri, holi, Rann utsav, and uttarayan are the most common ones. Uttarayan is the International Kite festival that is celebrated in Gujarat. You will find that the sky in Gujarat is filled with colorful kites. Everyone participates in this festival. It is celebrated during the January. Shamlaji Melo is another festival in Gujarat. People offer prayers to the Shamlaji temple that is located near the Gujarat and Rajasthan border. Rath Yatra is also celebrated in this state. The temples get beautifully decorated. The devotees pull the three chariots of Lord Krishna or Jagannath, Lord Balaram, and Goddess Subhadra. A mela or a fair is organized on account of this festival. It continues for seven days. However, Ahmedabad Rath Yatra is the most common and famous one. People come here from other parts of the state.
Thoughts:
Gujarat is a fantastic place with beautiful culture, heritage, architecture, and costumes. If you visit this state, you must take ample opportunity to explore the place. Gujarati costume is colorful and beautifully embroidered. It will help if you try it once in your lifetime. This state handicraft is famous and sent to other states and countries of the world.
List of Other Indian States Traditional Dresses